Must Do: First Time Visitor to Cape Town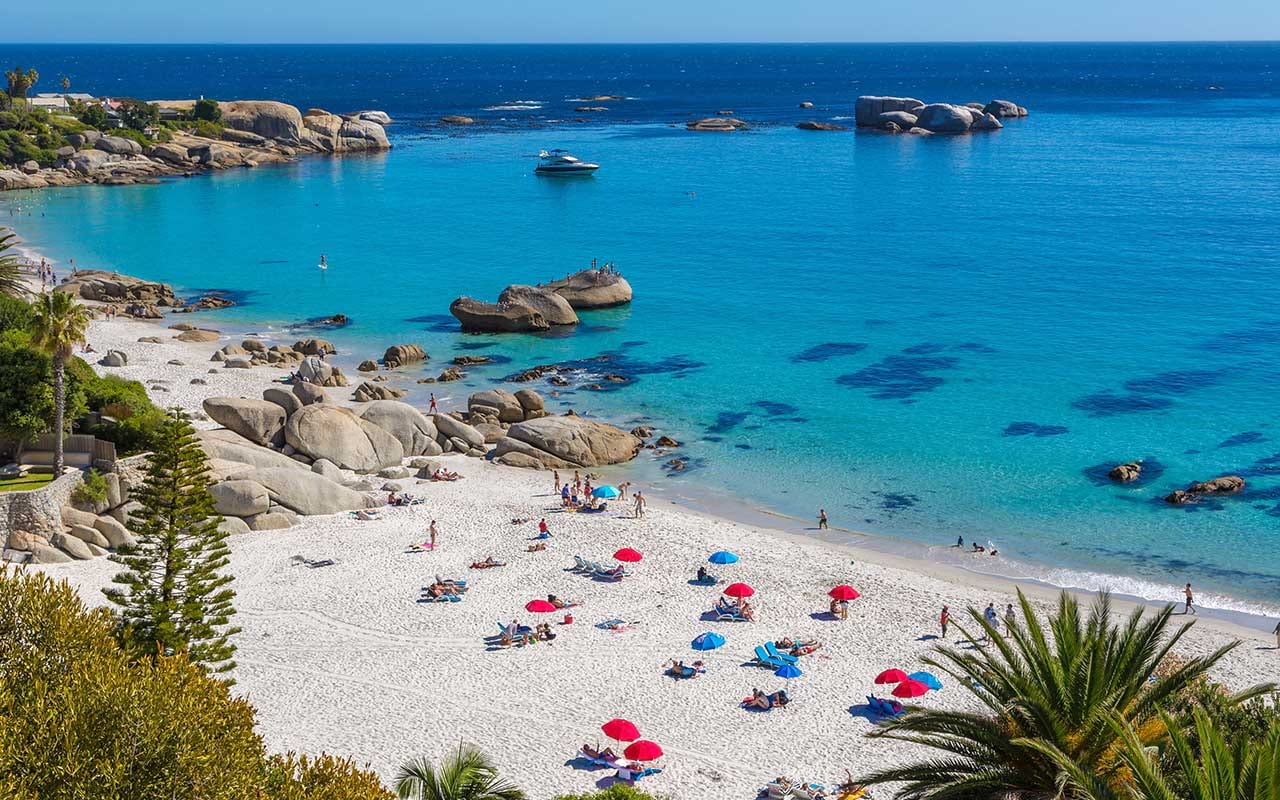 Clifton Beach
Cape Town is beautiful, vibrant, exotic, friendly and wonderfully affordable to visitors to our fair land. It has some of the most beautiful scenery on our planet, some of the best restaurants in the world, blue flag beaches with white powdery sand and clear blue seas, mountains, world class golf courses, walking tours, cycling tours, idyllic picnic spots, picturesque wine farms and just about everything that will excite, entertain and nourish.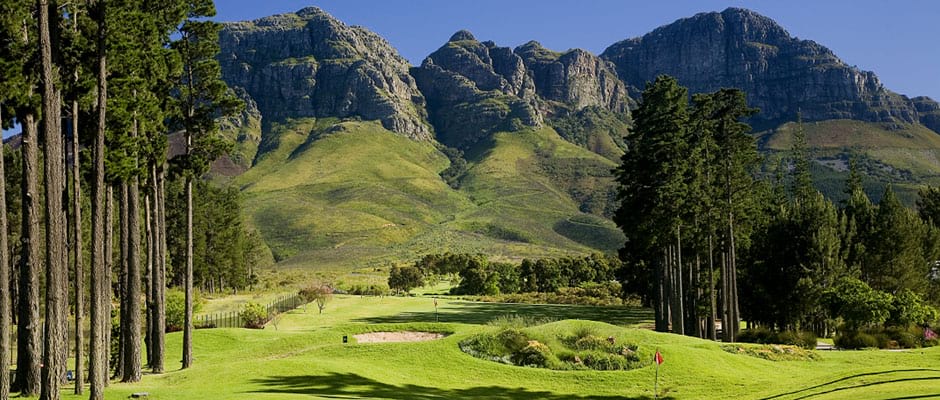 Erinvale is Only One of the Beautiful Golf Courses Around Cape Town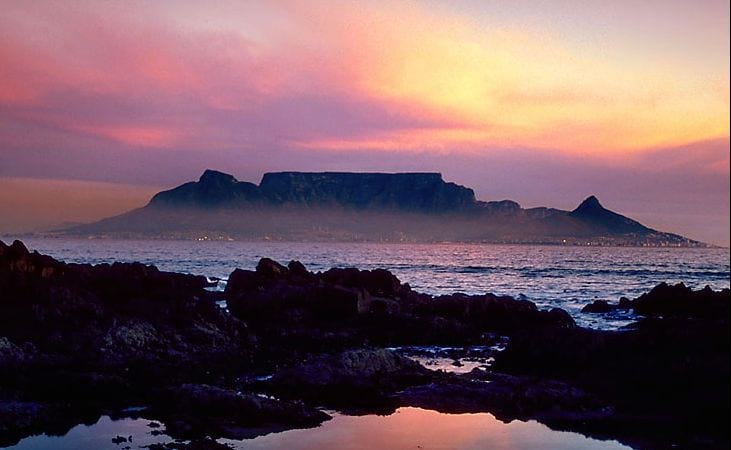 Sunset From Bloukrans
A BRIEF HISTORY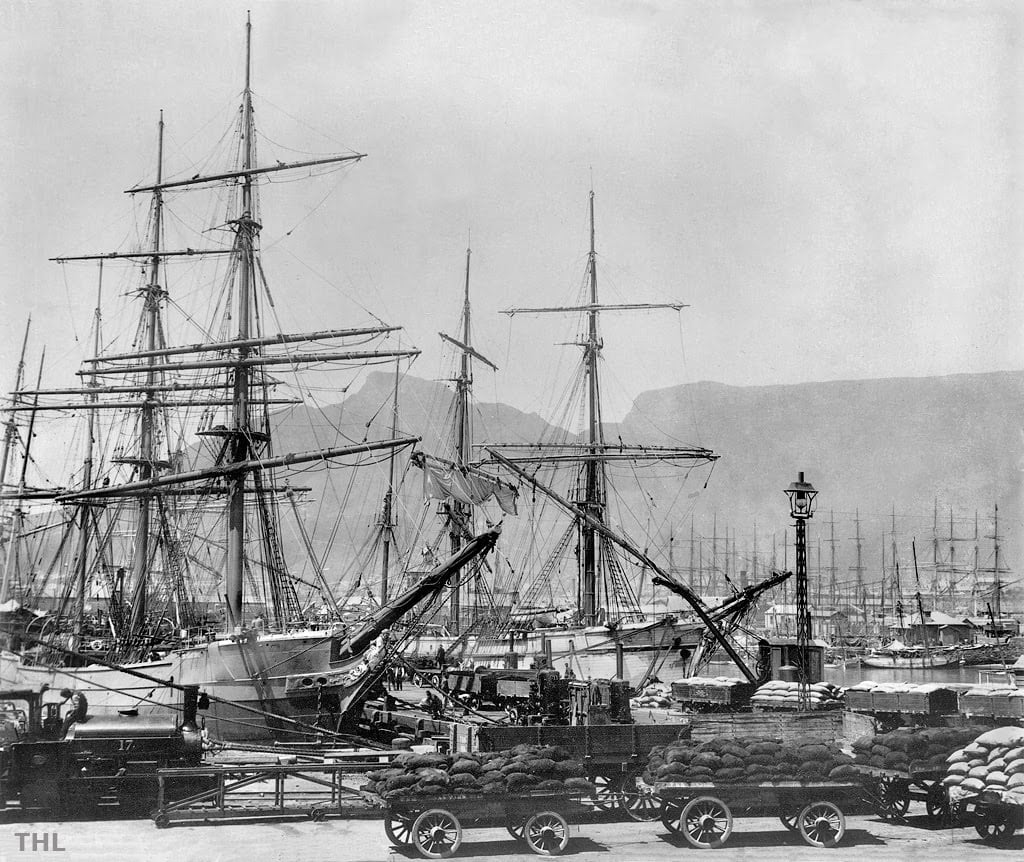 Early Days at Cape Town Harbour
After the successful rounding of the Cape by Portuguese fleets in 1487 (commanded by Batholomias Diaz) and 1497 (commanded by Vasco da Gama), several other fleets also came to the Cape, besides the Portuguese, Dutch and British fleets. The Dutch East India Company were first to develop a settlement at the Cape in 1652 as a resupply stop for ships rounding the notorious Cape of Storms on their long and arduous journey between the Netherlands and the Dutch East Indies [now Indonesia]. It was a safe harbour situated on the southern tip of Africa.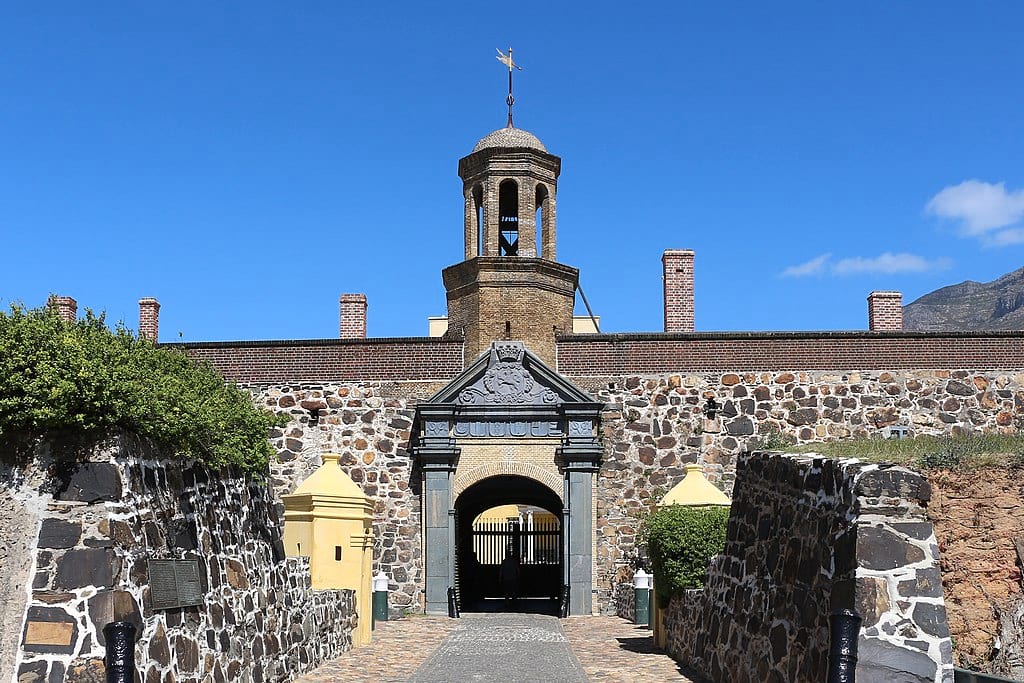 The Oldest Existing Colonial Building in South Africs is the Castle of Good Hope Constructed by Jan van Riebeck in 1652
In 1807 Britain invaded the Cape again and this led to the Great Trek, from 1835 to 1846. This was a large movement of Dutch-speaking colonists, in ox wagons, up into the interior of southern Africa in search of land where they could establish their own homeland, independent of British rule. The Cape of Good Hope then remained in the British Empire, becoming self-governing in 1872.
Cape Town is the largest city in the Western Cape Province, and as the seat of Parliament, is the legislative capital. The oldest existing colonial building in South Africa is the Castle of Good Hope built between 1666 and 1679. It replaced an older fort called the Fort de Goede Hoop started in 1652 which was destroyed in a storm.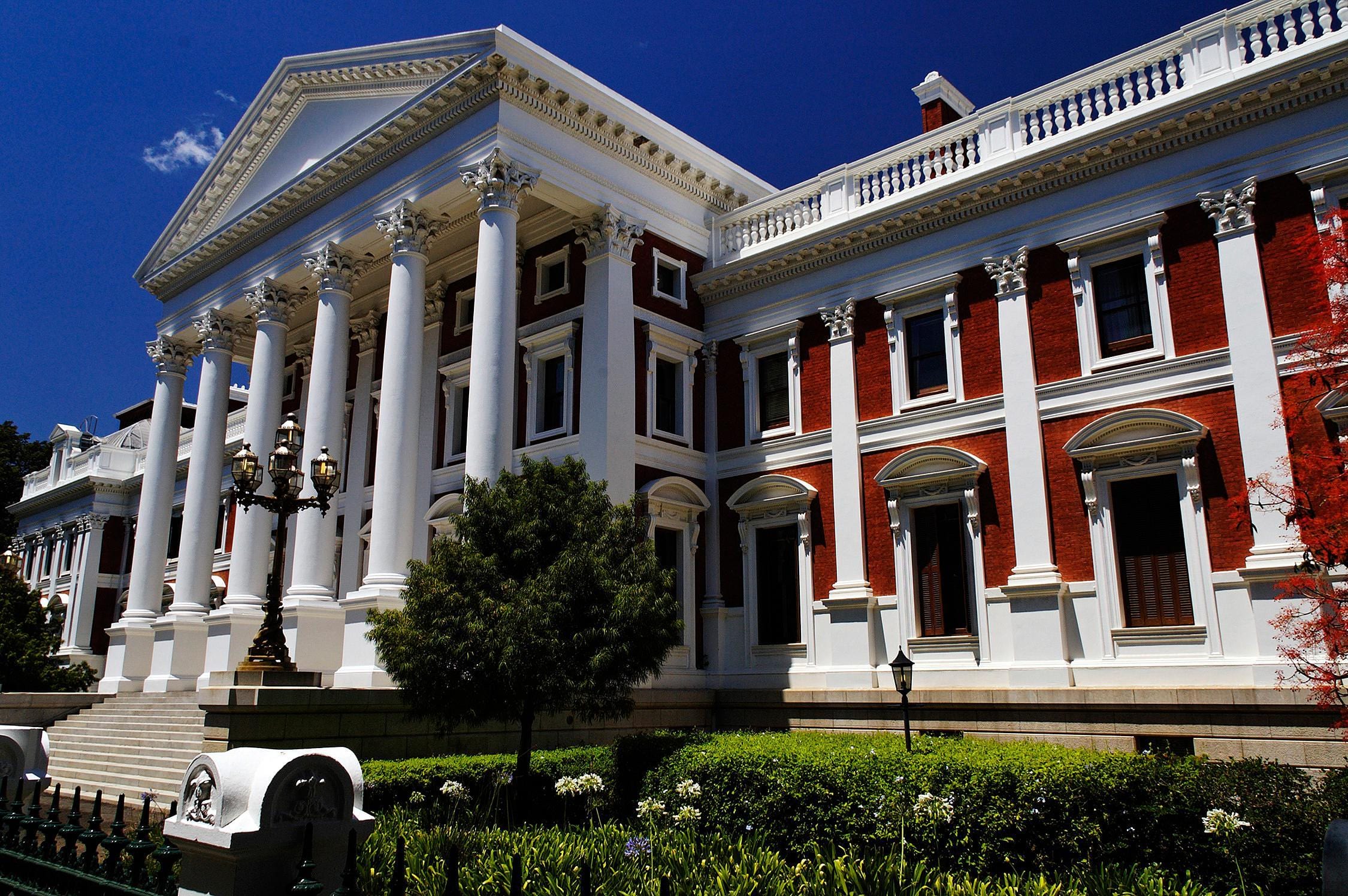 Parliament Builings in Cape Town
Today, Cape Town is a popular tourist destination known for its beaches, vineyards, majestic landscapes and limitless ocean.Your biggest task is to make a choice of activity and decide what you want to do today and then get going!!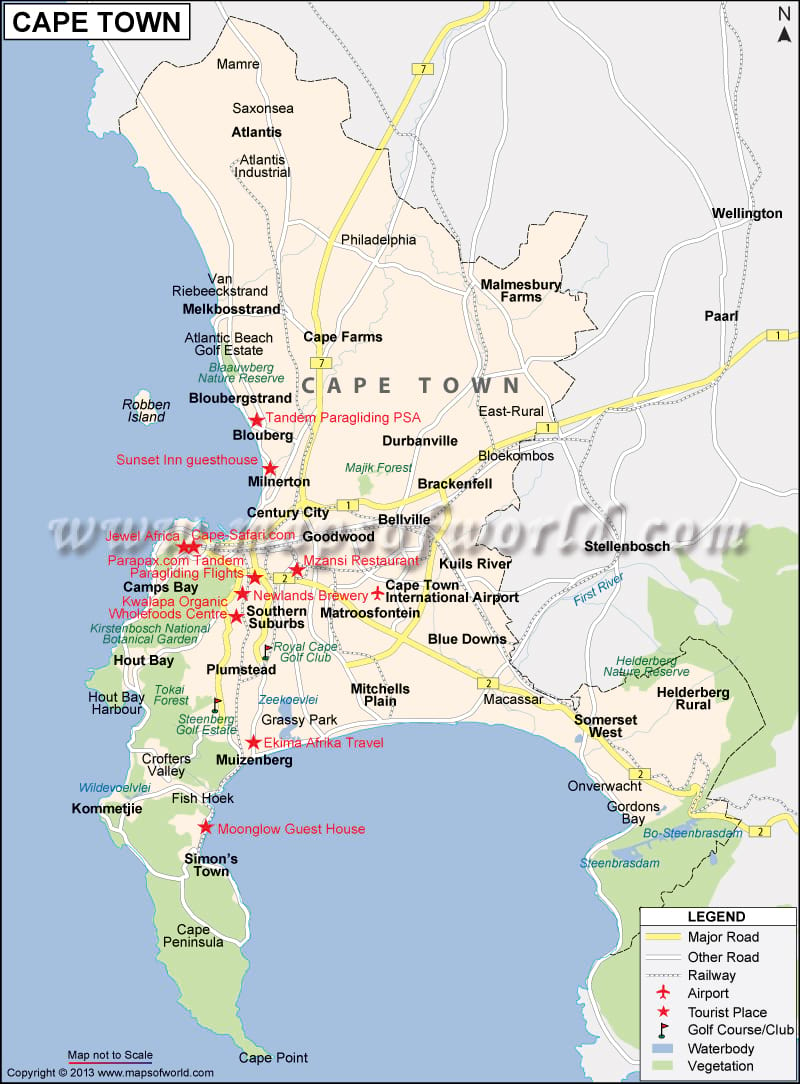 A Map of Cape Town
We have some suggestions to help you get to enjoy this exciting city.
DEFINATE MUST DO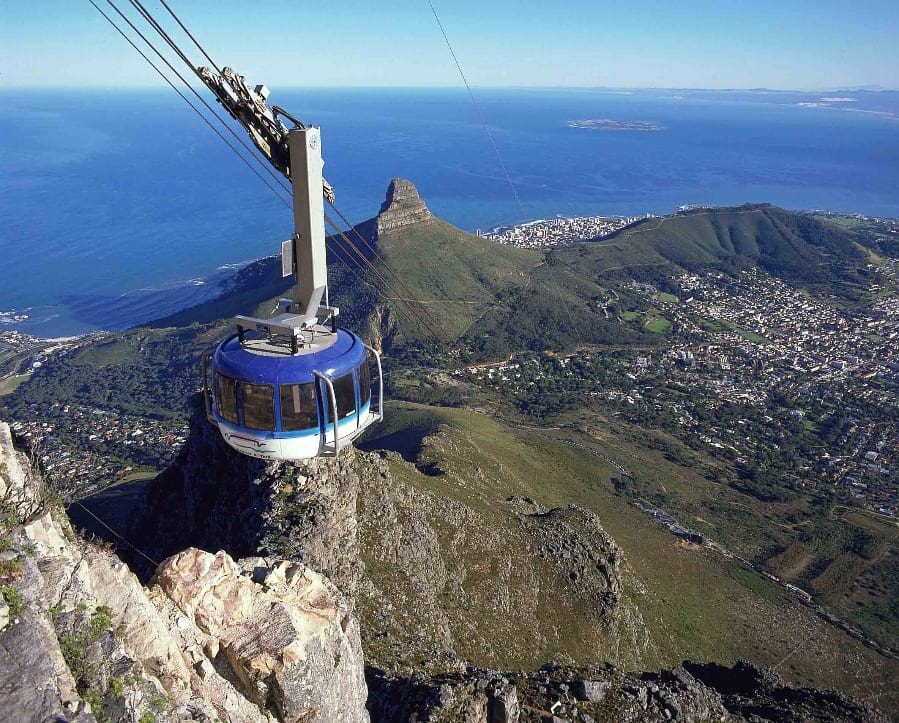 Take a Cable Car to the Top of Table Mountain on a Good Day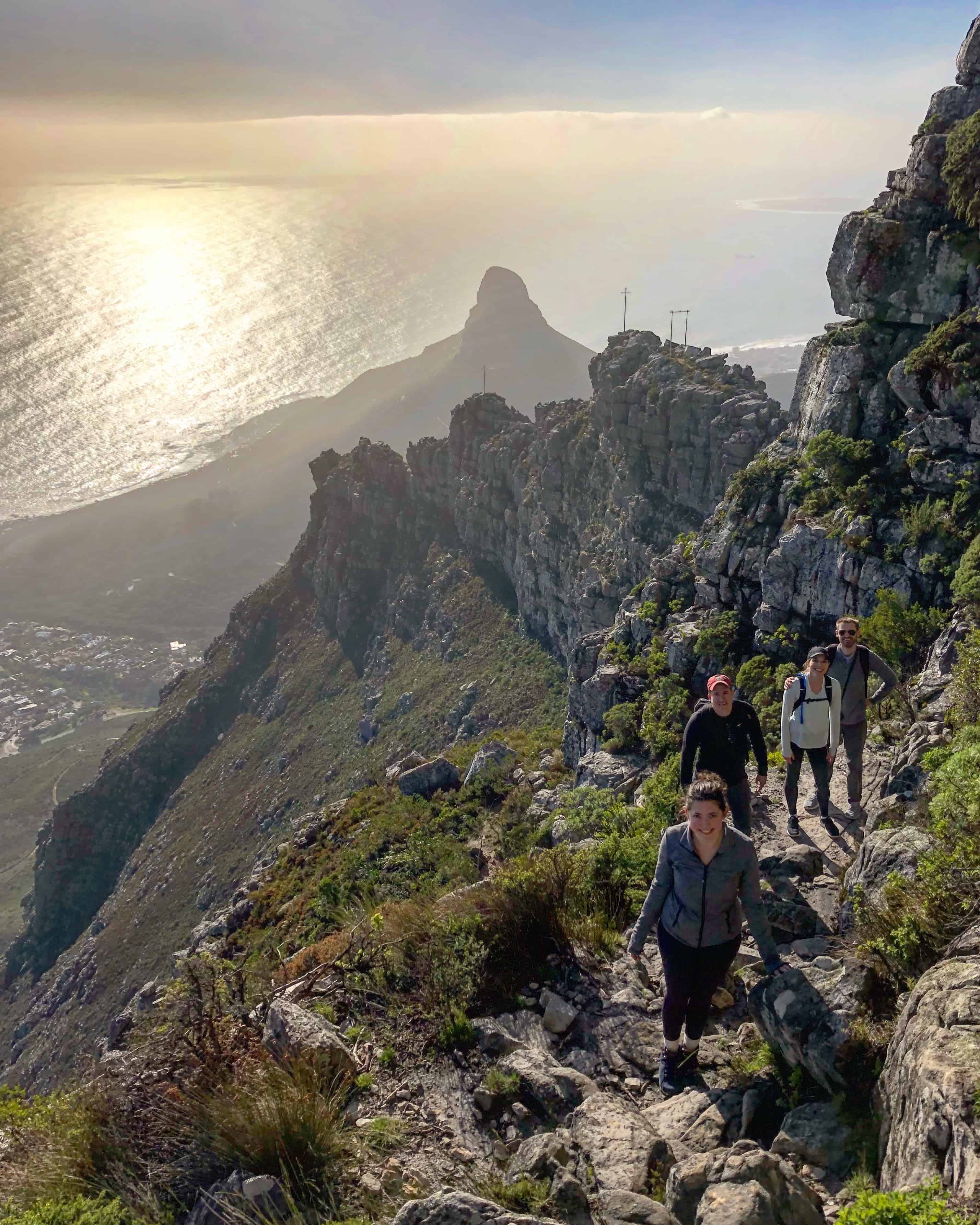 Take a Guided Hike Along Table Mountain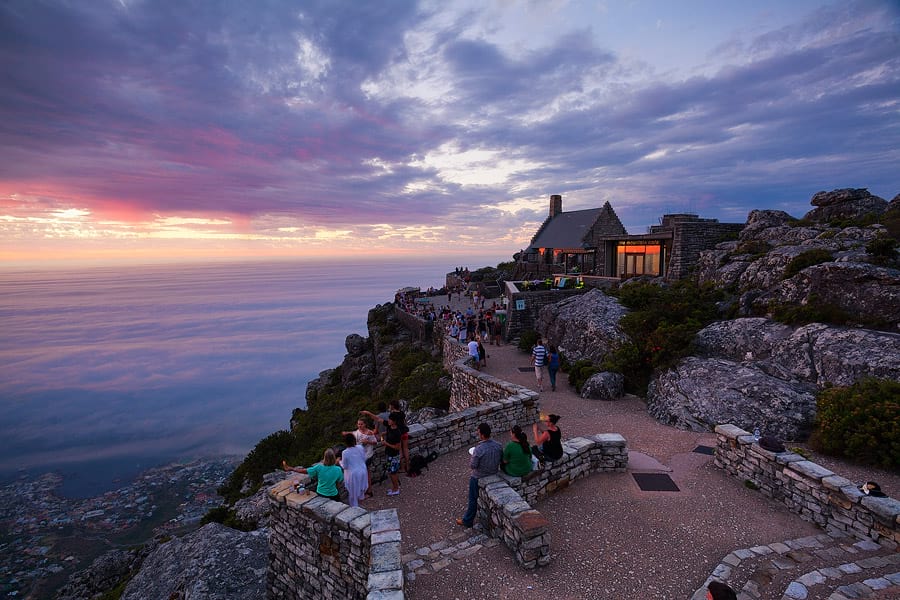 Spactacular Views and the Restaurant at the Top of Table Mountain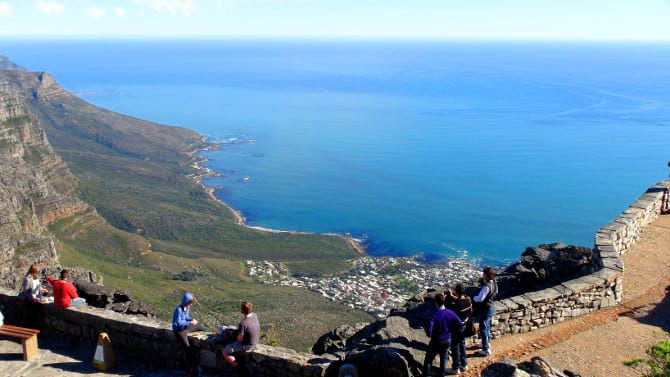 Rewarding 360 Degree Views
If it is one of those sparkling, sunny, windless, clear days that you get in the Cape then head for the cable car up Table Mountain. With 360-degree views over the 12 Apostles, the V&A Waterfront, Robben Island, Mitchell's Plain and the Cape Flats, Table Mountain is the perfect place from which to view the city. The cable car's rotating floor ensures that everyone gets the best view. There is a lovely stone restaurant up there where you can enjoy anything from an ice-cream to a full-on meal or a gourmet deli meal.
Costs from R70 to R290 return, depending on age and time of day.
If you are up to a good hike then try a guided walk up the mountain and a city tour:Hiking Table Mountain and Tour of Cape Town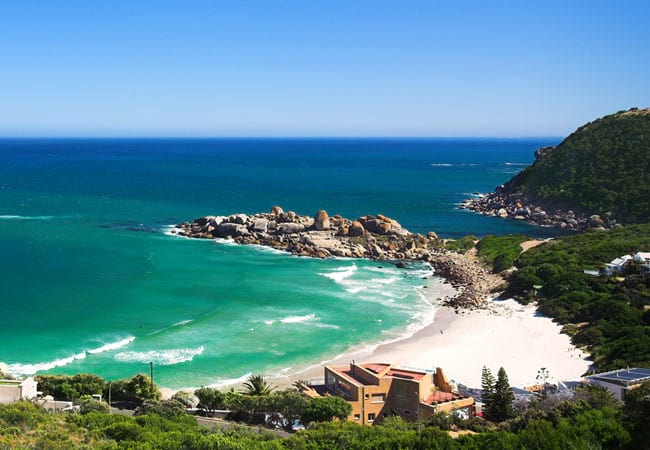 Turquise Bays and White Sand Beaches Along the Atlantic Seaboard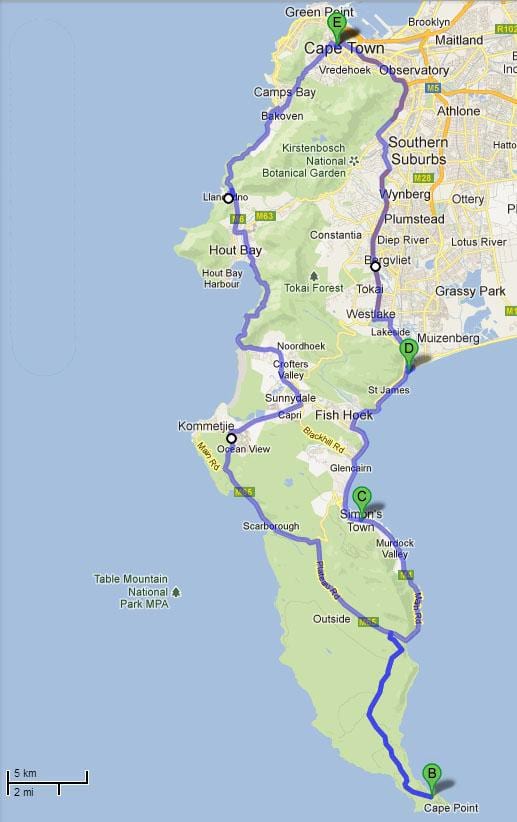 Detailed May of the Best Route To Drive to Cape Point
Drive to the Cape Point. This is the legendary point of Two Oceans meeting: the cold Atlantic and the warmer Indian Oceans. In fact, they are said to meet at the southern-most point at Cape Agulhas further up the east coast, but views from the top of the funicular, with crashing waves from both sides of the jutting peninsula, will put doubt in your mind.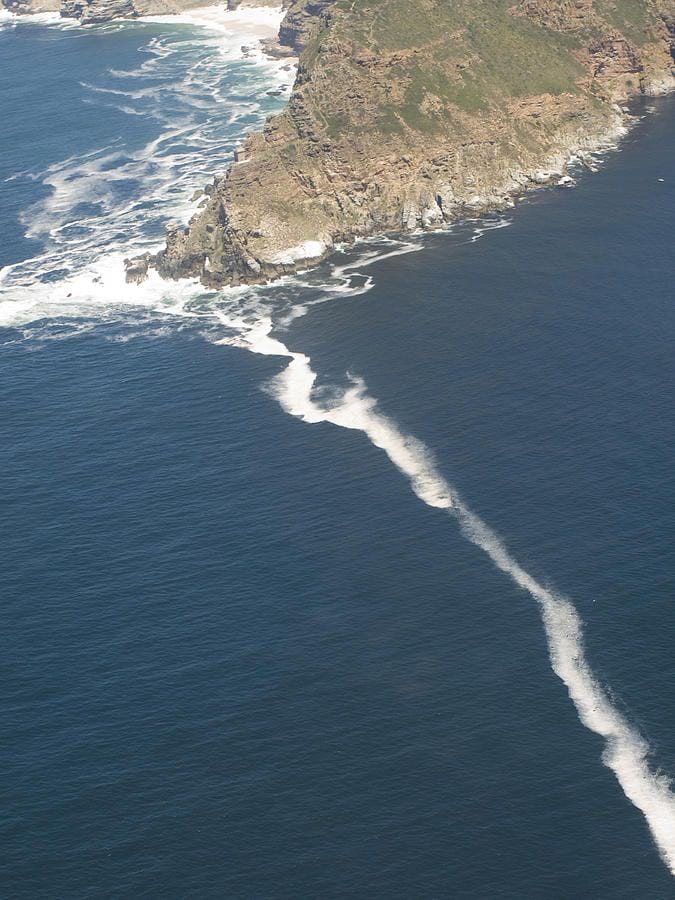 Cape Point Where You Can Look Out Over the Ocean - Next Land Antarctica!!
This drive is 140km of sheer joy all the way!! It is said to rank with the most scenic drives in the world. With beaches, bays, mountains and quaint fishing villages to saturate your visual faculty, this journey will establish a new bench mark to the 'Wow' factor. Travel along the Atlantic coast through the suburbs of Sea Point and Camps Bay with spectacular views of the Twelve Apostles, part of Table Mountain Range, on your left, and the white sands and spectacular Blue Flag beaches of Cliffton, Camps Bay and LLandudno on your right. Arrive at the delightful fishing village of Hout Bay.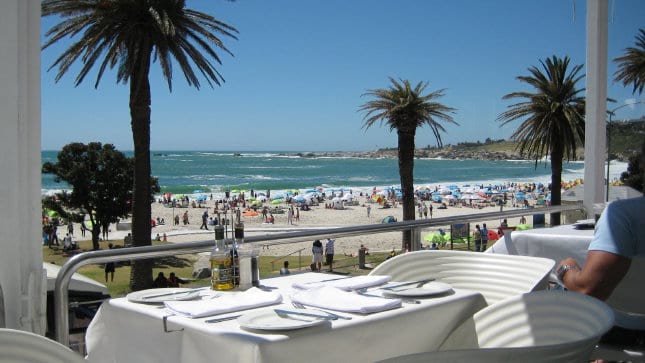 Restaurant Overlooking Glorious Camps Bay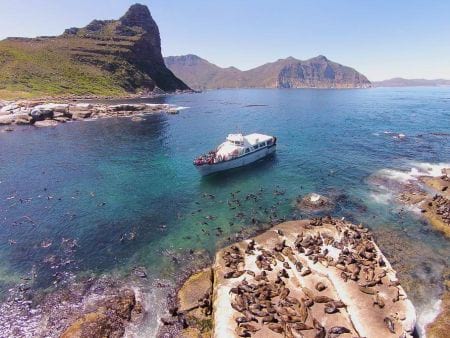 Hout Bay and a Visit to Seal Island is a Must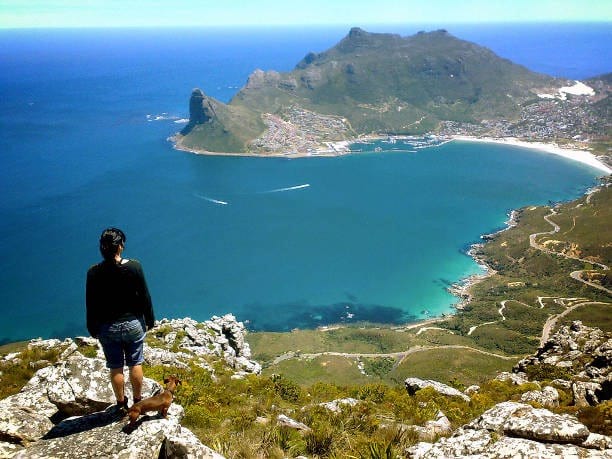 View from Chapmans Peak Back Over to Camps Bay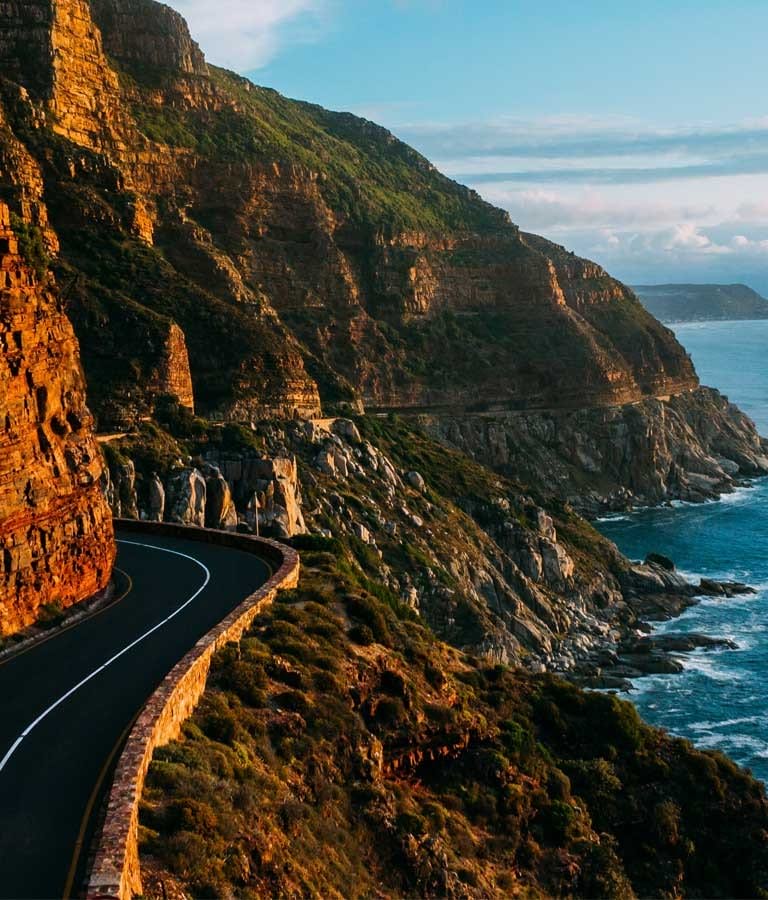 Chapmans Peak Drive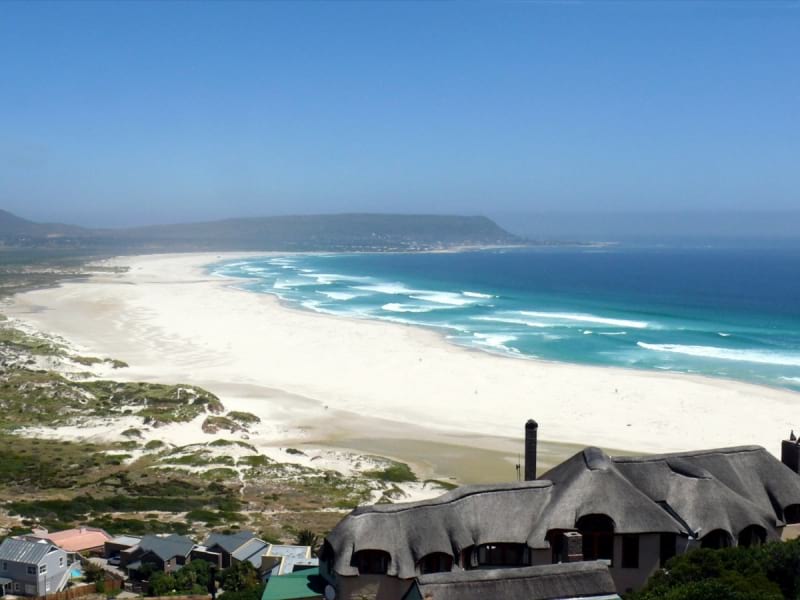 At the End of Chapmans Peak Drive You Arrive at Noordhoek
Continue along the coast and enter the Chapmans Peak Drive, held to be the most dazzling marine drive in the world. The toll of R47 is well worth the expense. You will exit this breath-taking drive at Noordhoek and continue through Kommetjie, Soetwater, Witsand, Misty Cliffs and Scarborough, where you then drive inland for a few kilometres. A 10-15minute scenic drive from the gate through Table Mountain National Park will bring you to Cape Point.
South African locals now pay R76 to enter the reserve and all you need to bring along is your South African ID.
For international guests it is R303
Funicular pricing will cost you R70-R80 depending on the time of day.
Take in the view while you take a bite at The Two Oceans Restaurant at the top of the promontory.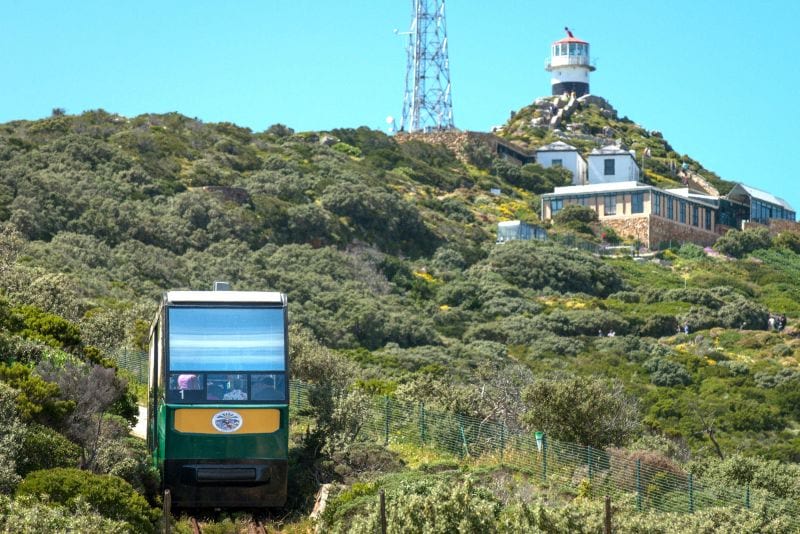 The Flying Dutchman Funicular Will Take You to the Top of Cape Point for a Small Fee If you Do Not Want to Walk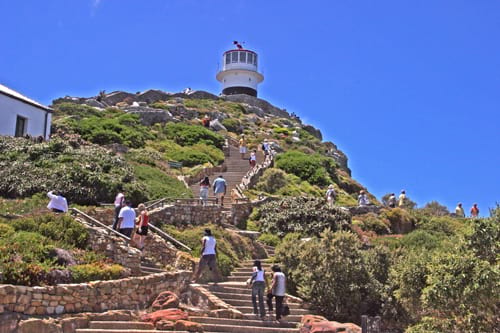 The Lighthouse at the Top of Cape Point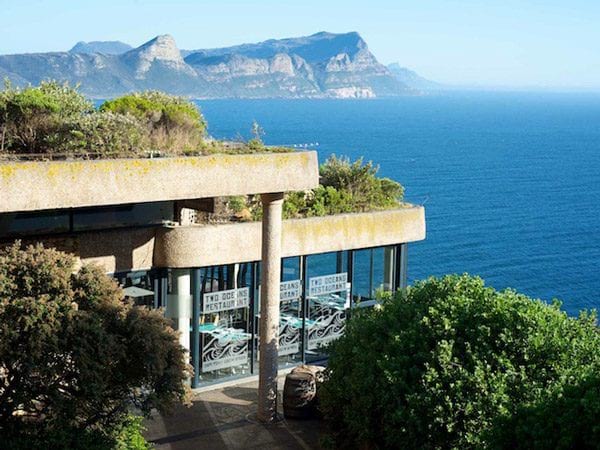 The Two Oceans Restaurant With Wonderful Views
Return along the coast road west of the peninsula via the historical naval port of Simon's Town. Visit the South African Naval Museum. Visit Boulders Beach where there is a breading colony of African Penguins. There is a fee to walk with them. Drive past Muizenberg with its iconic beach houses and warm Indian Ocean beach, and return to Cape Town via Fish Hoek.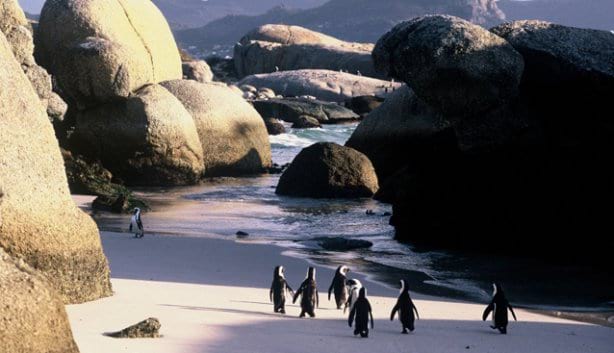 Boulders Beach with African Penquins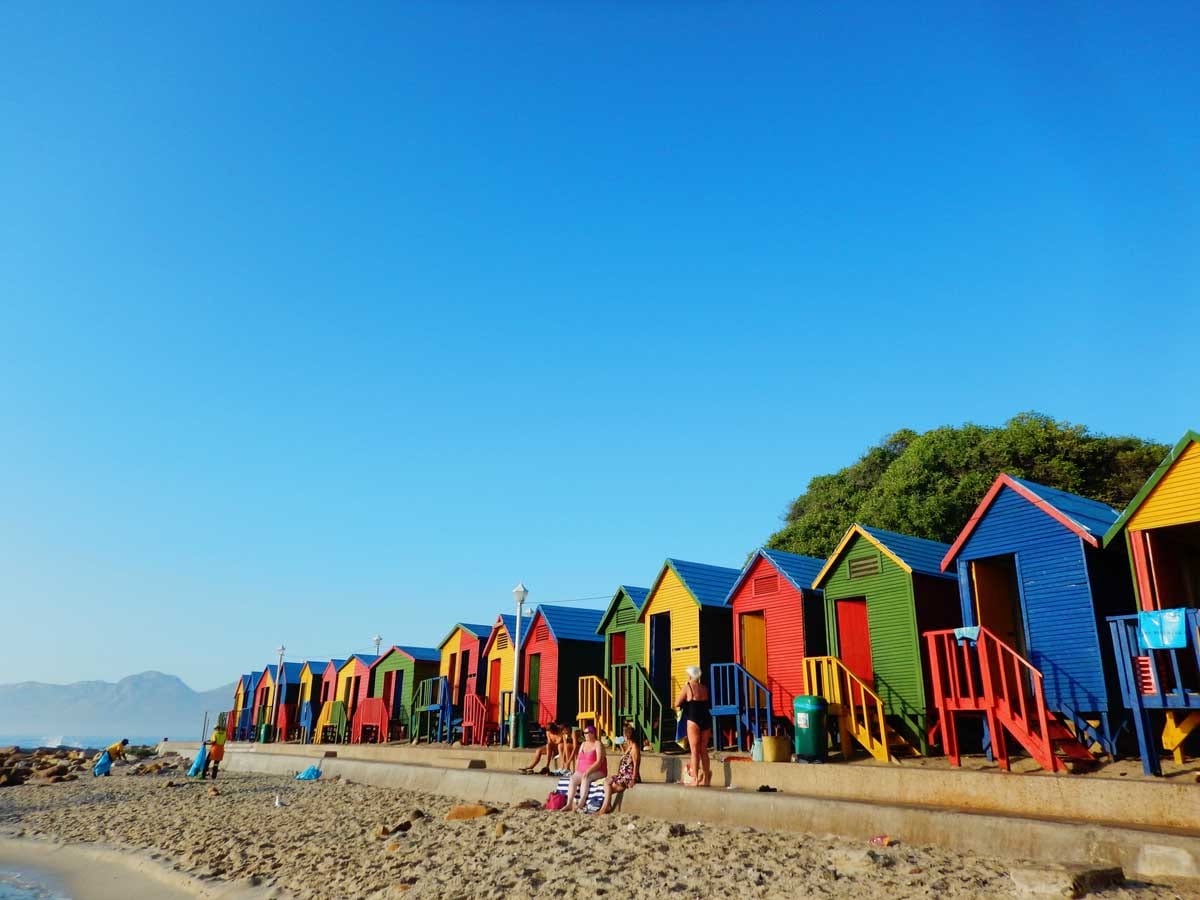 The Iconic Colourful Beach Houses Along Indian Ocean Side of the Peninsula
Cape Peninsula Full Day Tour: Taking a tour takes the hassle out of the drive and you can enjoy the spectacular scenery unhindered.
Cycling Cape of Good Hope Full Day Tour:For the energetic a cycling tour of Cape Point is more intimate and interactive.
Full Day Best of the Cape with Cape Point and Winelands: Combine a trip to Cape Point and the Winelands of Stellenbosch.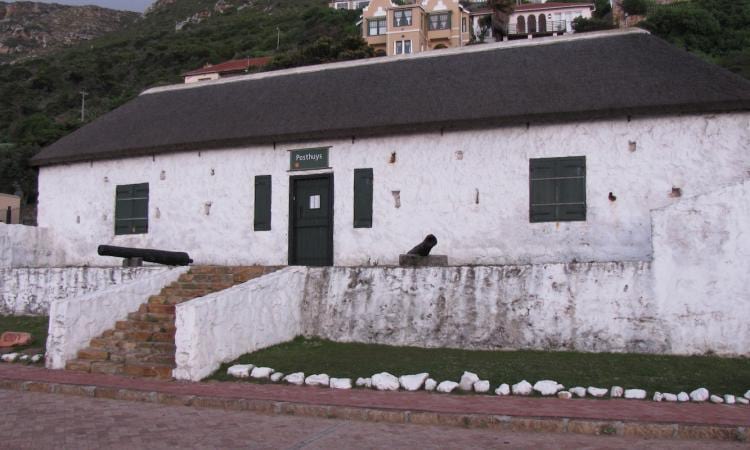 The Posthuis at Muisenberg with Old Canons Pointed Out to Sea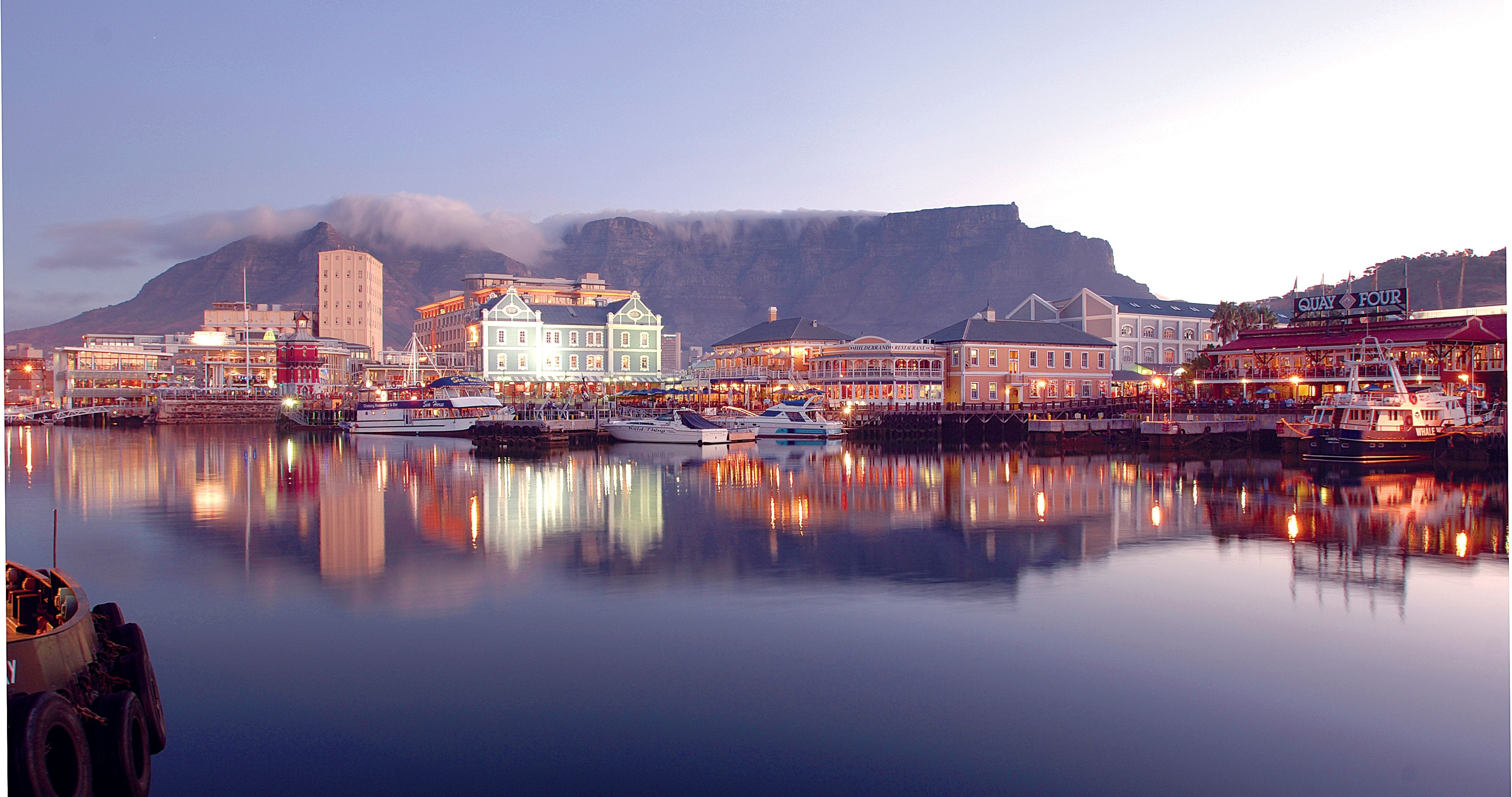 ​​​​​​​The Victoria and Albert Waterfront
Spend some time down at Victoria and Albert Waterfront on the Atlantic shore, Table Bay. There are many activities to get involved in.
Cruise the canals: 20-minute cruise between Cape Town's Foreshore area and V&A Waterfront Cost: Adult R45: Child: R30
Two Oceans Aquarium: A fascinating and close-up glimpse below the surface of the oceans that surround the South Africa. Cost: Adult: R175; 14-17 ages: R130 4-12 ages: R85
For an upmarket lunch try Reuben's at the One and Only, or for have a relaxed pub lunch and beer head for the Quay 4 Tavern. There are over 80 restaurants and eateries covering all price ranges and tastes at the V & A!! For fresh fish and chips with a chilled glass of chardonnay I love Upstairs Quay 4.
Enjoy cocktails, Tapas and Sushi on the upper deck of the Harbour House.
Take an ocean cruise on The Sea Princess.
Wander around this buzzing, lively waterfront, shop for that special item or just relax on a bench and watch the seals play in the harbour.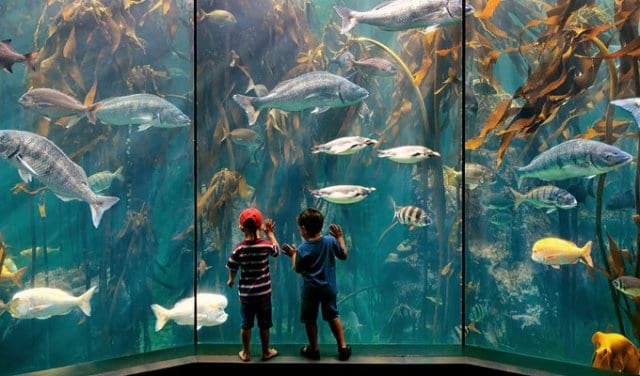 The Two Oceans Aquarium at the Victoria and Albert Waterfront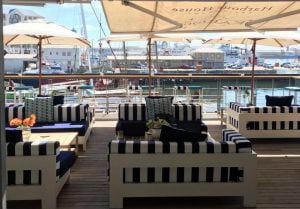 A Big Choise of Good Restaurants to Fast Food Places at the Waterfront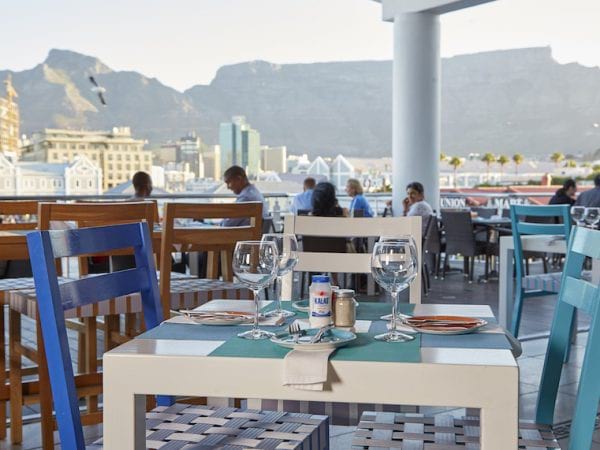 Atmosphere and Good Food at the Waterfront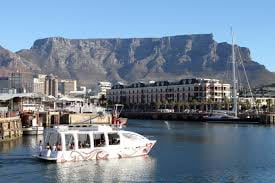 ​​​​​​​Book a Cruise Around the Harbour
Wine tasting is one of the best ways to spend a day in Cape Town. Combine the delicious wines with some of the most beautiful landscapes on earth, century old architecture, and awe-inspiring food, and it's no surprise that it's one of Cape Town's most beloved activities for visitors and locals alike. There are many wine routes to choose from and all have something special.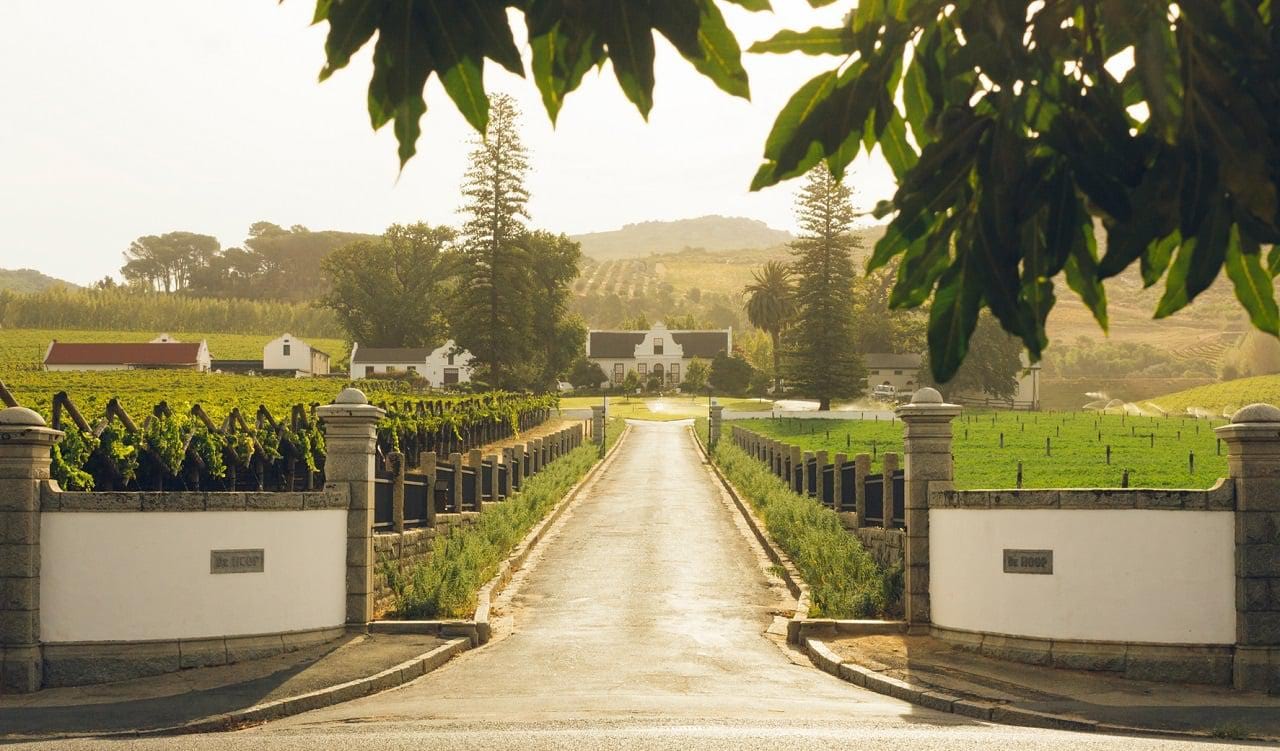 Klein Constantia Wine Farm with Its Gracious Cape Dutch Homestead
The Constantia Wine Route is no more than 20 minutes away from the city. The magnificent landscape is home to some of the country's oldest and most prestigious wine farms dating back to the 1650s. The wines of the Constantia Vineyards are largely cool climate offerings, so look out for world class sauvignon blancs, delightful reds and the famous Constantia dessert wine.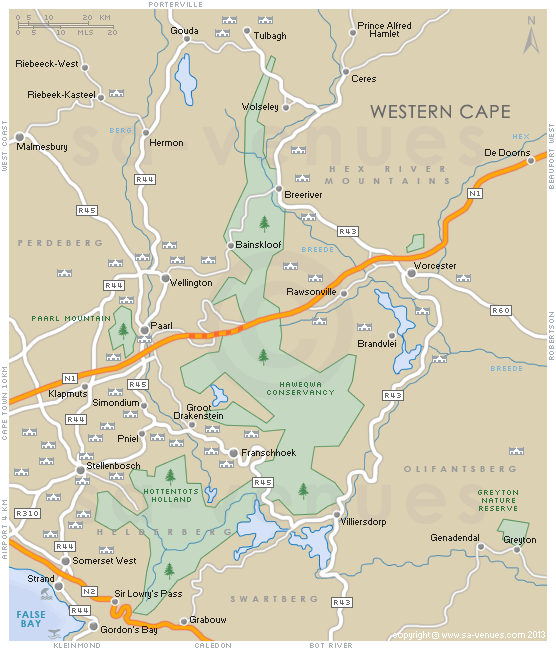 A Map of the Main Wine Regions of the Cape
The Stellenbosch Wine Route has 148 wine farms which adorn the vine-covered landscape, many of them historical farms with achingly beautiful Cape Dutch manors houses, gardens, hotels, and fine-dining restaurants.The trip for Cape Town to Stellenbosch is 50km taking 45 minutes via the N2 and R310.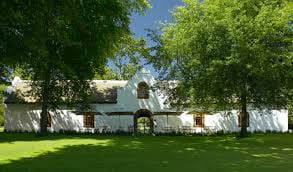 Some Beautiful Wine Farms Where You Can Do Wine Tasting
To get to Franschhoek Wine Valley Route you will need to travel 82km which will take 1h10m.This is South Africa's Gourmet Capital with breath-taking scenery, warm hospitality, fine wines, distinctive artists, and a small village atmosphere.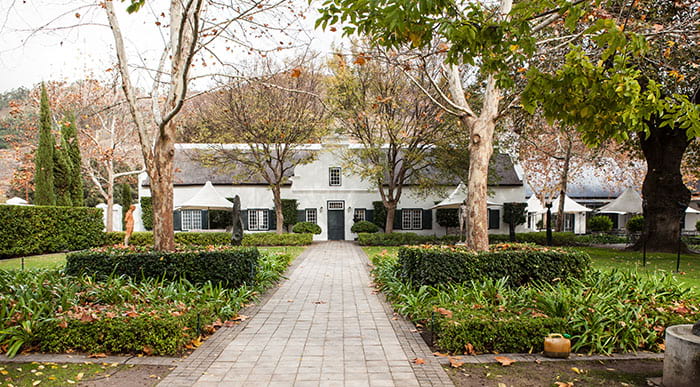 Grand Provence Wine Estate in Franschhoek
There are many other Wine Routes to choose from. You are spoilt for choice. Most of the estates offer breakfast and lunch in stunning landscapes and historic Cape Dutch manor homes and old oak trees. A seasonal country menu is often built around the particular estate's iconic wines.Anything from baskets for picnics to fine dining is offered.
Award-winning wines, delicious food, paired with spectacular surroundings, what more could you want.
Full Day Cape Wine Land Tour: Take a tour which takes the hassle out of navigating your way there,and frees you to taste and enjoy the world class wines without thinking of the drive back to Cape Town.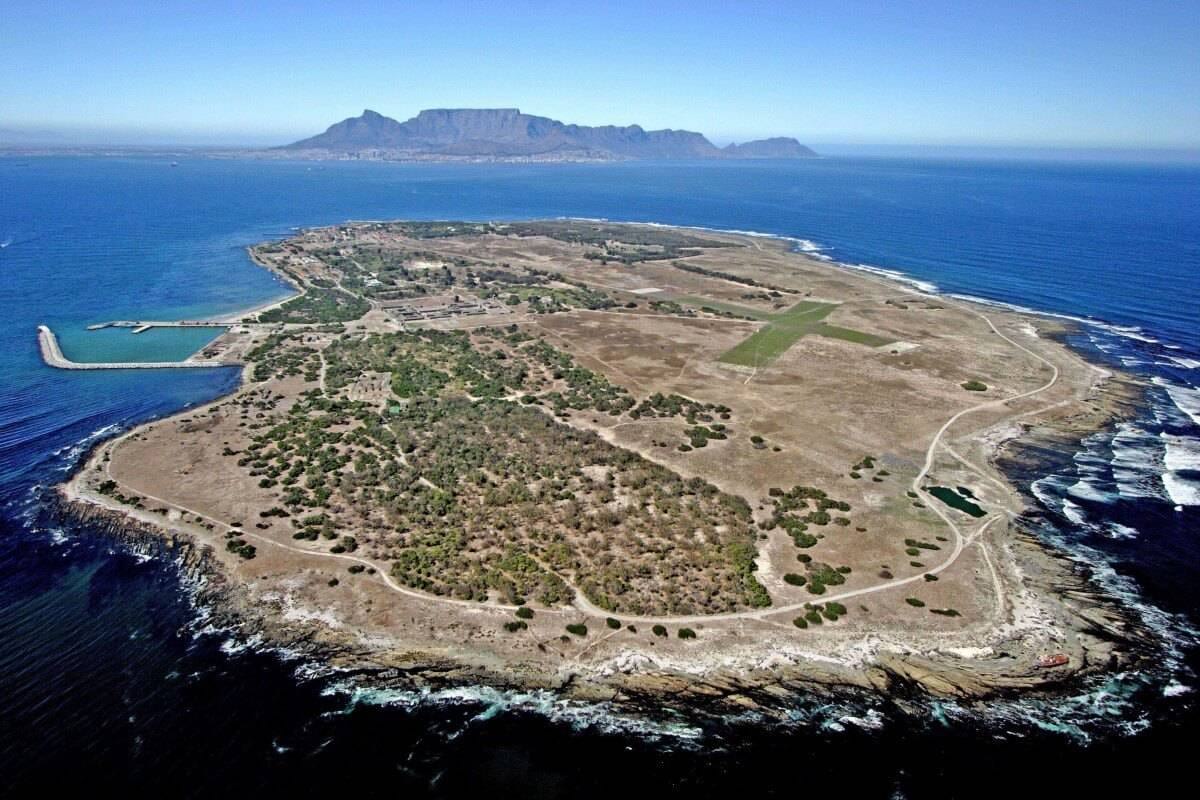 Aerial View of Robben Island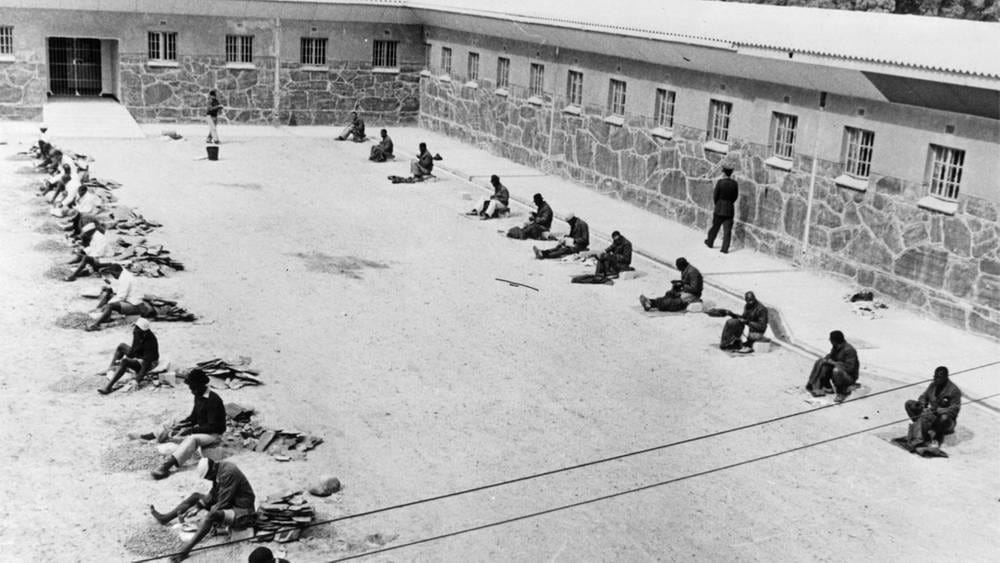 ​​​​​​​Inmates Breaking up Rocks In the Days When This Prison Held Political Prisoners.
A trip to Robben Island is mandatory. This, UNESCO World Heritage Site, is where many prisoners spent years of hardship for opposing the Apartheid Regime and where Nelson Mandela spent 18 years of his 27 years in prison. The Island's allure lies in its rich and wretched history. The best part of the tour is getting the story told from someone who was actually a prisoner on the island. Although their stories are sad, they are not looking for pity but just want to make sure the story is told correctly.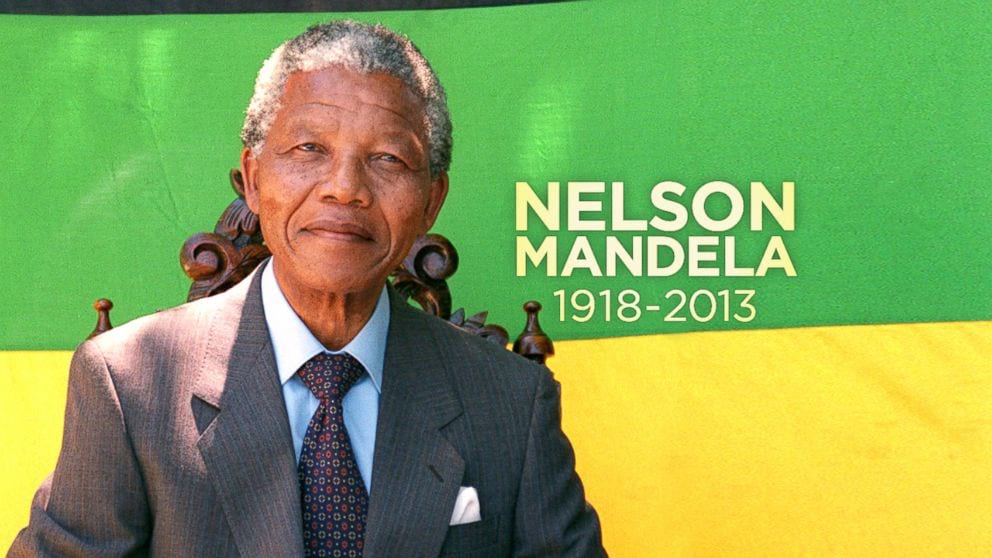 The Most Revered and Respected Inmate of Robben Island: Nelson Mandela
Ferries depart for Robben Island from the Nelson Mandela Gateway at the V&A Waterfront at 9am, 11am and 1pm daily, depending on the weather. You can expect the tour (including the trips to and from the island) to last about three-and-a-half hours. Gates close 10 minutes prior to boarding, so it is best to arrive early. Watch out for African Penguins and Southern Right Whales on the journey over.
Keep an eye out for Crowned Cormorants and Black Crowned Night Herons, which breed on the island in large colonies.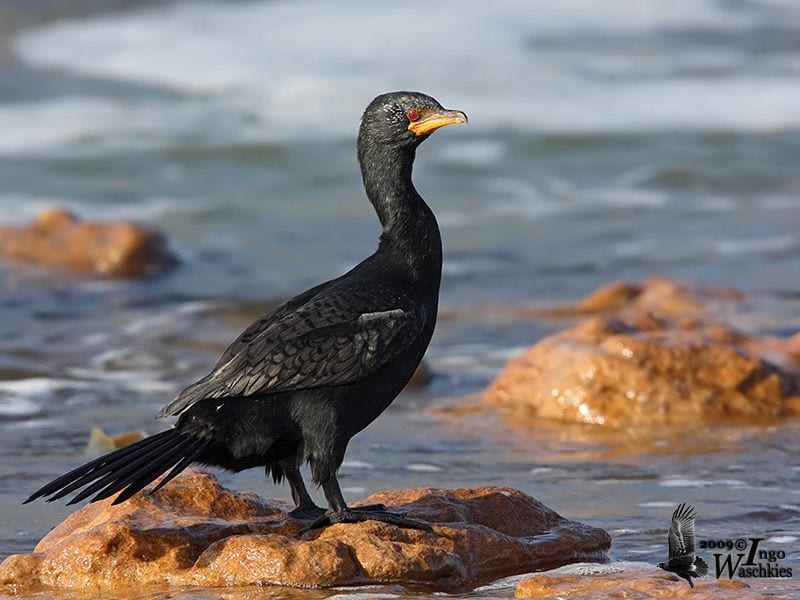 Crowned Cormorant Often Seen on the Boat to Robben Island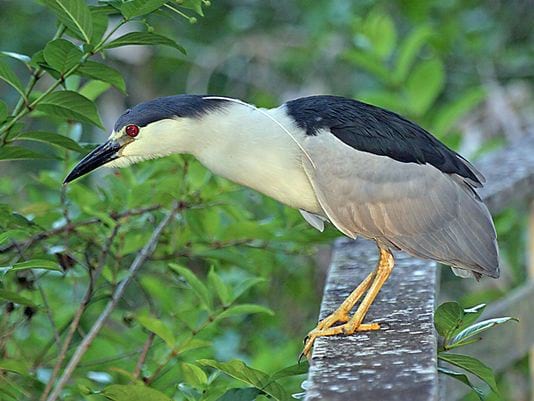 There is a Breeding Colony of The Black Crowned Night Heron on Robben Island
Try a city tour that takes in the main attractions in the city bowl and includes a trip to Robben Island. Full Day Tour of Cape Town and Robben Island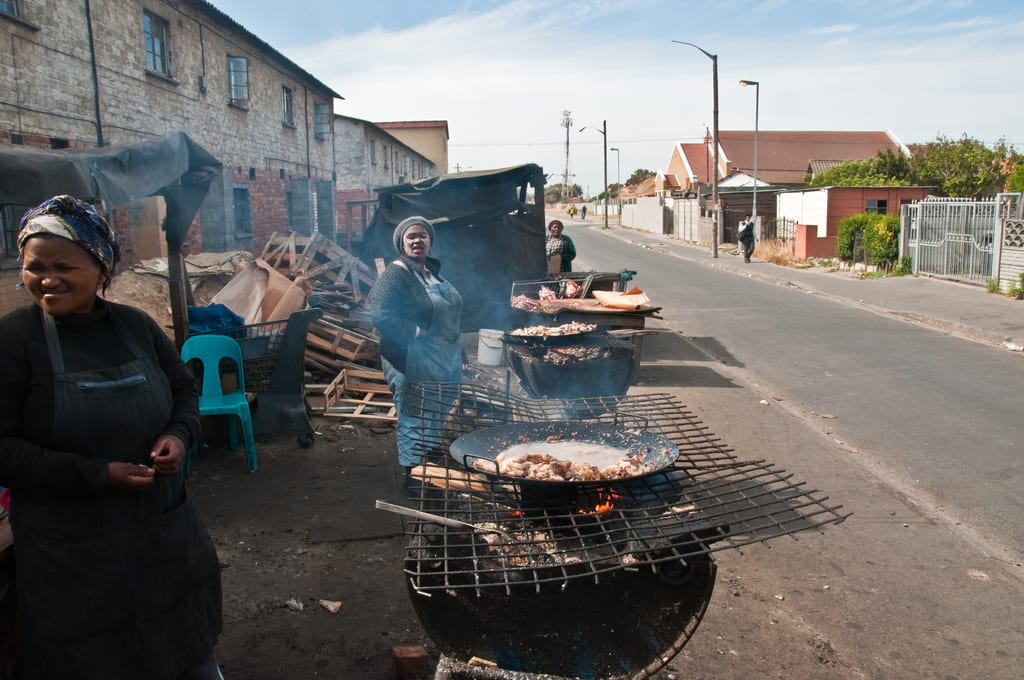 ​​​​​​​Colouful and Vibrant Gugulethu
For a colourful taste of the local and vibrant townships of Gugulethu and Langa I would advise that you take a tour with a local guide who is passionate about sharing his love of his home town with you. This is a fun way to spend a half day and get a feel for another side of our beautiful Cape Town.
Half Day Tour of City Bowl, Langa and Gugulethu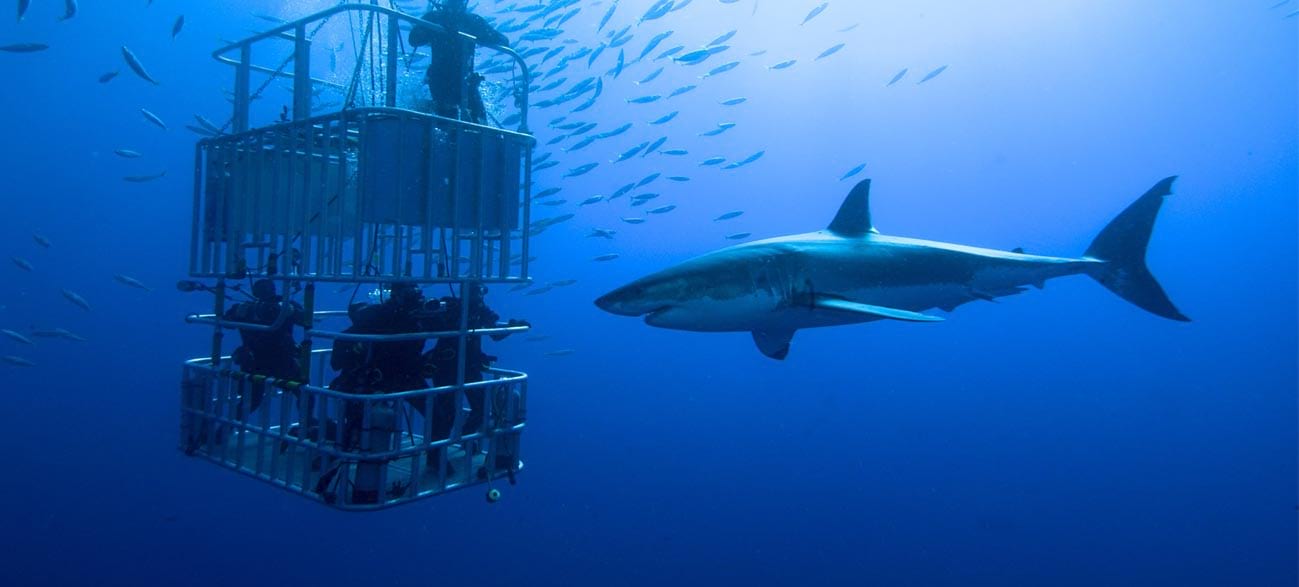 Shark Cage Diving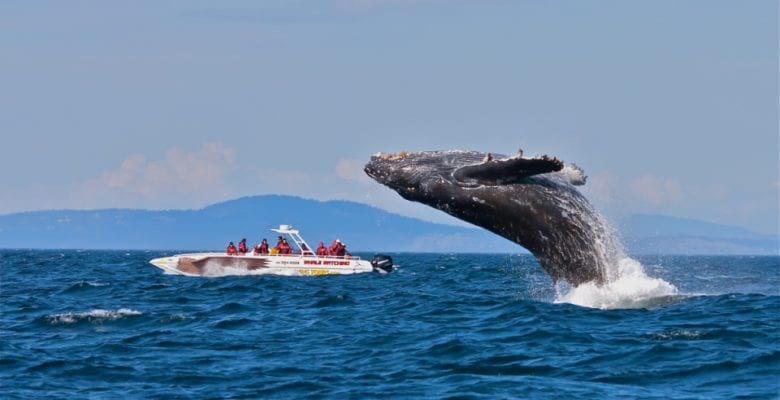 Boat Based Whale Watching
FUN TO TRY
If you love the ocean and being out on it then take a Whale Watching trip with a Marine biologist onboard. Come and meet the ocean's Marine Big 5 (Whale, Dolphin, Seal, Penguin & a Great white shark). in this full day boat-based tour.
Full Day Boat Based Whale Watching
Full Day Shark Cage Diving Tour
Shark Cage Diving. This one is the ultimate adventure for adrenaline junkies. Come face to face with a Great White Shark!! It is a half day expedition, depending on the weather and ocean current. Fortunately, you will be in a cage – and the sharks will be on the other side of the cage!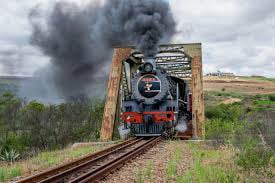 ​​​​​​​The Elgin Steam Train
Steam Train to Elgin: Few things are more romantic and enjoyable than a steam-train ride through the countryside… And now you can hop aboard one of Ceres Rail's family-friendly locomotives and experience the splendour firsthand. Elgin Valley is famed for its deciduous fruit and beauty. The three-hour train ride to Elgin departs from the Royal Cape Yacht Club, near the V&A Waterfront, and travels up Sir Lowry's Pass with a doubleheader (two locomotives). Enjoy the breath-taking scenery of mountains, endless rolling hills – and even spot a few sheep and cows along the way.
The Elgin Railway Market
Once the train pulls into the Elgin station, you will be able to disembark, and enjoy three-and-a-half hours at the newly established steampunk-themed Elgin Railway Market. With live music and a dazzling selection of clothing, accessories, ceramics and art stalls, you'll be able to enjoy all that's on offer while savouring tantalising street-food and refreshments.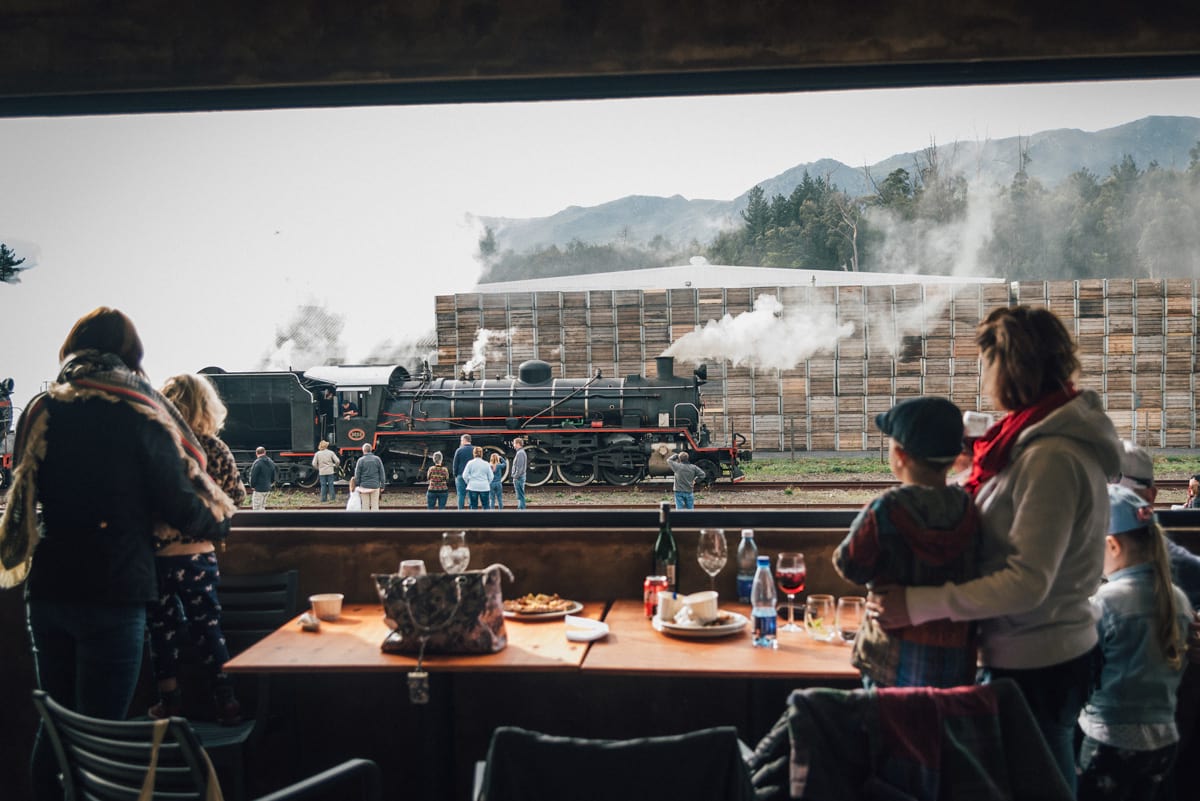 Catching a Meal at the Railway Stop in Elgin
Arrive at Elgin Railway Market:11.30am
Depart Elgin:2.30pm
Arrive back in Cape Town: 5.30pm
Whether you want action, relaxed, gourmet food, or fresh fish and chips, beer or cocktails, cosy with a roaring fire or expansive views over extraordinary vistas you are in the right place. So, get out there are enjoy 'The fairest Cape in all the World"!! [attributed to Sir Francis Drake on his circumnavigation of the Cape of Good Hope in 1580]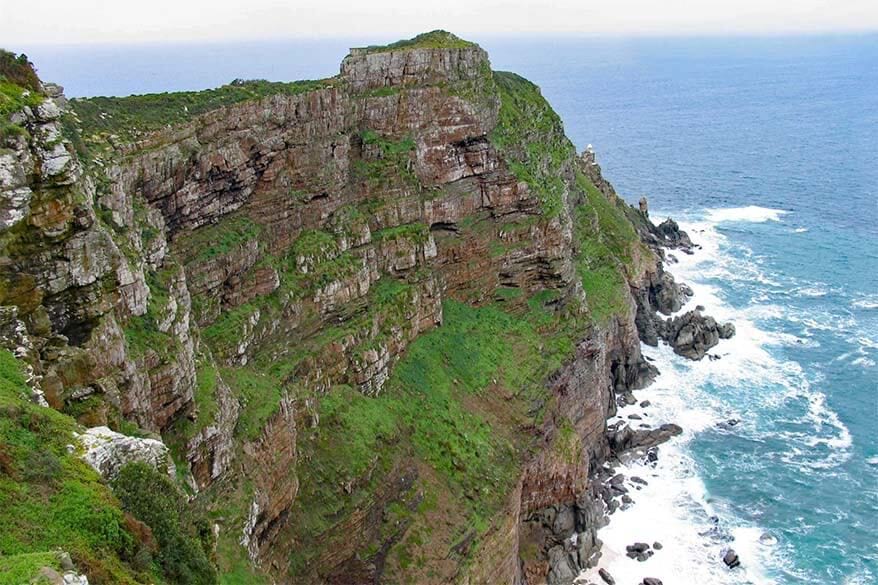 ​​​​​​​
​​​​​​​View of Cape Point