Plettenberg Bay – Best Casual Eating Places
Plettenberg Bay is an all year holiday destination. The climate is sunny and mild, the air fresh and clean and the sea is like champagne; delightfully cool and crystal clear. For foodies there are restaurants to write home about and for those who want to 'grab a bite' there are many options. My favourite eating places are right on the beach where I can enjoy the sight, sound and smell of the sea, watch the seals, dolphins, birds, and in season the Southern Right Whales gambol and hunt in the bay.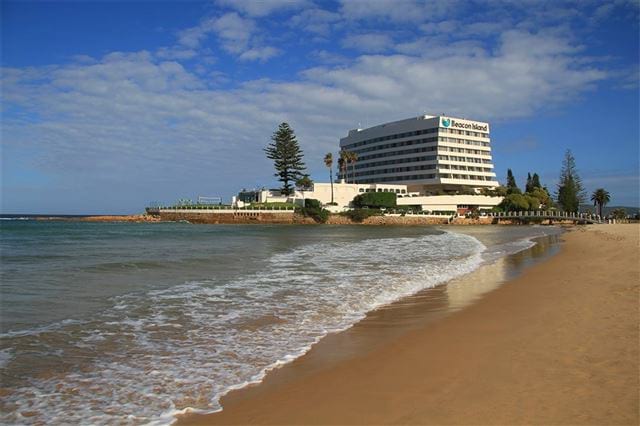 Central Beach with the Beacon Island Hotel
My first choice is a walk across Central beach to the Ski Boat Club which is run by the NSRI [National Sea Rescue Institute]. Tucking into the tenderest deep fried calamari on their wooden deck with waves crashing just a few meters away, a glass of chilled chardonnay in hand; sheer heaven! If you time it right you get to see the daily pilgrimage of dolphins making their unhurried way along the coast. The prices are reasonable and the staff cheerful.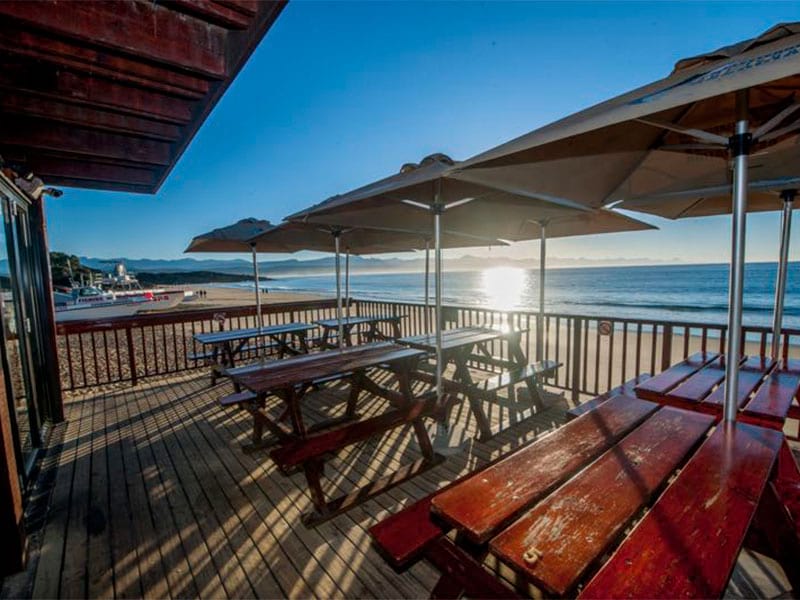 The Ski Boat Club on Central Beach
I try never to miss a visit to Enrico's at Keurboomstrand. Set on a stunning beach with dramatic rock formations, this is where dolphins love to surf and play. The pizza's here are legendary but I enjoyed, arguably, the best grilled yellow tail [line fish] ever here. This is a very popular joint and you can't book. It opens at 12 noon – just get there early in season.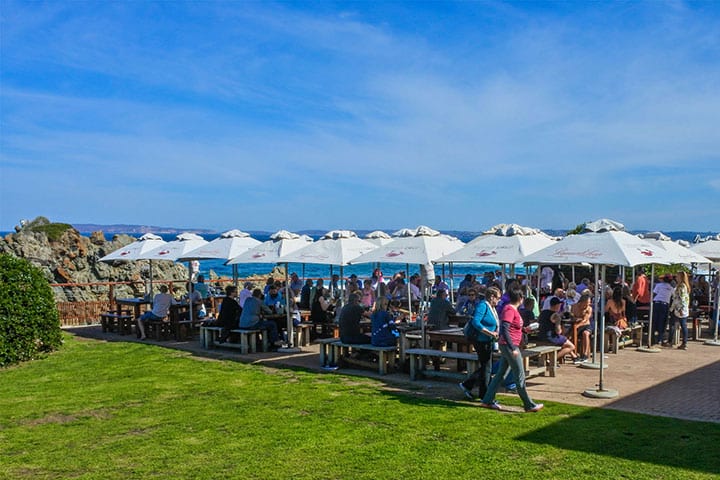 Enrico's Restaurant on the Kettle Beach at Keurboomstrand
Moby Dicks Grill is on Central Beach with great views. Saunter up from the sun and sand and create your own seafood platter with many choices. They also offer steaks, grills, great salads and their average main course is R80.
A more up market, trendy restaurant is The Fat Fish in Milkwood Centre overlooking the Piesang Lagoon and Central Beach. Their Big Fat Tapas are imaginative and "take tapas to a new Gastronomic high". Try their marbled beef steaks or tuna steaks and you won't be disappointed. Prices are not too bad with mains averaging from R80 to R150.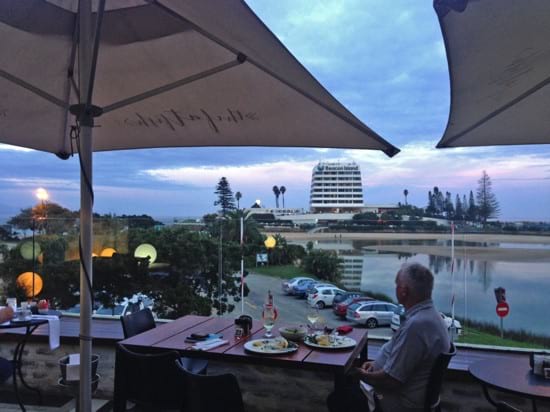 The Fat Fish on the Piesang River
Situated on the Bitou River with stunning views, Down To Earth is open for breakfast and lunch and serves healthy, well-priced, organic and naturally sourced ingredients. This is a little off the beaten track of hectic holiday makers in December and will prove to be a relaxing and enjoyable option.
On the Keurbooms River right at the Angling Club you can enjoy the river activity while you sip your wine at Plett's latest treasure, the Burnt Orange Boat House. Chef Gareth Gardiner serves a variety of local and international dishes, inspired by Spain, Italy and other European countries ... Pricy but Oh so good.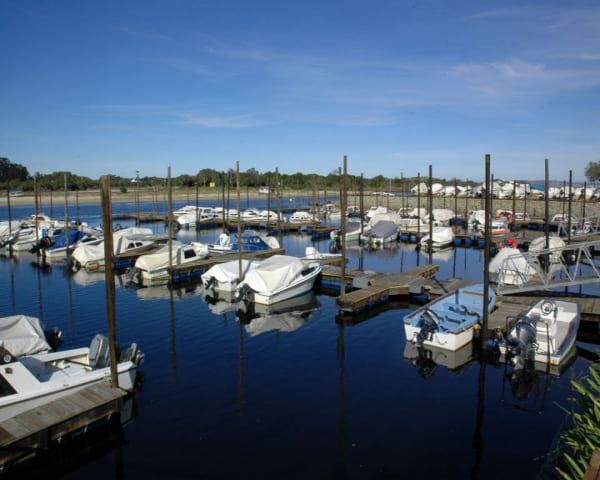 Burnt Orange at the Angling Club on the Keurbooms River
These are just my best-loved and often visited eating places and they all have stunning views which was why I chose them. There are many places to eat from gourmet restaurants to take away kiosks, some tucked away on farms or in 5star hotels. In Plettenberg Bay I love to be casual and in sight of the sea!!