Plettenberg Bay: SA's Favourite Holiday Destination
As I drove my hired car down the curve that opens up to the vista of Central Beach and Robberg Beach with the iconic Beacon Island Hotel perched on rocks in the sea between, I was glad that the speed limit is 40kl and I could feast my eyes on this brilliant, expansive scene. There were hundreds of seagulls and cormorants diving into the bay and this peaked my curiosity. I pulled into the parking area at Central Beach and sat on a bench eating a sandwich I had bought at the airport in Port Elizabeth – the bay was alive with seals and diving birds! This was a first for me and I have been coming to Plett [the locals name for Plettenberg Bay] for more than 50 years. What a welcome to my return.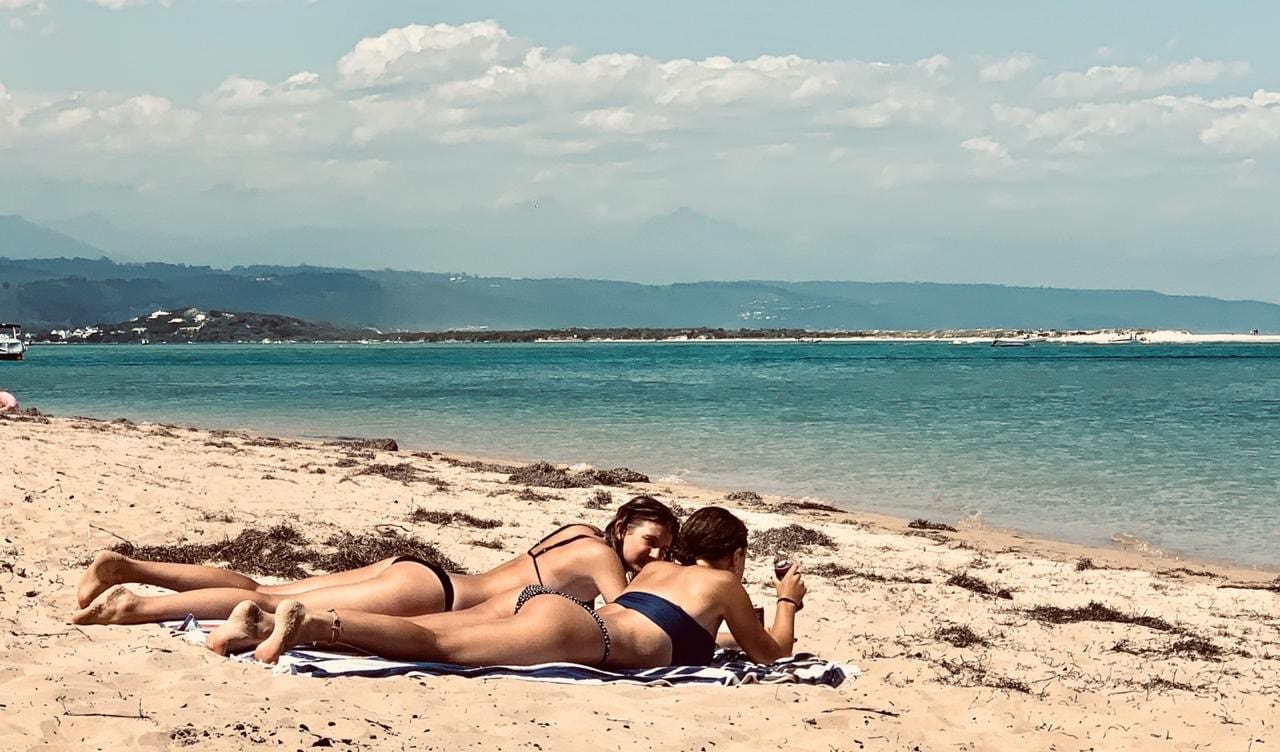 Sunbathing at Poortjies Beach on the Lagoon
I was sharing a house with my daughter and her family and we were all going out for my birthday that evening. I chose the NSRI Ski Boat Club to celebrate. It is right on Central Beach. The sea food is good and prices reasonable. We were rewarded with more scenes of seals playing in the bay, birds diving and dolphins cruising past. What a thrill. There must have been a large shoal of small fish in the shallows to attract this congregation of predators. Our joy was complete as we sipped some good wine, dined on succulent calamari and took in this extravaganza of marine pageantry.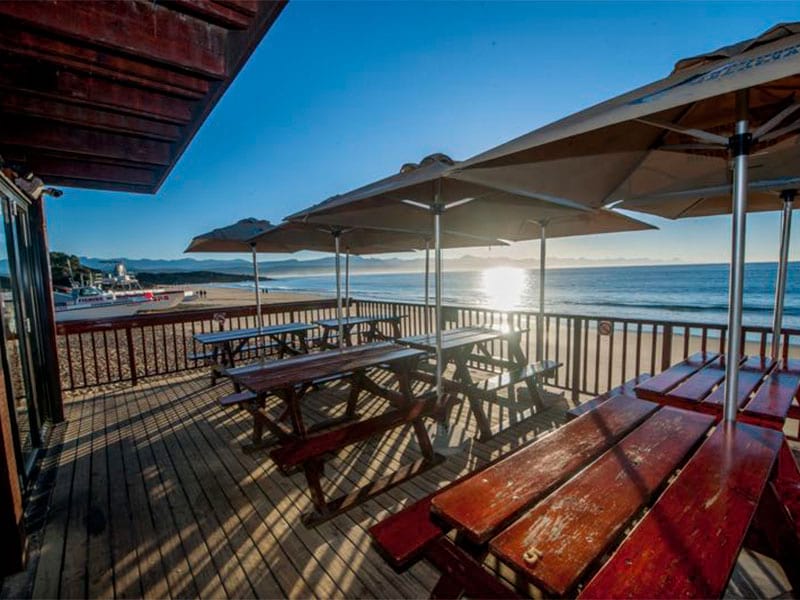 The Ski Boat Club - Seafood and Rolling Waves
My three grandchildren could not wait to get onto their surfboards and body boards the next day. Living in Johannesburg doesn't give them a lot of opportunity to ride the waves. It did not take them long to get the hang of it again and I was informed that Sanctuary Beach [one of the many beaches up the 5kl stretch of Robberg Bay] where the waves, in high tide, roll in at 3-5mt was their first choice. It was here that families set up camp and mingled with their Jozzie [fond name of locals for Johannesburg] friends, and where teenagers could meet up with their friends, make new friends, see and be seen. The ideal environment for that tentative age in early teens where they are just feeling their way with the opposite sex.
My greatest pleasure was an early morning swim on Central Beach right at the base of the rocks where the Beacon Island Hotel sits. At low tide there is just a gentle swell and the crystal-clear water is like champagne – fresh, exhilarating and left me feeling thoroughly alive. Some evenings we would all traipse down to this great spot for a repeat wallow. Sanctuary and Solar beach for Sundowners on the beach to watch the sunset while the children gambolled in the sea or surfed the waves was a perfect way to end the day. Enjoying my Merlot on our last evening on Beacon Island beach with my grandchildren and son-in-law swimming in the waves we were so enchanted to see a pod of dolphins join them and swim between them. Perfect ending to a memorable holiday. I just love Plett!!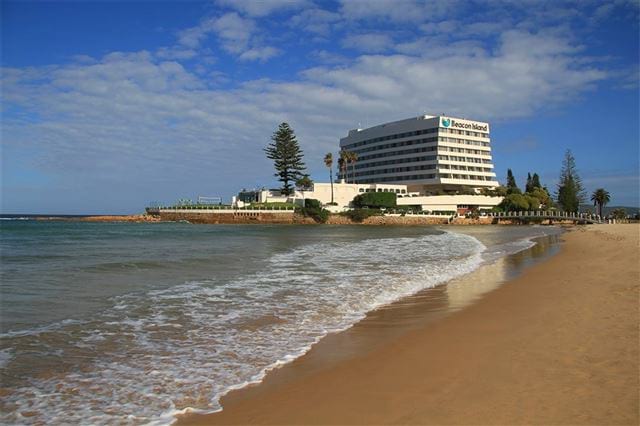 The Calm Waters of Central Beach With the Iconic Beacon Island Hotel