Beautiful Ballito
Ballito is situated about 40 kilometres north of Durban along a magnificent stretch of coves and beaches commonly called the Dolphin Coast – so yes, these tropical seas are the playground of the bottlenose dolphins, which frolic in the waters close to shore and are visible all year round. Dolphins favour this stretch of coastline because of relatively clear and shallow waters, allowing dolphins to swim close to shore in order to feed. Whales can also be spotted on their annual migration to Mozambique for the summer. Ballito is home for a population of more than 70,000 people and the favourite holiday destination for thousands. It is the fastest growing municipality in South Africa with plenty to offer in entertainment, restaurants, funky fun for kids, markets with a difference and extreme sports.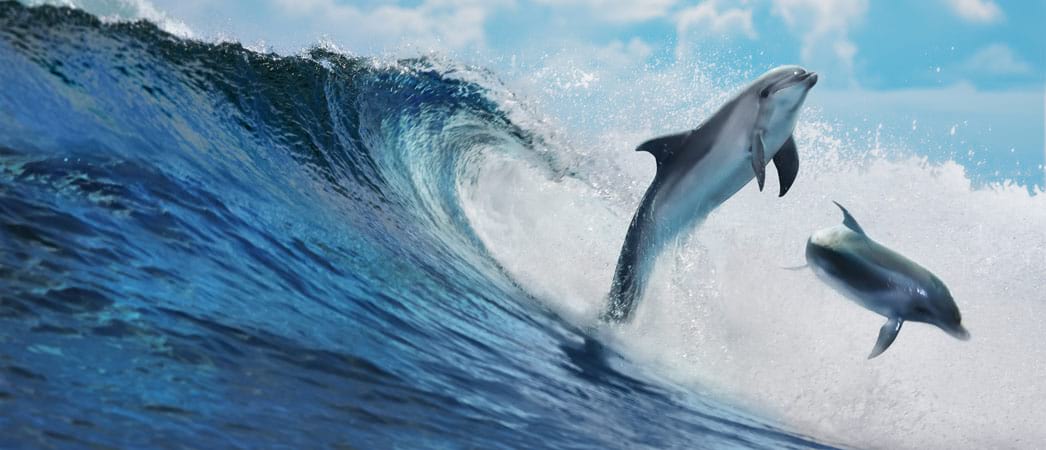 Dolphins Leaping Out of a Wave in Ballito
On a good-weather-day you head for the beach. There are wonderful rock pools, surfing beaches, walk and discover beaches. Below I have listed some
THE BEST BEACHES
---
Willard Beach: Ballito's main beach is Willard Beach. It is perfect for a day of fun in the sun. The sea is pleasantly warm and the surf is good, there are life-guards and shark nets. This is also a popular spot for surfing and body boarding, building sand castles, taking a stroll or just relaxing on the beach. Plenty of entertainment options include scuba diving, microlite flips and a selection of great seafood restaurants.
Clarke Bay: A little south of Willard Beach is Clarke Bay. It also has life-guards and shark nets and is great family beach experience. Further south of Clarke Bay is the Ballito Tidal Pool which is well maintained, clean and offers safe bathing with no waves to knock you around.
Moving South is Salmon Bay, which is a launch area for watercraft. This beach is also popular with surfers. The Ballito Inflatable Boat clubhouse is also located here.
Thompson's Bay: This is arguably the most beautiful of the swimming beaches along this coast. Walk through the 'hole in the wall' to discover picturesque coves, and striking limestone rock formations. The tidal pool and 'hole in the wall' make this spot quite special. A great activity for an active family is to walk from Thompson's Bay to Willard Beach. Pack a picnic lunch and explore. Shark nets and lifeguards are in place, but this beach can get crowded. There is also limited parking.
Salt Rock beach: Right in front of the Salt Rock Hotel this beach has it all, plenty of parking, a wide sandy beach and great waves for the surfers. It is also spitting distance from the caravan park and Granny's pool, and a fantastic children's labyrinth of a tidal pools.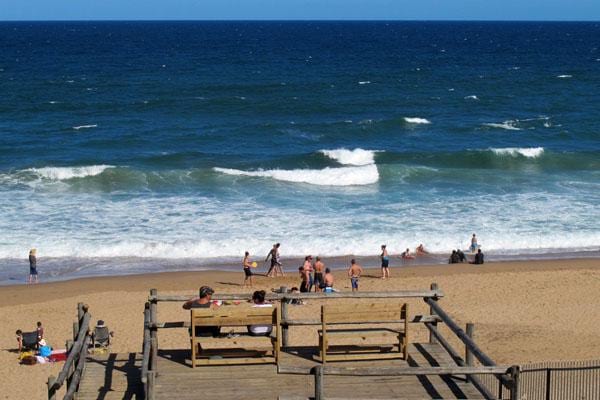 Willard Beach
Chakas Rock: This is home to a very special tidal pool, teeming with life, including parrot fish and incredible soft corals. Take a goggles and snorkel and just float in this natural aquarium. There are a huge variety of tropical fish in brilliant colours swimming in and around the rocks. Just avoid the spikes of the sea urchins.
Sheffield and Christmas Bay: These are the northern most beaches. This is where you want to go if you want a quiet wallow in the rock pools, away from the crowds. It is the perfect beach for toddlers and small children. Rock pools are in abundance and while there are no lifeguards most little coves are well protected. There is a touch of wildness on these beaches which are frequented mostly by divers, fishermen and Sheffield residents walking their dogs.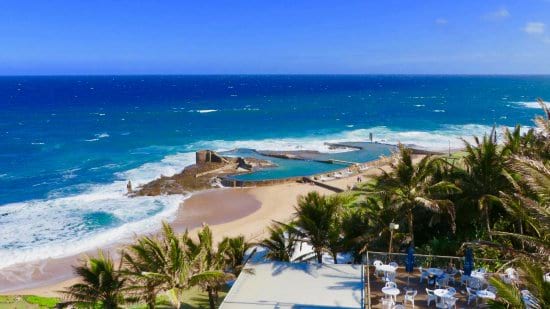 Salt Rock Beach From the Terrace of the Salt Rock Hotel
SOMETHING OTHER THAN BEACH
If you are all 'beached out' and want to try something 'other' – well look no further.
The Litchi Orchard Market: This delightful market in Umhlali, is set in a beautiful, functioning old litchi orchard and takes place on the first and third Saturday of each month between 8am and 1pm. Enjoy products ranging from artisan breads, organic vegetables, homemade curries and Indian specialities to pancakes, dresses, nuts, preserves, German baked goods and the market favourite, a breakfast stall with live music to entertain you. Buy eats and treats and picnic on the lawn or take them home to enjoy later. On a balmy evening visit the Night Market on the Last Friday of the month from 17h00 to 22h00.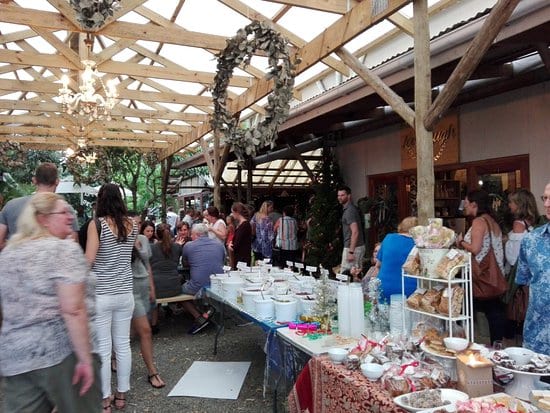 Litchi Orchard Market
Club Venture: Just 15 kilometres from Ballito and you can try "1st in the world" - all new "Parazip". On this unique Eco-adventure, you slide along steel zipline cables from platform to platform across the Sampoya River, using approved full body safety harnesses and equipment, for a 1.5km Zipline Tour. And the best part, with a parachute attached to you: the "Parazip" enables you to get a feeling of parachuting down the mountain whilst being safely attached to a zipline cable. What could be more fun?
Sugar Rush Park: Just 10minutes drive from Ballito and you are in Sugar Rush Park with wide open spaces and a host of activities to keep all members of the family actively involved. Entrance into the Park is free which includes the open park, play areas, pump track and forest trail for kids. There is a Putt Putt course, Laser Rush and Rushing Arrows, tractor rides, Sugar Rush Express, Ndlondlo Snake Park, a Feathers and Furballs Petting Zoo and a Beauty Spa. What to do with the children when the weather is not so good? The Jump Park indoor trampoline park is a 700sqm facility covered with wall-to-wall trampolines, built entirely for entertainment and recreational purposes. There are 360kl of bike trails, and you can hire bikes on site. Sugar Rush Park has evolved to become synonymous with adventure activities on the Dolphin Coast. With a playground big enough for adults and kids, easy accessibility from Ballito and a spacious farmyard setting, Sugar Rush Park is all about keeping everyone busy and creating family orientated events. Even dogs are welcome if on a leash. The perfect family outing! Check to see what activities will be open before you go.
Flag Animal Farm: This is rated the best animal farm in KZN and is just 8 minutes from Balitto in Umhlali. They offer a real farm experience where you will be able to love and cuddle so many beautiful animals. The best is that 80% of the animals are rescued and have learnt to trust people again, where they feel at peace and safe, knowing that they are loved and cared for. This is a real farm experience where families can walk freely with so many loving animals. There is a Pirate ship, indoor play centre, reptile room, tractor and train rides, horse rides, an obstacle course and loads of playgrounds. Definitely worth a visit while in Ballito!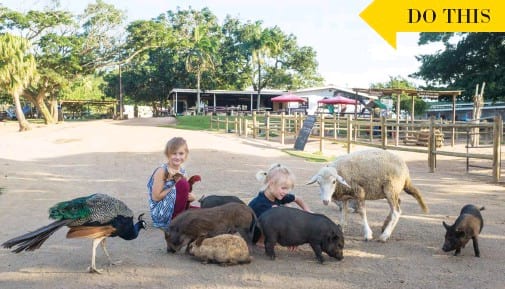 Flag Animal Farm With Animal Interaction
Sky Adventures: Sky Adventures offer you a tandem microlight flight out over the sea to get a birds-eye view of the crags, coves and beaches of the Ballito area. There have often been sightings of gambolling dolphins, whales and the views are spectacular. Treat yourself to this unique experience.
Battlefields Of KwaZulu Natal: Take a day tour into the kingdom of King Shaka of the Zulu nation and learn about the great battles between the English Red coats and the Zulu Warriors. You can book a tour through Getlocal.co.za: Full Day Tour to the Battleflields of Isandlwana
Shakaland Culture Tour: Enjoy a day immersed in Zulu culture. The friendly people, the vibrant and energetic dancing and singing, kraal life and rural living make for a day of fun and adventure. There are some tours you can book through Getlocal.co.za that will make it easy and hassle free: Full Day Shakaland Culture Tour: Full Day Shakaland and Dlinza Forest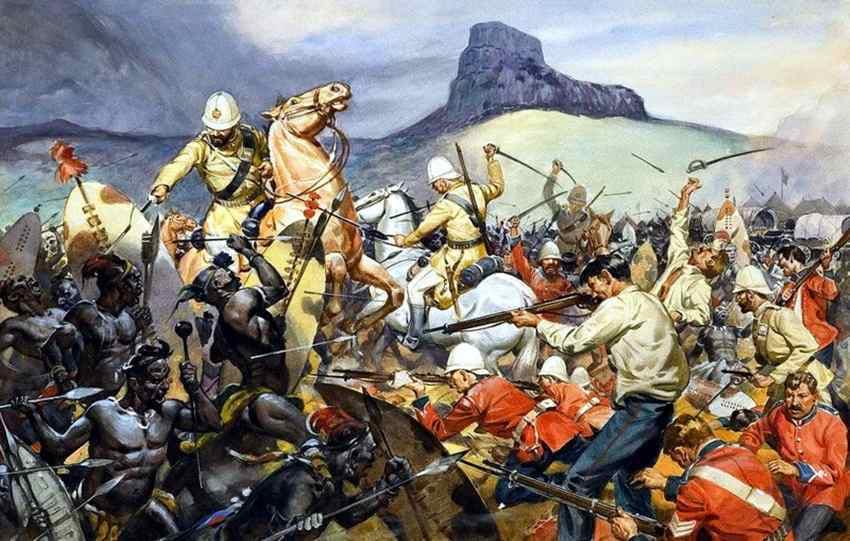 A Painting of the Battle Between Zulu Impi's and British Soldiers at Isandlawana in Zululand
A Big 5 Safari: There are some world class Game Reserves just up the coast. A drive to Hluhluwe, Imfolozi and Mkuzi Reserves will not disappoint you. They are big 5 reserves [Lion, leopard, elephant, buffalo and rhino] and a day outing is bound to be well rewarded with great sightings. Booking a tour with Getlocal.co.za means that this a relaxed and fun family day outing: Full Day Big 5 Safari - Hluhluwe and Imfolozi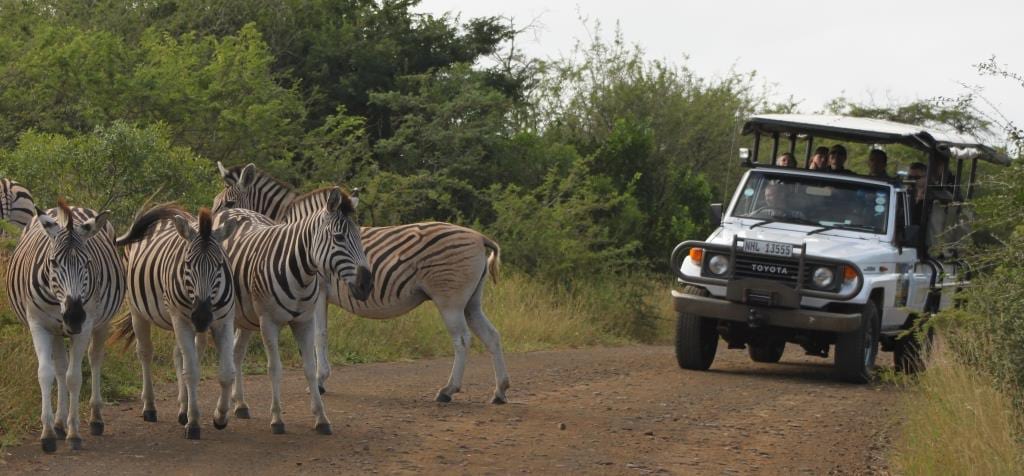 A Safari in Hluhluwe and Imfolozi Game Reserves
A Boat Safari on St Lucia: Spend a day exploring the World Heritage Site of Isimangaliso Wetlands. Take a boat Safari on the lake and cruise between hippo and crocodiles, birds and antelope. This is a truly magnificent way to spend a day. Full Day Isimangaliso Boat Safari and Wild Cat Project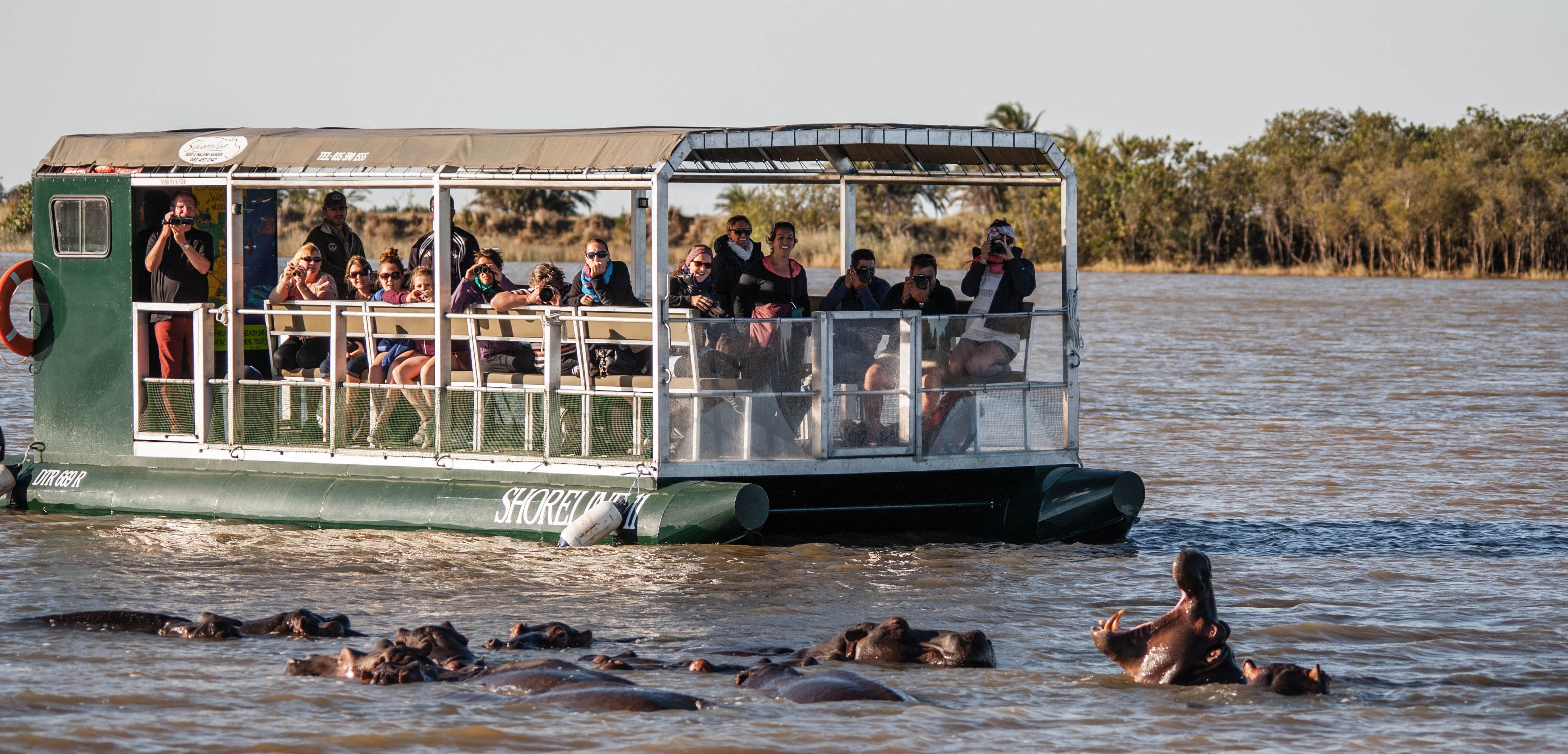 A Boat Safari on St Lucia Estuary