What's Hot September 2019
SOME EXCITING EVENTS
Franschhoek Uncorked: Franschhoek: 14-15 September 2019
Swing into Spring and head off to the picture perfect Franschhoek Wine Valley over the weekend of 14 and 15 September for this year's Franschhoek Uncorked Festival. What better excuse to explore one of South Africa's premier wine destinations, whilst uncovering a fine selection of wine gems from the Franschhoek Vignerons. This picturesque valley has history, beauty, wine estates and some of the best restaurants in South Africa. Treat yourself.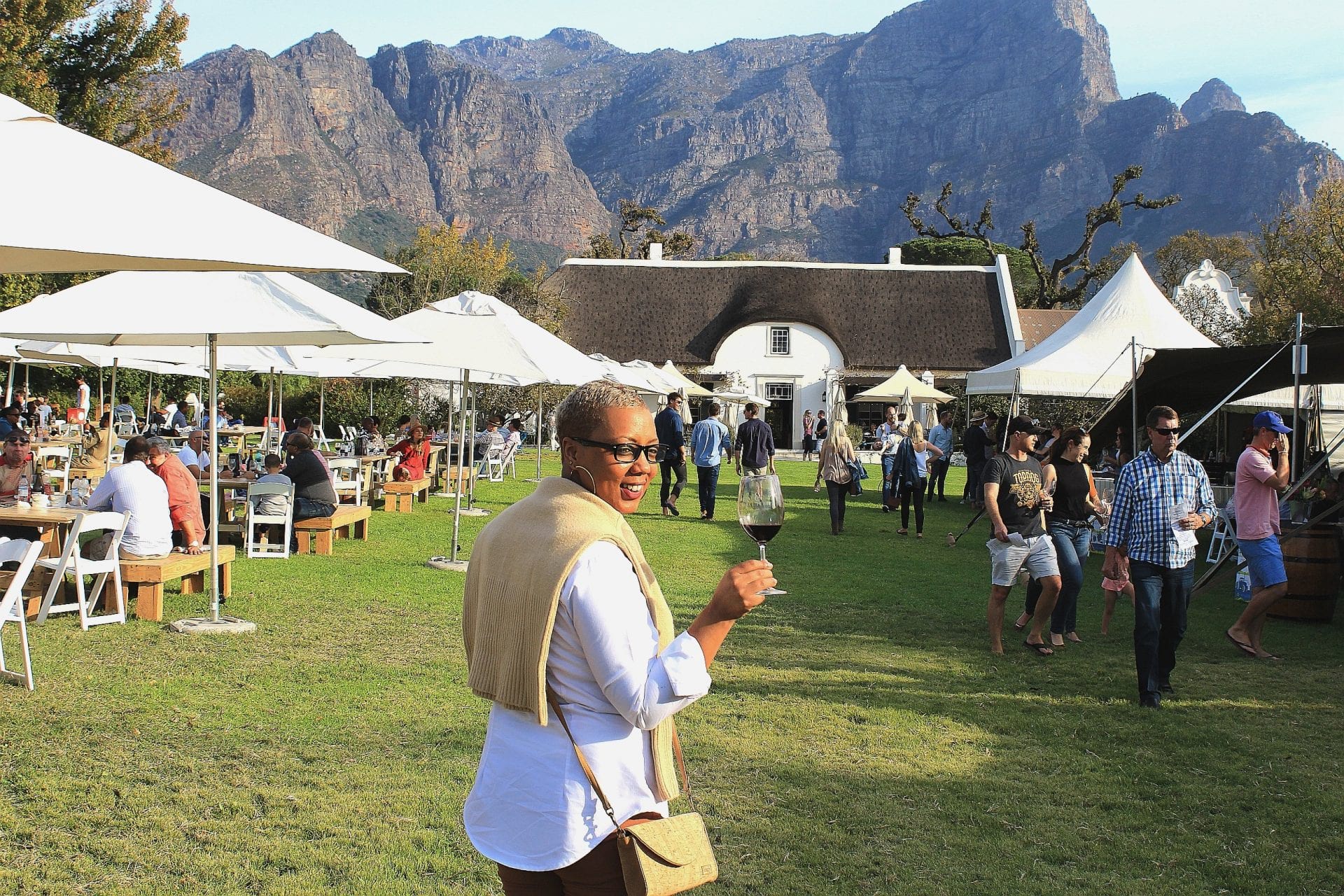 Franschhoek Uncorked
Darling Wildflower Show: Darling: 20-22 September 2019
Get to delightful Darling up the West Coast of the Cape and enjoy a week-end celebrating an integral part of the Cape Fynbos Kingdom with spectacular floral displays, gourmet food markets, a veteran tractor/car display and live music. There is a wonderland of flaming colour to explore in the surrounding farms and fields covered in flowering fynbos and Namaqualand daisies. Darling is a quaint village to settle into for the week-end.
Wolfkop Weekender: Power Flower Picnic: Citrusdal: 20-24 September 2019
Wolfkop Weekender's Power Flower Picnic is an electronic music getaway in the heart of nature with nourishing plant-based food vendors, boutique clothing stalls, a fully stocked bar and much more. The event takes place in the rolling greens of Wolfkop's camping village when the orange groves are heaving with bounty. The weekend seeks to seamlessly combine the essence of a camping getaway with a grass-roots festival experience. As the wild flowers bask in the glory of the early Spring sun, and run like blankets of colour across the fields, festivalgoers can salute the warmer season with this annual celebration on the Olifant's riverbank.
Hermanus Flower Festival: Hermanus: 21-24 September 2019
The gardens of Fernkloof Nature Reserve will come alive on the Heritage Day weekend from Saturday 21st to Tuesday 24th September when Hermanus Botanical Society celebrates our wonderful natural heritage with the Annual Flower Festival. This festival is all about fynbos and the beauty of this biosphere.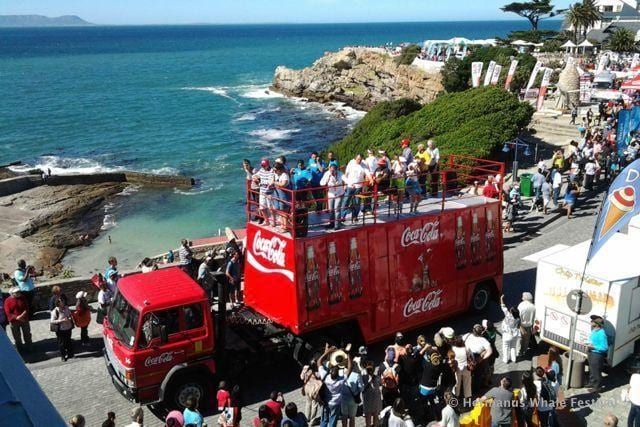 Hermanus Whale Festival
Hermanus Whale Festival: Hermanus: 27-29 September 2019
Whether from land or boats, with spectacular annual visits from the southern right and humpback whales and enormous pods of dolphins year-round Hermanus is the place to go to if you want to get close and personal with these marine mammoths. South Africa is one of the few places in the world where whales can be seen from the shore. There are at least 37 species of whales and dolphins South Africa. In the period from July to November, they migrate to give birth and nurse closer to the shores. The most common species include the Southern right whale, Humpback whale, and Bryde's whale. This is one of the few opportunities to see the whales up-close, both from land and boat. In addition to whales and dolphins, be ready to meet Cape fur seals, cute African penguins, and even great white sharks.
Meercat Wonder at Sunrise
A scene of meerkats hunting is amusing to observe. At sunrise, if the weather is dry, they start cautiously popping out from their burrows one by one, meanwhile watching around for any potential danger. When the entire family is out, they line-up side by side on their hind paws and stare into the distance. When you see a still sleepy meerkat yawn, it's easy to assume they are just enjoying the sun, but they are looking for a meal, and a hunt is about to start. They don't hunt in the rain so choose a sunny day. Best seen from September to November in the Northern Cape Province, the Kalahari, the Western Cape or Kruger National Park.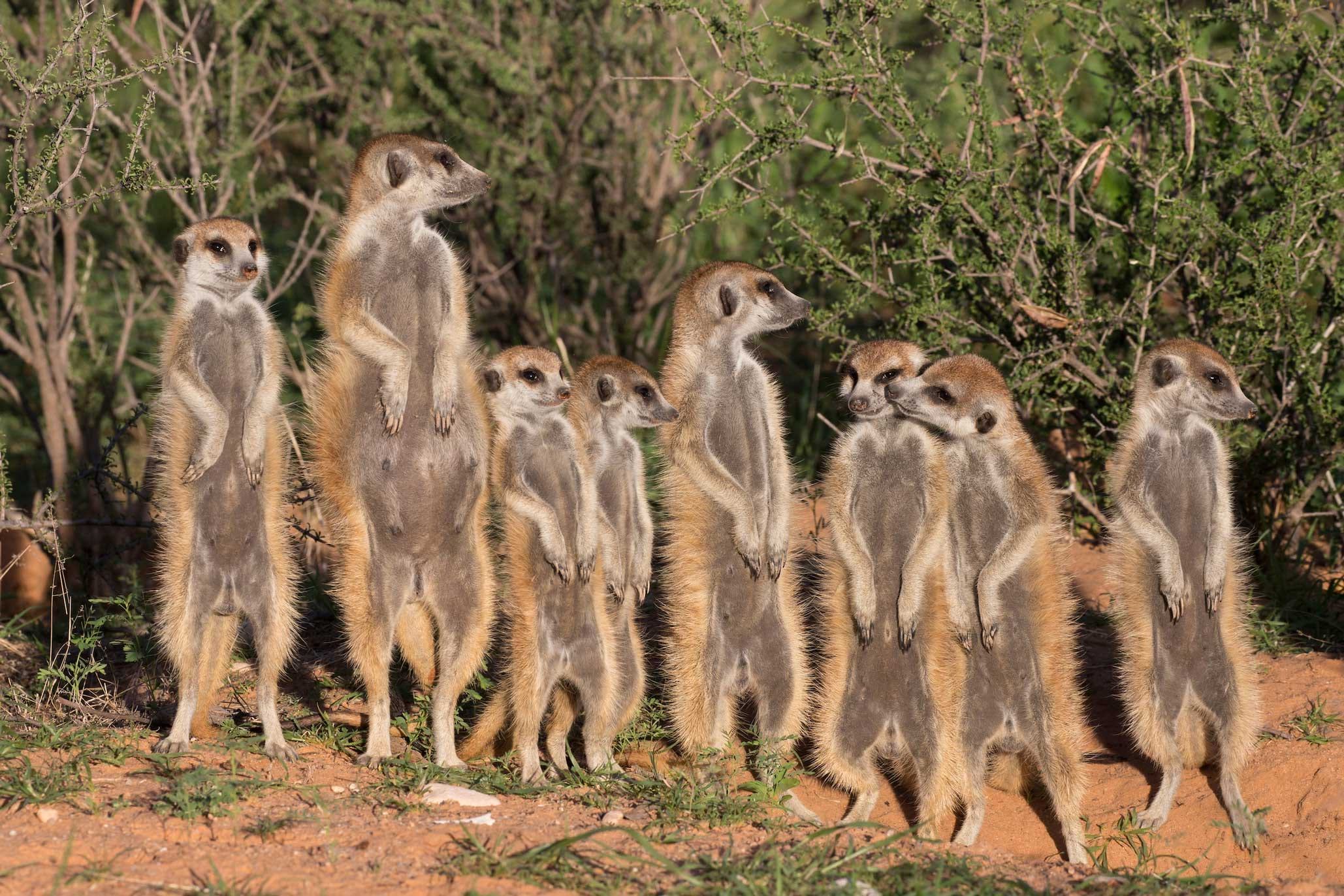 Meerkats Scouting for Prey
Namaqualand Daisies
The only site in the whole world where a vast dry area annually transforms into a lush orange flowerbed, but only for a few short weeks. Normally, it's a rare occasion to find a desert abloom. Arid areas transform into a flowering garden only once in quite a long while. But not in Namaqualand—it's the world's only exception that flourishes every spring. With just 150 mm of rain per year this large arid area turns into a lush flowering field. At a distant look one might presume these are the same orange daisies all over, but when you take a close-up look, you'll discover an endless variety of flowers. The blooming season is rather short, it usually begins in the second week of August and is over by the second week of September, yet it varies from year to year. The flowers open-up in the morning and close in the afternoon, at about 4 pm. You have to get up and out early not to miss the orange show.
Seal Snorkeling
To go snorkeling with seals is one of the best experiences you can get in Cape Town. Generally, it is a good idea to snorkel with seals anytime of the year but from September to May the Cape waters are warmer, so it is more pleasant. From mid-March to April you can swim with the newly born cub seals – so cute!! Along the KwaZulu Natal coast you can swim anytime of the year. There are some exceptional diving sights in South Africa: Blog: Best Dive Sights in South Africa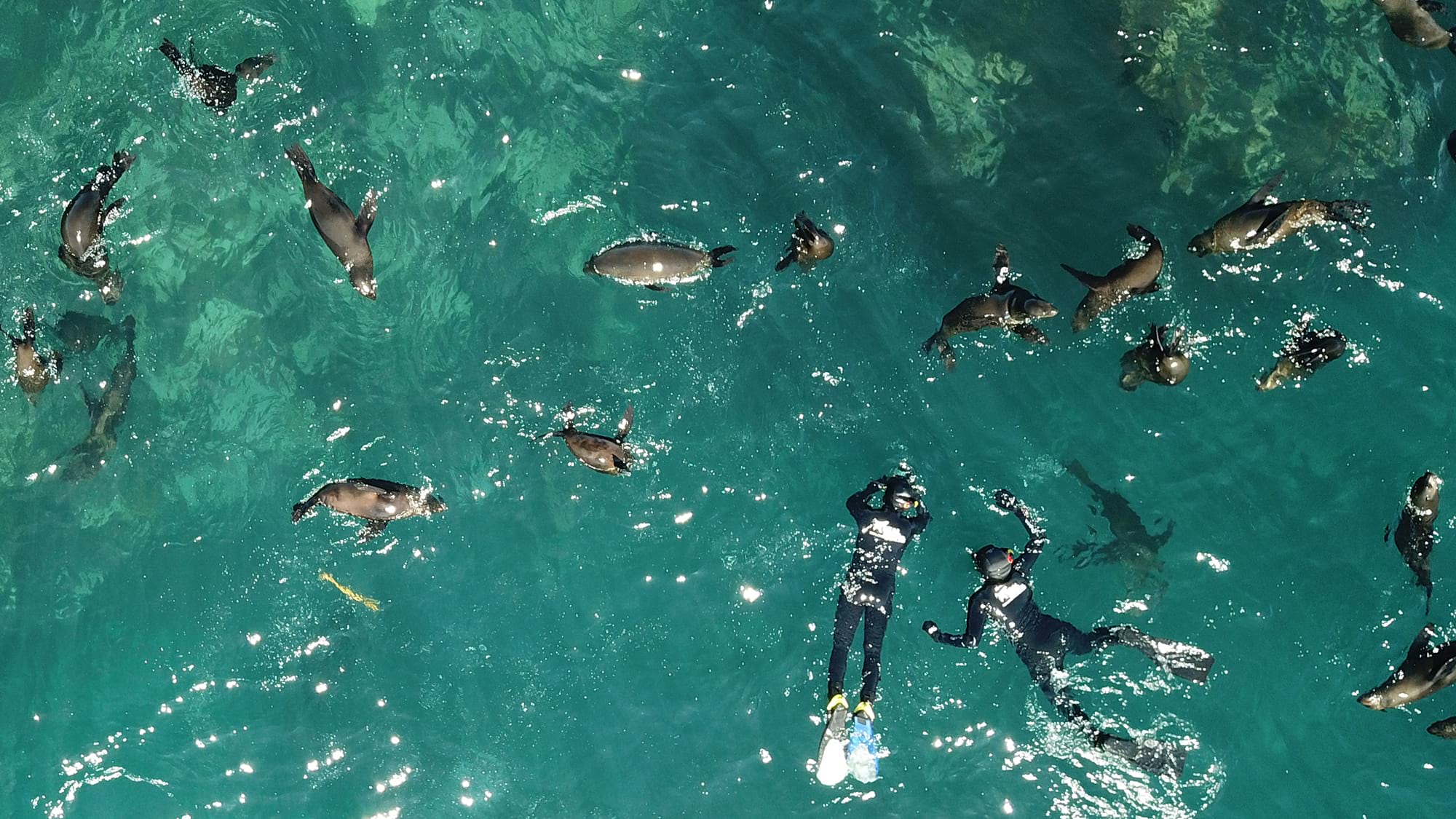 Swimming with Seals in the Cape
Drive the Garden Route
The Garden Route is a picturesque 200kl drive dotted with scenic bays and golden beaches, while the other side features lush forests, lakes, lagoons, amber-coloured rivers, and mountain ranges. Outeniqua and Tsitsikamma mountains divide the green route from the arid Klein Karoo. September is the best time to visit. The Whale Watching season is from July to October; and the wild flowers are at their best from August to October. From the starting point in Witsand, the Garden Route runs across Still Bay, Albertinia, Mossel Bay, Oudtshoorn, George, Knysna, Plettenberg Bay, Nature's Valley, and proceeds into Eastern Cape reaching Tsitsikamma National Park, and culminates at Storms River. Blog: Snorkel at Tsitsikamma Marine Park. The most important stops on this route are the Oudtshoorn ostrich farms and the Cango caves, the largest city of George, oyster-rich Knysna, beautiful Plettenberg Bay and Tsitsikamma Forest with its giant trees, ferns, and rich birdlife. It is worth making this a road trip and stopping to enjoy the places that you visit. Blog: Plettenberg Bay's Amazing Beaches. Tour: Multi Day Tour of the Garden Route
Safari
May to September is the ideal time to visit the Game Parks. This is South Africa's winter when water is sparse and when wild African residents stick around the water sources. Moreover, visibility is better due to the scarce vegetation. The impressive biodiversity of South Africa will give you the opportunity to experience the best wildlife safari of your life. Some of the most popular game-viewing places are located in the north-east of the country. These are Kruger National Park, Sabi Sand GR, Phinda Game Reserve, Mala Mala GR, Hluhluwe-Imfolozi GR, iSimangaliso Wetland Park (for the rarest Samango monkey amongst all), Tembe Elephant Park, as well as Drakensberg. Tour: 2 Day Kruger Park Safari.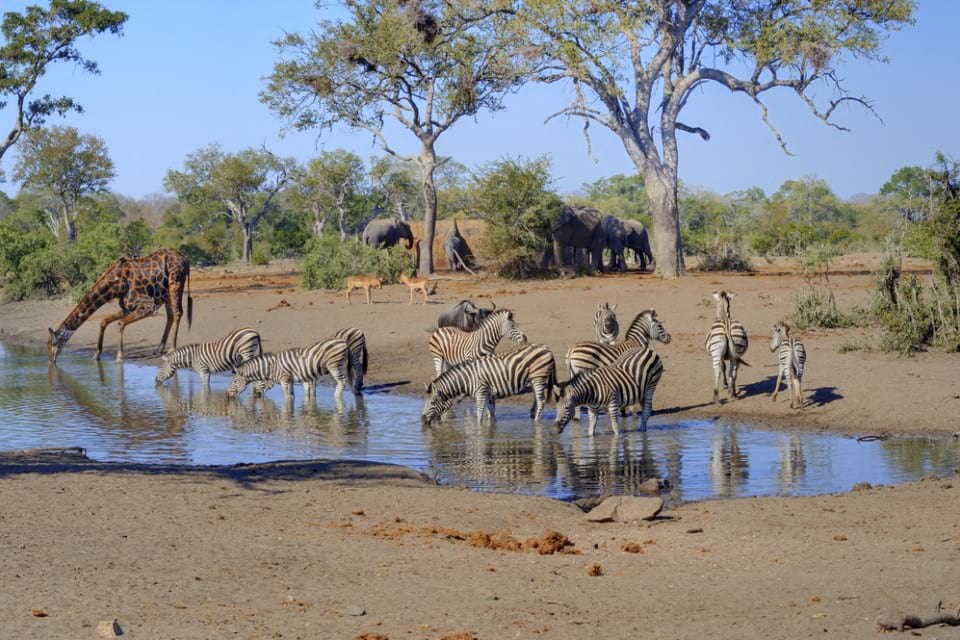 Game Crowding a Water Hole
The Rim of Africa Trail
The Rim of Africa Trail is a serious guided hike stretching along the most epic landscapes of South-Western coastline of South Africa. Its scenic 650-kilometer route along the Cape Mountains' peaks wanders from the Cederberg in the north and continues eastwards before it ends at the Outeniqua Mountains. Thru-hikes are available solely in spring months, roughly between mid-September and mid-November. Why spring? Because it's when the rainy winter season is over, and it's neither too cold nor too hot, in comparison to other seasons. Snow is still common in many areas along the trail in September, and temperatures might drop as low as below freezing, and at the same time be as hot as 40 degrees. A pleasant bonus from the season is thick wild fynbos and flowers that ornate the route and hinder the walkways here and there. The route takes you across a range of private properties which only your guide has access to.
Bird Watching
Any season is good for bird watching in South Africa, but in spring you have the chance to spot local endemics and near-endemics along with migrants from Europe and north Africa. South Africa offers luxurious birdwatching with over 840 species. Let's explore best places to observe the largest variety. Kruger National Park is considered number one for general birdwatching. Mkhuze Game Reserve offers an incredible number of species in a relatively small area. Kgalagadi Transfrontier Park is especially known for raptors. The capital city doesn't fall behind—check out penguin colonies around Cape Town. Other great places for birding include Hluhluwe–Imfolozi Park, De Hoop Nature Reserve, Greater St. Lucia Wetland Park, and Kariega Game Reserve. But of course, this is not the entire list. All of South Africa can be considered a birding destination. They are everywhere, just be attentive and you will spot them in and out of the cities. The best time for birdwatching is the rainy African spring when food is plentiful and the birds are active.
Hike In The Augrabies Falls National Park
The trail season is open only during the dry season from April to September when you can expect the best weather conditions. Therefore, this is the last month that you can 'trek the trail' in 2019. This rugged desert region has a majestic beauty that is unique. Augrabies is favoured mostly for the tremendous 56-meter high Augrabies waterfall on the Orange River. The roaring majesty is best felt at the peak of rainy season, from February to April which doesn't coincide with the best time to hike in this region. The viewing deck situated almost above the canyon promises breath-taking impressions.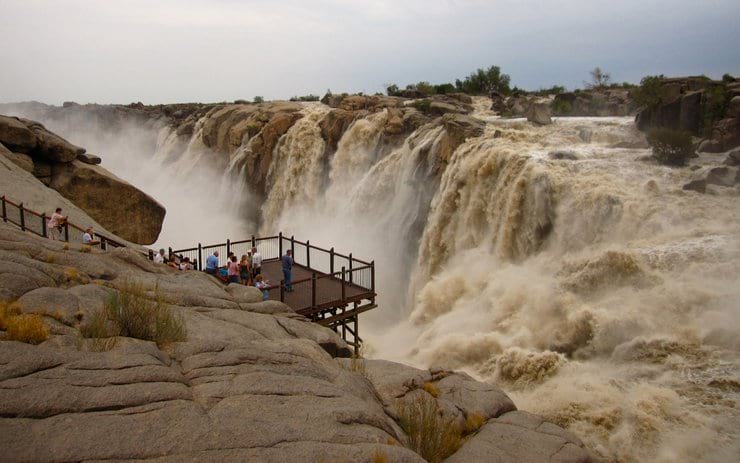 The Viewing Deck Over the Augrabies Falls
Rock Climbing
The best season for rock climbing depends on the region, but prime time for most of the areas is between April and October. These are winter months in Africa, which are cool and dry in comparison to summer. Numerous mountain ranges and ragged shorelines present great opportunities for rock climbing. Among the endless regions appropriate for this extreme sport, some appear to be particularly popular. The northernmost part of South Africa has a few perfect climbing spots such as Waterval Boven with over 700 climbing routes, the scenic Blyde River Canyon, and the Magaliesberg mountain range, renowned as a World Heritage Site. It should also be taken into account that unlike the northern areas the Western Cape is distinguished by a wet winter climate that results in frequent storms – not a good time for climbing.
CHECK OUR WEBSITE FOR INTERESTING INFORMATION ON TRAVEL IN SOUTH AFRICA: https://getlocal.co.za/