ULTIMATE KRUGER SAFARI
What better way to get acquainted with the Big 5 [elephant, lion, leopard, buffalo, rhino] than with a qualified game ranger, in a private concession with open boarders to the worlds greatest Game Reserve. Mo Africa offer you some amazing tours at prices that you can't resist.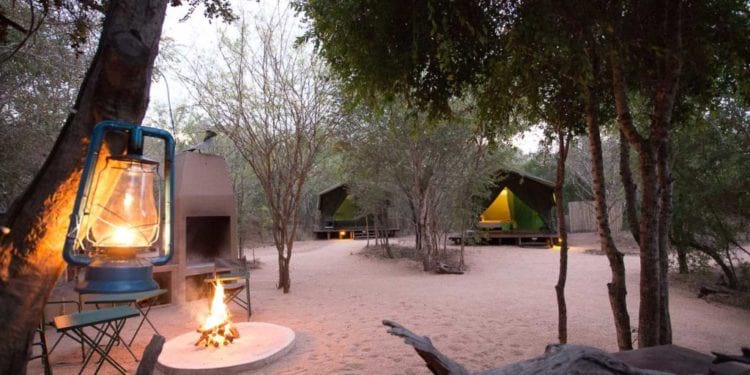 Glamping [glamorous camping] at Tydon Eco Camp
A driver will collect you in a luxury air-conditioned vehicle where your adventure begins. Travel through the grasslands of the Highveld, down the dramatic escarpment to the lush vegetation of the Lowveld. Stop en-route to freshen up and catch a bite. Arrive early afternoon at your destination. Settle in and feel the tranquility that descends as the myriad of birds twitter and shy bush bush ambles down to the water hole to slake his thirst.
Time to set off for your sunset Safari where you can expect everything and anything to happen. There is no set agenda so just relax and enjoy. Your trained and experienced Game Ranger will track the illusive animals and explain the wonders of the bush-veld. His aim is to give you the very best experience that he can. On an average day you will enjoy 2 X 3h game drives in an open safari vehicle with a qualified and armed Ranger. Depending which tour you have opted for, you can take an early morning bush walk. A step out into the wild side!! Never fear, your rangers will be armed and prepared for any eventuality and will give you a briefing before setting off.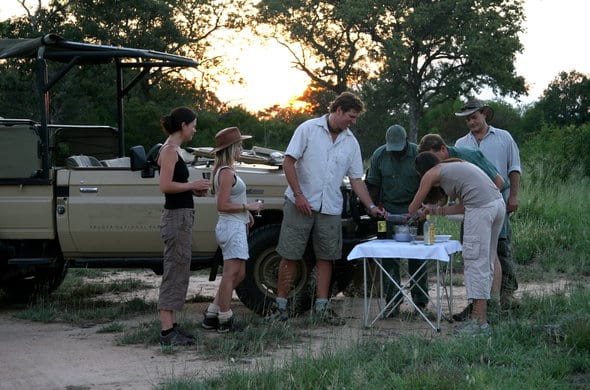 Sundowners on a Sunset Cruise
Choose the tour that suites you.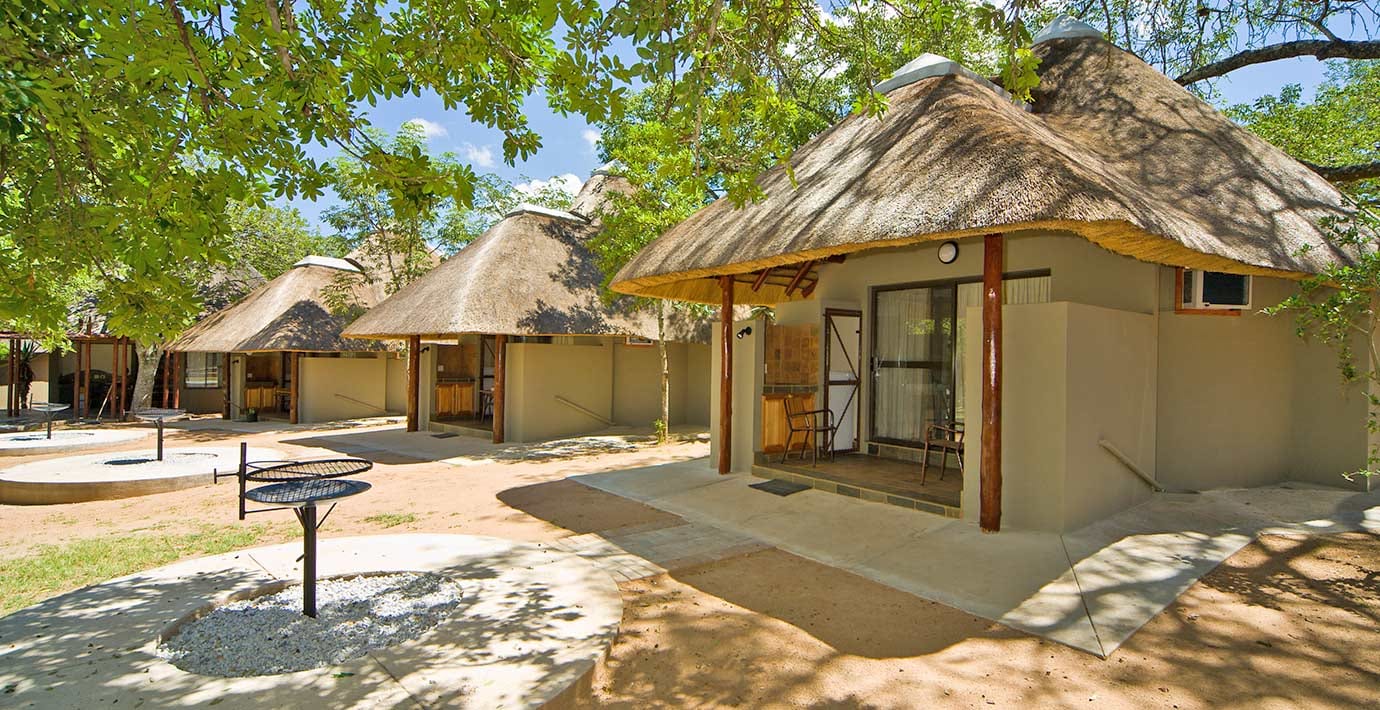 Bungalows At Pretoriuskop Camp in Kruger National Park
There are two, three, four and five night tours. You can sleep in rustic Marc's Tree House set in a woodland grove with your own deck over-looking a river where animals come down to drink. At Tremisana Camp you have a bit more luxury with a thatched air-conditioned, en-suite chalet and a splash pool to cool off in. For a rustic, quiet experience you can opt for a classic safari tent at Tydon Eco Camp in the famed Sabi Sands reserve. There is also the option of staying in one of the oldest camps in Kruger National Park, Pretoriuskop, which has the best swimming pool in Kruger!!. Choose between an en-suite Bungalow or a tent. Manyeleti Safari Camp has en-suite bungalows with air-conditioning and an impressive number of resident leopard.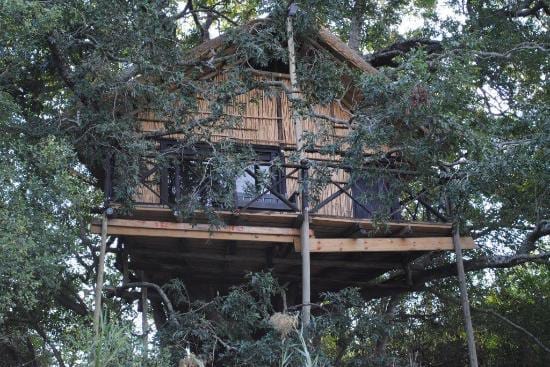 One of the Tree Houses at Marcs Camp at Tremisana
All tours give you meals in the camps, and weather permitting, dinner around the boma [outside camp fire] with the bright starry heavens as your roof. Sunset drives are one of the many highlights of these tours. Stop at a vantage point and watch the famed, brilliant African sun slip below the tree line while you enjoy a snack and drink. Does life get better?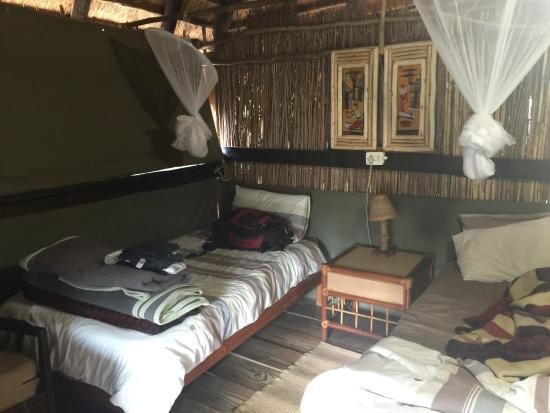 The Layout Inside the Tree House
As you snuggle down for the night, fan slowly moving the air, listen to the sounds of the bush - maybe a lion roaring, or hyena laughing, or elephant breaking branches for his late night snack. Sheer enchantment. Wake to the morning songs of various birds.
Mo Afrika Tours will collect you from OR Thambo Airport, or your accommodation in and around Johannesburg, and transport you in a luxury air-conditioned vehicle through the grasslands of the Highveld down the dramatic escarpment to the lush vegetation of the Lowveld.
Click below to view the details of each tour and to book.
2 Day Kruger National Park Safari
3 Day Kruger National Park Tented Safari
4 Day Kruger National Park Treehouse Safari
5 Day Kruger National Park Budget Safari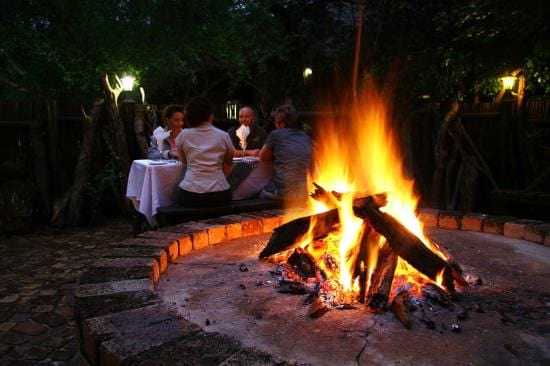 Supper Around the Boma
Guests are collected and dropped off at OR Tambo International Airport in Johannesburg. By special request, guests can be collected from their accommodation in Johannesburg or Pretoria for an additional cost.