Six Dogs Gin Distillery Has Style
South Africa's burgeoning Craft Gin market is experimenting with new flavours, many of which are uniquely African. Think fynbos, rooibos, naartjie, marula, buchu, lavender and more. They are thinking creatively and stepping out of the norm. Six Dog Distillery is on the Boschkloof Farm in the de Wet Valley, near Worcester, on the edge of the Karoo. They have taken their inspiration from the surrounding fynbos and herbs that they grow on the farm. They really have six dogs which are beloved and part of their Gin Lore at Six Dogs Distillery.
The clear distilled alcohol (made from any sort of grain mash) first becomes a neutral spirit, and then is infused with botanicals, including juniper, to create unique flavours. Juniper Berries are what make alcohol into Gin: the other infusions are for flavours, colour and the WOW difference.
Gin is also the key spirit in many beloved cocktails (Martini, Negroni, Gin and Tonic, Tom Collins). It is a truly versatile spirit that craft gin makers have re-birthed to titillate the pallet and appeal to the younger, sophisticated Y Generation – and of course the older, discerning population that love to step out on the wild side.
The Six Dogs Karoo Gin in a delicate and balanced Gin of twelve select Botanicals. The Karoo Thorn Flower and Wild Lavender make this gin unique amongst all the Gins in the world. Sip this gin and you will be transported to the wild open Karoo Veld.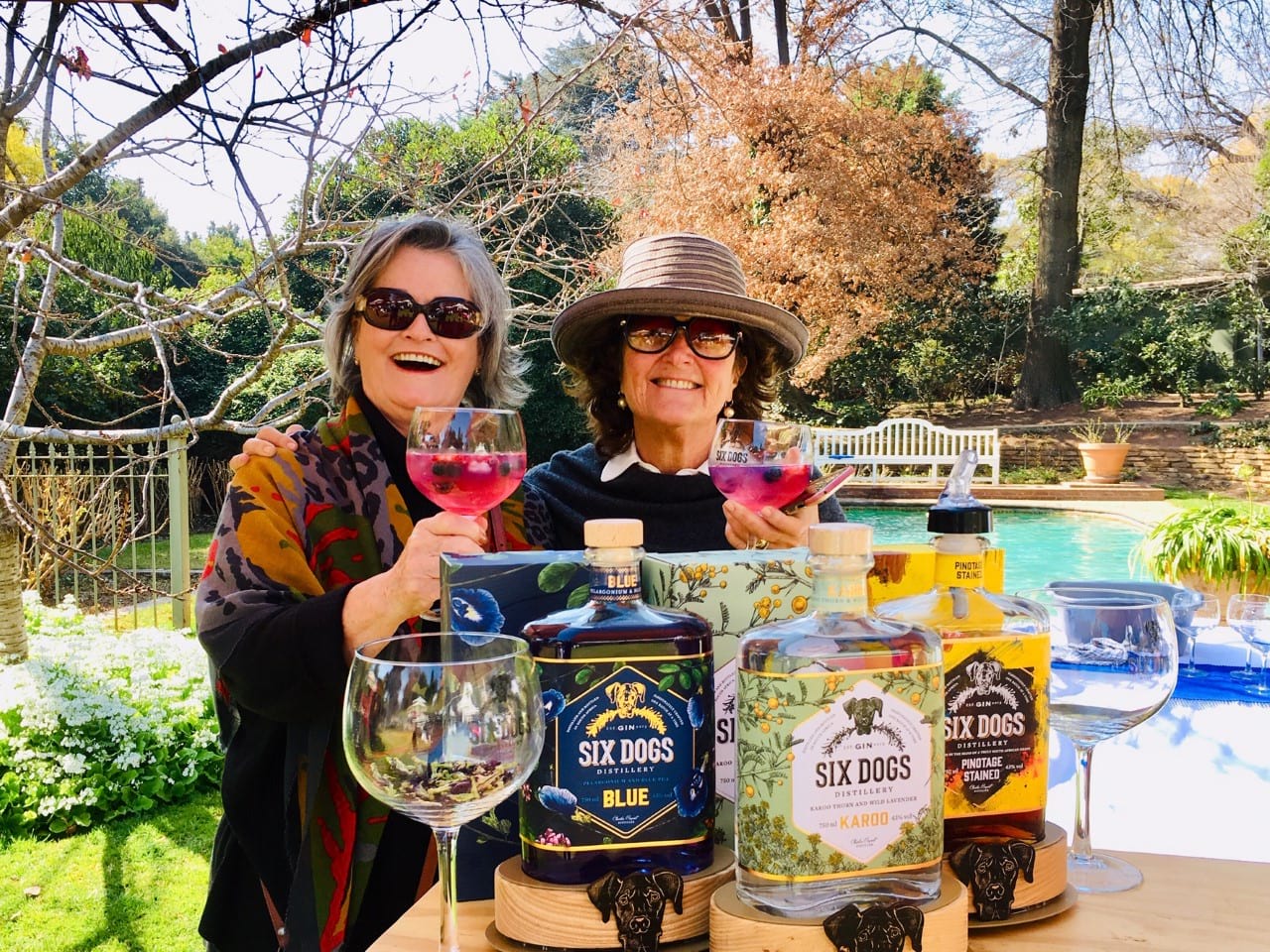 Shari Dickinson and Shauna van der Spuy Getting into the mood with the Six Dogs Pinotage at Birchwood Market in Johannesburg This Week-end
The Blue Pea flower is an antioxidant and aphrodisiac in traditional medicine and is what gives Six Dogs Blue its unique colour and flavour. As chance would have it, 'Blue' is also the name of the smallest dog in thier pack of six. Mixed with a good tonic, the colour changes to a light pink. Six Dogs Blue is the most royal of Gins. A party Gin. A touch of magic. A classic dry Gin with experiences of freshly cut lucerne over hand-picked and morning-harvested Rose Pelargonium.
The newly launched Six Dogs Pinotage is a winner all the way. It is my personal favourite. The Gin is Stained with the Pinotage Grape and gently infused with other herbs to create a delightful hint of blackberries and plum.