Karoo Farm Legendary Hospitality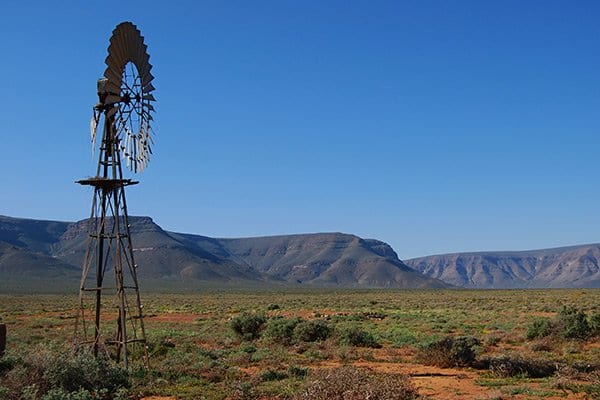 Windmill and Karoo Scrub land
The Great Karoo forms the central area of South Africa. About 250 million years ago it was a vast inland sea. As the climate warmed the water evaporated forming a swampland where extinct, mainly pre-dinosaur reptiles and amphibians roamed. Their now fossilized remains make this arid area a palaeontologist's wonderland. For about 800 kilometres of straight roads disappearing into the distance, this sometime grassy scrubland with flat topped blue tinged Karoo Koppies [hills] on the horizon, looks like a boundless moonscape.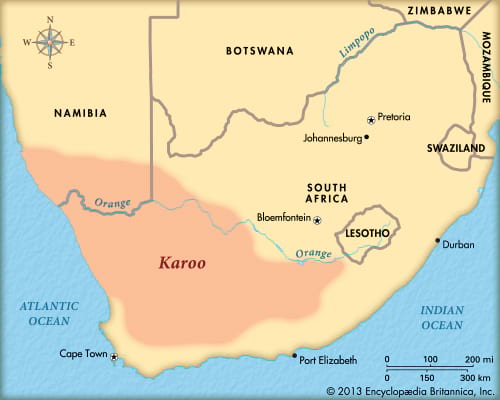 Map Showing the Extent of the Karoo
The beauty of the Karoo is it's expansive, limitless vistas with small groups of Merino Sheep, Black-faced Dorper Sheep and antelope grazing the assorted succulents and low bush scrub that stretches to the distant Koppies with the odd sisal plant or euphorbia reaching up to the endless blue sky. It is the sounds of silence as you stop to stretch your legs and gaze in wonder at the other worldliness of it all. It is the sunsets and sunrises that blaze with fire over the horizon. It really is a great place to stop and refresh.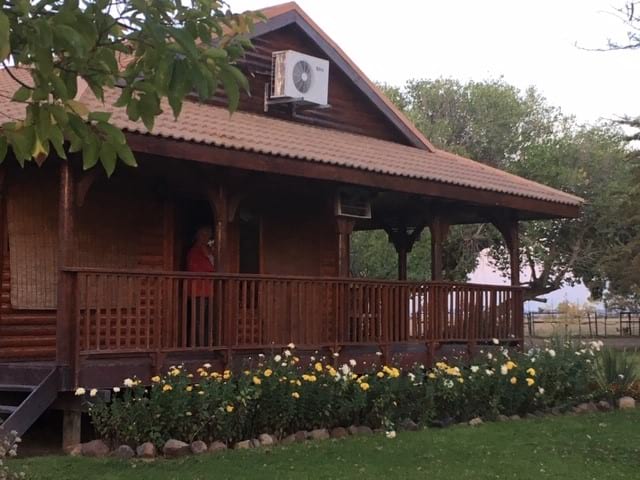 Log Cottage and the Daisies the Cows Enjoyed Eating
After travelling for about 8 hours we decided to sleep over at the New Holme Karoo Guest House 20 kilometres north of Hanover. It is situated about half way between Cape Town and Johannesburg which makes it a good place to break a long journey. We left the N1 and made out way along the 8 kilometre dirt road to the farm house. Our hostess Marisca welcomed us with a big smile as she emerged from the kitchen drying her hands on her apron. She put us in the log cabin where we were happy to discover two en-suite rooms, with air-conditioners, electric blankets on the beds [it gets really cold here in winter] and lovely fresh clean linen.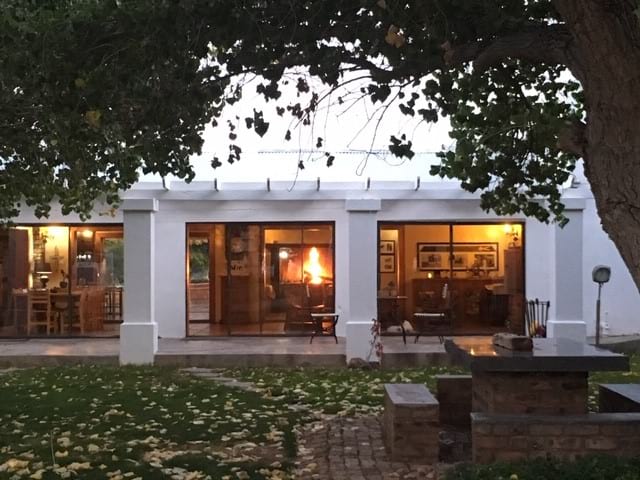 Welcome Fire Blazing and a Well Stocked Honesty Bar in the Lounge/Diningroom
We enjoyed a cup of tea on the terrace watching a pair of red-chested cuckoos flit around the garden and two dairy cows eat the daisies in the flower beds as the sunset in a blaze of red and golden pyrotechnics. There were sable antelope and springbok in the field adjacent to our cottage and sheep and pigs besides. When we joined her in the dining room for supper Marisca, needed help to bottle feed her orphan sheep and her one-week old bull. We gladly participated and felt fully part of the farm experience.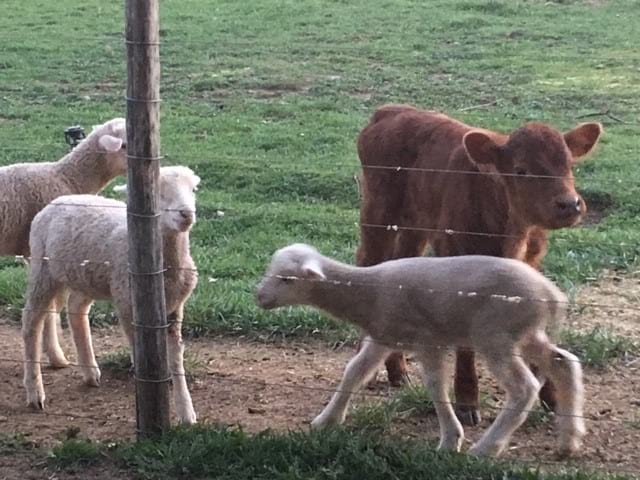 The Orphan Lambs and the One Week Old Calf That We Helped Bottle Feed
Supper was a most surprising gourmet affair. Marisca, who claims not to be a chef, produced some culinary wonders. Home made bread with butternut and sage soup, followed by ostrich steak with bearnaise sauce and Karoo Lamb cutlets with mint and roasted vegetables. Dessert was choux pastry casings filled with Creme Anglaise and blueberries. Wow!! More than we could eat but so delicious. This hard-working lady makes all her own bread and when she is not having to use a lot of her milk from her two dairy cows [the ones eating the flowers!!] to feed the orphan sheep and bull, she makes her own yogurt and butter.
Breakfast was an equally sumptuous affair. With freshly baked bread and pastries, yogurt in pastry casing with assorted cut fruits and home made lamb sausage and boerewors, eggs to order, home made bacon and tomato. She assured us that most of what she cooked was from the farm or her neighbours farm. After a mug of freshly brewed coffee, feeling replete and happy not to have to stop for lunch before getting to Johannesburg and home, we departed this haven of hospitality and warm-heartedness.
Karoo is derived from the Khoikhoi word 'garo' which means dessert. It is a region of surprising beauty and wonder.