Getlocal's Favourite SA Foods
With influences from the indigenous Africans, the large groups of early German, Dutch and French Huguenots and later English, Indian, Malay, Chinese & Portuguese, the South African palate is sophisticated and varied. Many of our favourite South African dishes are evolved from these influences.
Here are some of our Getlocal Africa's Favourite S.A. Dishes.
WINNIE
Her best meal out is meat, boerewors, liver or chicken cooked perfectly on a BRAAI [barbeque to the uninitiated], served with steamed spinach, mielie pap [maize meal boiled and served stiff or crumbly] and Chakalaka. Chakalaka is a slightly curried condiment made with onions, peppers, carrots, baked beans, chilli, ginger and garlic. Really tasty!! Boerewors is as South African as Koeksisters and Vetkoek. In the 17th century every cook had their own recipe. It is a sausage make from minced meat with coriander seed, cloves and pepper and a few other spices. During the Groot Trek large quantities of boerewors was make when these intrepid adventurers stopped to outspan. What they couldn't eat, they hung to take along in their ox-wagons for sustenance as they progressed inland.
MEGHAN
A Potjie of cubed pork, carrots, onions, celery, garlic and spices cooked in Guinness Draft Beer and served on couscous. A potjie is a three-legged caste iron pot that is placed on the fire [braai] with a few coals under it to cook slowly. Sounds delicious. I think she will have to cook this one for us.
VINCENT
He loves to make an Oxtail Potjie. This dish needs to be cooked for 5 hours or more very slowly. He uses a nice Red Wine or Guinness Draft Beer and slow cooks until the last hour. Then he adds carrots, onion, potato and white kidney beans and cooks to completion. Oxtail Potjie is just heavenly with the meat falling off the bone and subtle flavours of the wine or beer. You have to try this one.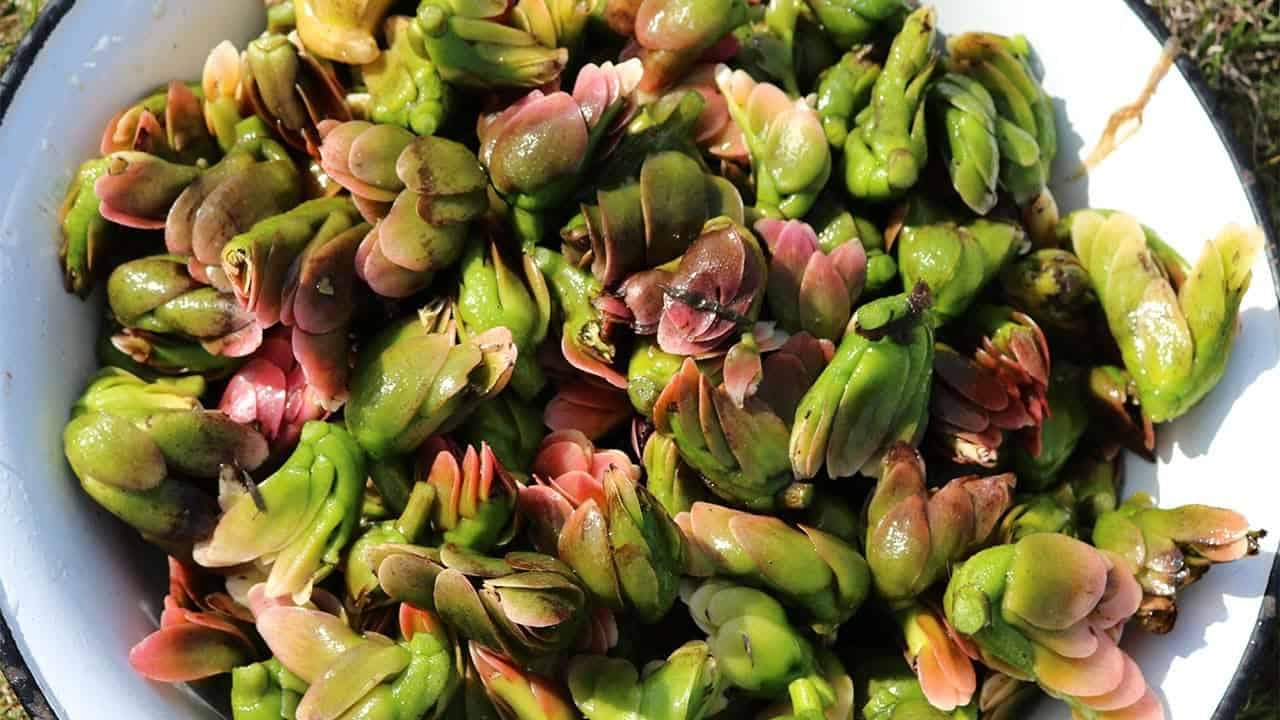 Waterblommetjies are Endemic to the Western Cape and Make a Delicious Lamb Bredie.
JAMES
One of his many talents is that James is a chef. His favourite concoction is Kudu Wellington. Kudu is a large antelope. He uses the fillet wrapped in streaky bacon and rubbed with chutney, then sealed in puff pastry and baked in the oven. He serves this with Amakhowe African Mushrooms [wild African mushroom with a mild nutty flavour] and parsley mashed potato. Chutney is a sweet spicy condiment derived from India and is so much a South African flavour that when SA citizens move to other countries, their big request for SA visitors is 'Please bring me Chutney!!'
BRANDON
Brandon has a sweet tooth. He likes our two most celebrated desserts. Malva Pudding is a sponge soaked to saturation in sugar-butter-cream sauce. Served with cream or ice-cream this toffee like pudding is addictive. It has become so thoroughly institutionalised as part of our national repertoire it landed up on Oprah and at Woolies as ready-meal.
His other top dessert is Melktert. This unprepossessing tart is made with a sweet pastry crust filled with a creamy custard filling and dusted with cinnamon. Served with fresh whipped cream the delicate flavour delights young and old.
SHAUNA
I love all the above. There is one that needs to be up here with the best of SA. The Waterblommetjies Bredie has a subtle but moreish flavour. It is a stew made with lamb knuckles, waterblommetjies, potato, garlic, coriander and wine all cooked slowly for a few hours. Served over steamed rice and garnished with fresh parsley it satisfies that deep hunger. Waterblommetjies are Cape Pondweed that is native to the Western Cape.
We at Getlocal Africa love South African cuisine. These are just our personal favourite dishes.