Best Day Trips Out of Johannesburg
Settlement of Johannesburg began in 1886, when the world's richest gold field was discovered in the Witwatersrand by an Australian prospector named George Harrison. The discovery spurred a feverish gold rush as fortune hunters from all over the world descended on the area. In just over 136 years it has transformed from a farm in the veld, to a Wild West type gold mining town, to home for an estimated, more than 13 million people in the Greater Johannesburg Metropolitan Area. At 1645 square kilometres, Wikipedia claims it is bigger than New York. The Suburb of Sandton is the Richest Square Mile in Africa.
I spent a throughtly enjoyable day on the double-decker 'Hop on Hop off' Sightseeing Bus which you can access from the main terminus in Rosebank, or any of the points along the route. You can spend all day exploring the sights of Johannesburg: or just as a few hours. you get to see all the hot spots and highlights of this diverse city and can get off and reboard when the next bus stops at that attraction. Johannesburg Sightseeing Bus. Read my blog on this great experience, BLOG: Johannesburg Sightseeing Bus
But, if you feel, 'Oh' to get out of the city!!.... then we have some exciting suggestions.
SAFARI IN THE PILANSBERG GAME RESERVE
A 2h30 drive from Johannesburg and you can be on Safari in the Pilansberg Game Reserve. It is a malaria free easy day drive Big 5 [elephant, lion, leopard, buffalo and rhino] reserve. Set in an extinct volcanic crater, with grasslands, wooded valleys and multihued rock formations. Mankwe Dam is a great place to view crocodile, hippo and any thirsty herbivore or predator that ventures past. Concealed wildlife-viewing shelters are scattered throughout the park. Virtually all the animal species native to southern Africa can be found here, including wild dog, Roan, Tsessebe, Sable antelope and more than 360 species of bird. The relatively small size of the park, and its unusual ecological richness, dramatically increase your chance of encountering the Big 5 in their natural environment. Enjoy a leisurely Safari experience.
Day Safari to Dinokeng Reserve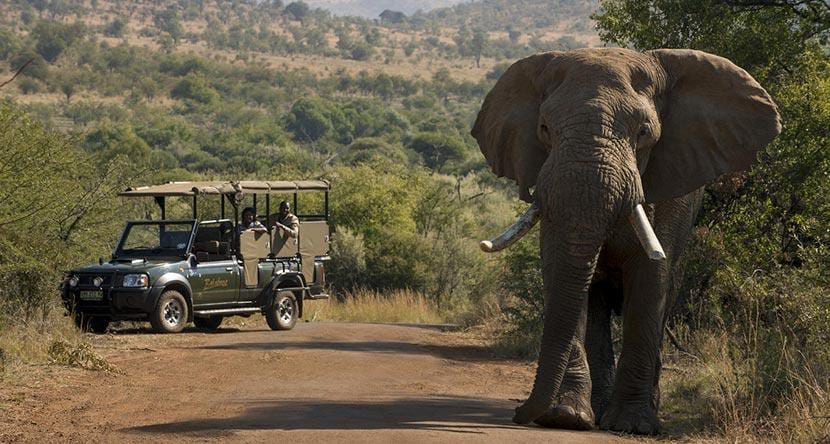 An Open Vehicle Safari in the Pilansberg
SUN CITY
Sun City is right next to the Pilansberg game Reserve and is one of Africa's premier vacation destinations. It is recognized for its superb hotels, attractions and world-class events, like the Nedbank Golf Challenge hosted by Gary Player which attracts the world's finest players. There are three hotels and one Casino, only 1 km away from the lavish opulence of The Palace Hotel of Lost City.
There is plenty to see and do in this beautiful malaria-free resort. It is home of world class golf courses, of the open bush, of Valley of Waves, the Crocodile farm, gambling and revue-show entertainment daily. It is a short drive to the Pilansberg Game Reserve if you want to combine riding waves at the Valley of the Waves and a safari.
Day tour to Suncity and Pilanesberg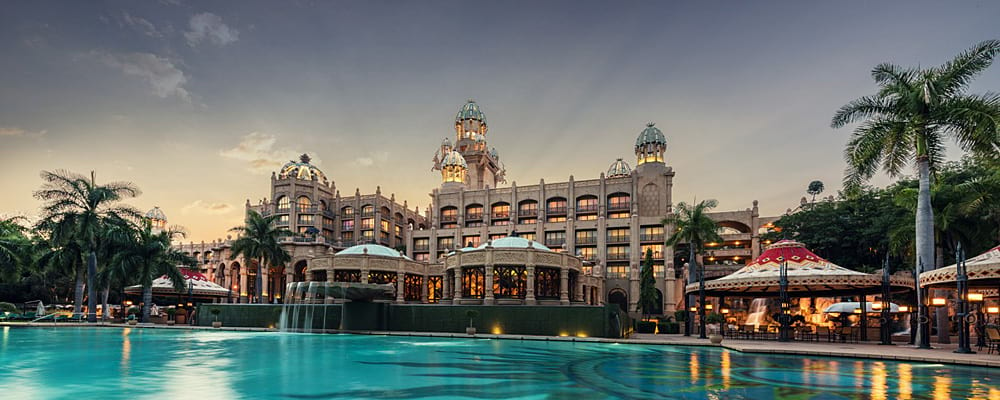 The Palace Hotel at Sun City in the Pilansberg
KRUGER NATIONAL PARK
If you have not been to Kruger National Park and you only have one day, we have a tour that will get you there and back and give you some hours on a safari in this iconic Game Park. Your travel times are long but Kruger is an experience all of its own.
MAGALIESBERG
Just an hour out of Johannesburg and you can enjoy the beauty of the Magaliesberg. Take a boat cruise on the Hartebeesport Dam, a Zipline off the Magaliesberg Mountain, a Cable Car to the restaurant at the top of the mountain or just mosey through the Welwitschia Market. This is a great place to hike or chill.
Half Day Magaliesberg Canopy Tour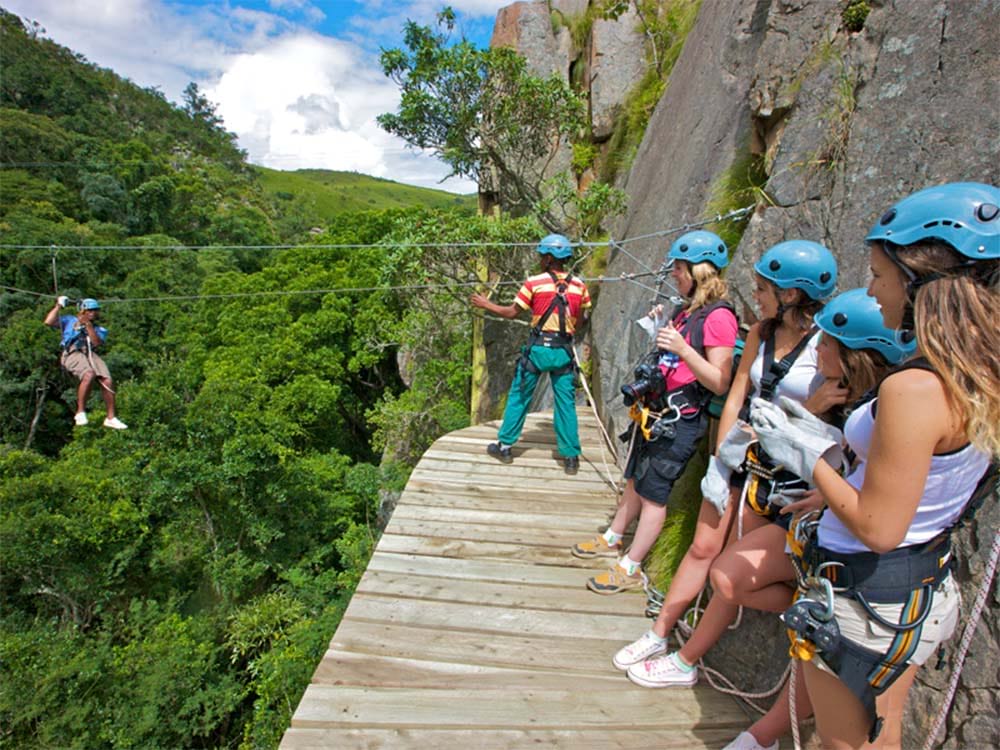 Magaliesberg Canopy Tour
CULLINAN
This is a country not only rich in culture and friendly people, but has some of the 'biggest' and 'most expensive' in the diamond world. The largest diamond discovered was the Cullinan found at the Premier Mine in 1905 — it weighted 3,106 carats uncut. Diamonds cut from this stone grace the Crown Jewels. Three of the five most expensive diamonds in the world have been mined in South Africa.
A drive from Johannesburg to Cullinan of just under 100kl taking 1h20 and you will be walking around this working mine. Stroll through the historic village of Cullinan and take the opportunity to buy high-quality gemstones from the mine shop.
For history buffs a visit to Zonderwater the biggest detention camp built by the Allies during World War 11 might be of interest.
Or more on the fun side the South Africa Village Tasting Room in Cullinan serves wines from around the world as well as their own range of wines. Join them for Food and Wine Pairings Every Weekend (Saturday - Sunday and Public Holidays from 09:00 - 16:00). There are many restaurants to choose from in Cullinan so enjoy a relaxed lunch while you explore.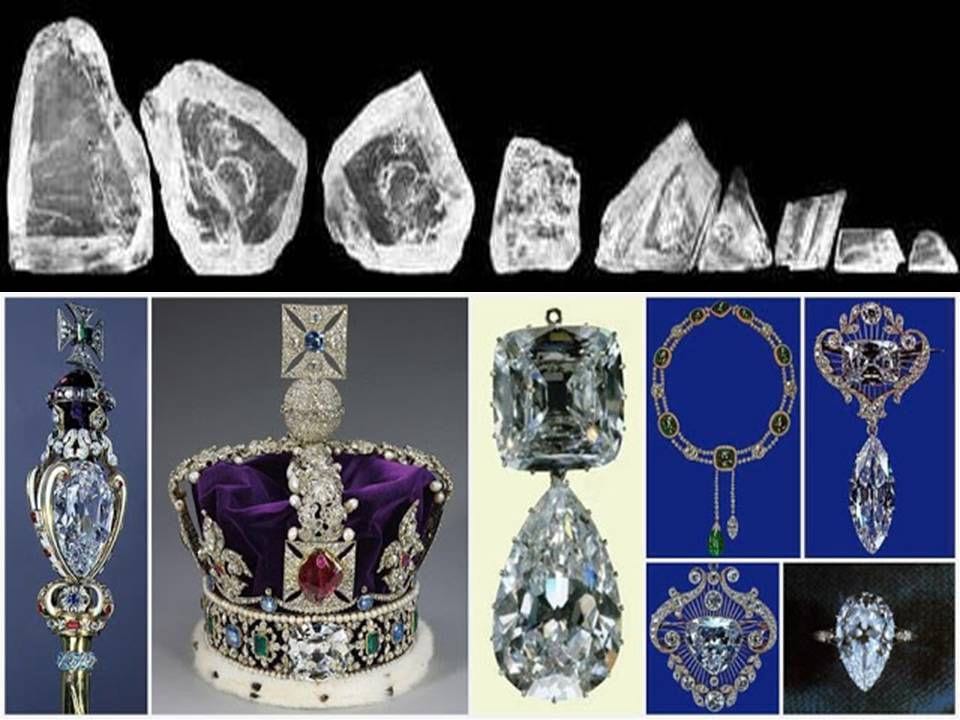 The Cullinan Diamond from Raw Stone to Crown Jewels
Cullinan and Pretoria Full Day Tour
Pretoria and Diamond Mine Tour
PRETORIA

One hours drive on the N1 and you are in the graceful city of Pretoria. It is the administrative capital, which is a bustling modern city, liberally sprinkled with historical buildings such as Paul Kruger's house, the Raadsaal, Melrose House, City Hall, the Transvaal Museum and the Union Buildings, a magnificent example of the work of famous architect, Sir Herbert Baker. These buildings are now the Presidency.
As the capital of the South African Republic, it marked the end of the Great Trek of the Afrikaner. The Great Trek was an eastward migration of Dutch-speaking settlers who travelled by wagon trains from the Cape Colony into the interior of modern South Africa from 1836 onwards, seeking to live beyond the Cape's British colonial administration.
If time allows, a visit to the Voortrekker Monument would be interesting. Here the history of the Afrikaner people's movement into the interior is depicted in beautiful marble friezes.
Pretoria and Stories of War and Peace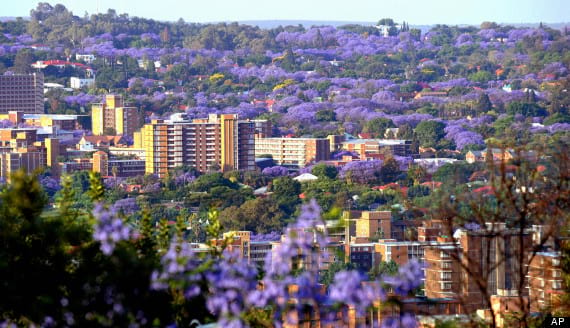 Jacarada's in Bloom in Pretoria
LESEDI CULTURAL VILLAGE AND THE LION PARK
A 45 minute drive to the west of Johannesburg, amidst the rocky hills within the Cradle of Humankind, and you can immerse yourself in the history of tribal South Africa at the Lesedi Cultural Village. Learn about the country's five main tribes, as you are welcomed into traditional homesteads inhabited by Zulu, Xhosa, Pedi, Basotho and Ndebele tribes who live according to tribal folklore and traditions of their ancestors. This is a step back into a colourful and caring community existence.
Guests are also invited to enjoy the essence of Ubuntu, where the song, music and warmth of our cultural hospitality add a truly unique touch to your visit. You can enjoy lunch at Nyama Choma restaurant.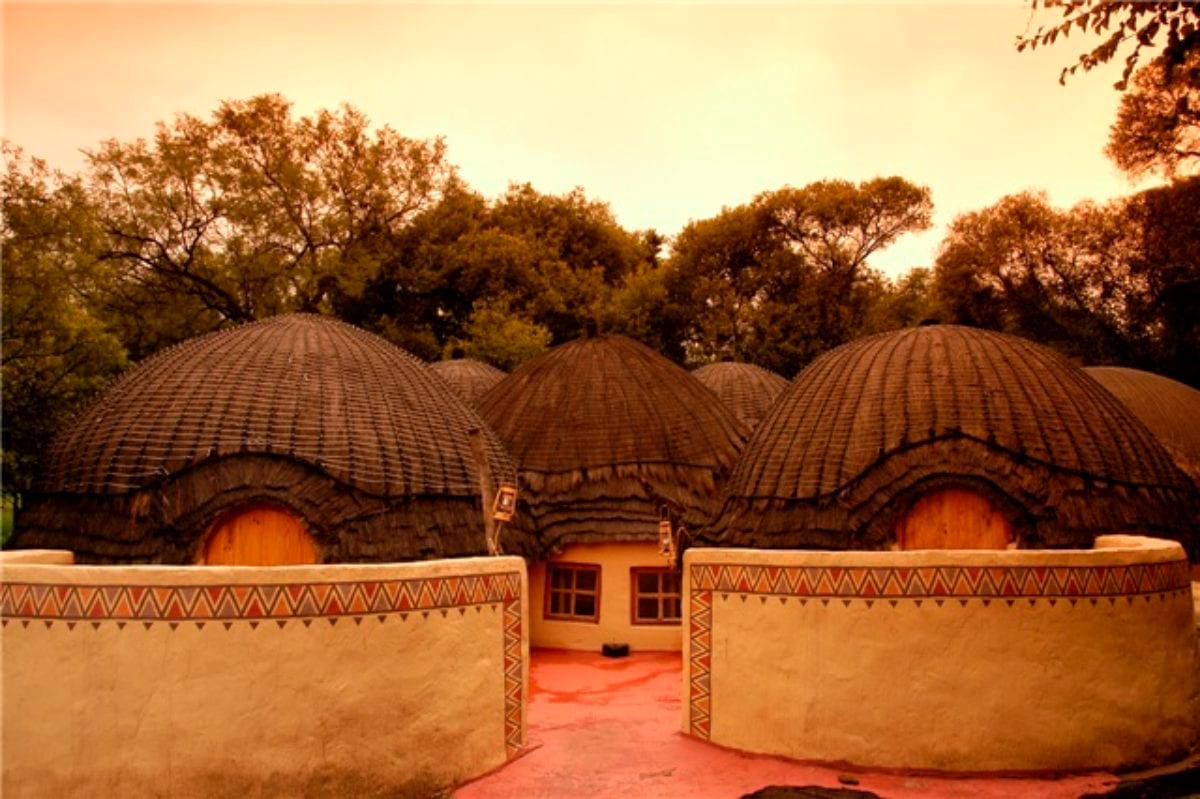 Lesedi Cultural Village
RHINO AND LION PARK
Just over 50kl from Johannesburg is the Rhino and Lion Park. It is a nature reserve with many breeding programs with an emphasis on endangered species including lions, rhinos, cheetahs & vultures. Visitors may view in excess of 650 heads of game in this compact, privately owned game reserve, including some very rare and endangered species.
You can also select to go on a game drive offered by the reserve with a knowledgeable ranger, and with roughly 600 head of game within the reserve, a visit is bound to include almost all of the reserve's species - endangered species such as cheetah, wild dog and the Cape vulture.

The highlight of any visit is without doubt a visit to see the lion cubs, one of the species that forms part of the reserve's breeding programme.

Most of the Rhino and Lion Nature Reserve's focus is on their breeding programme. No fewer than 18 white rhino calves have been born on the reserve. Other animals bred here include the Cape wild dog, Bengal tigers, Siberian tigers and the white lion.

Another interesting project of the reserve is the vulture restaurant – literally a way of providing the vultures that live in the surrounding Magaliesberg with carcasses, donated by local farmers. Up to 200 birds feast at a time in the reserve.
The reserve falls within the Cradle of Humankind World Heritage Site and makes a great day outing.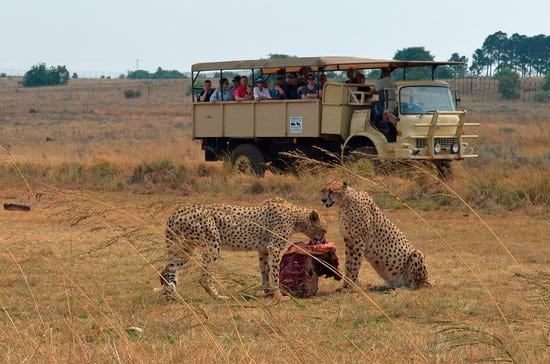 Endangered Cheetah at the Rhino and Lion Safari Park
WONDER CAVE:
Through the same entrance as the Rhino and Lion Park is the wonderous Wonder Cave. It is a 10-million-year-old stone treasure trove that will enchant and amaze you. The entrance to the cave is down 87 stairs at a 45degrees angle dropping 22 meters below the surface. You will then go down an elevator with a drop of a further 18 meters into the cave.
It is considered "the most nicely decorated cave in South Africa" due to the beauty of the calcite cave 'pearls' found in the cave (formed when the limestone coats a grain of sand with calcium, much the same way as normal pearls are formed), 15m drip formations and rim pools. The cave has abou14 stalactite and stalagmite formations up to 15 metres high, 85% of which are still growing.
If you can make it up and down the stairs this is a must.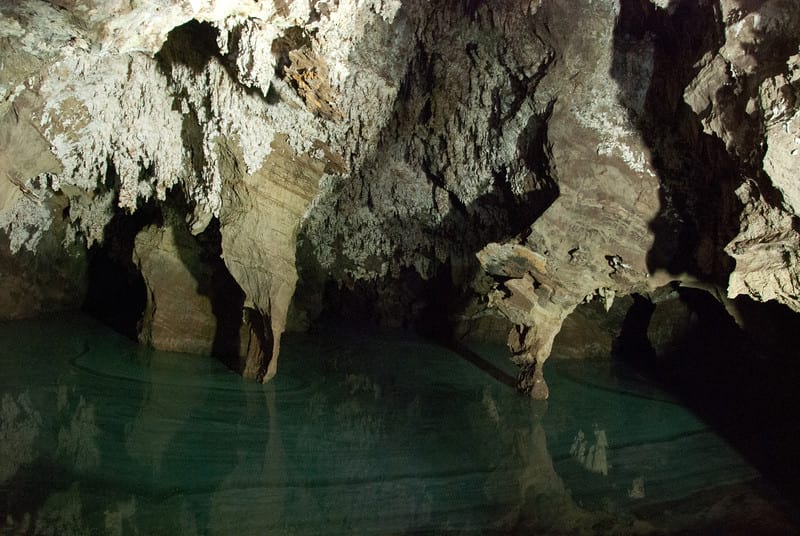 Sterkfontein Caves
STERKFONTEIN CAVES
This area is known as the Cradle of Mankind, one of the world's richest fossil sites, and the Sterkfontein Caves are cred­it­ed with many of the most notable dis­cov­er­ies, includ­ing the world-famous fos­sils of Mrs Ples and Lit­tle Foot, the lat­ter being an almost com­plete Aus­tralo­p­ithe­cus skele­ton dat­ing back more than three mil­lion years. Sit­u­at­ed an hour's dri­ve from Johan­nes­burg and Pre­to­ria it makes an easy day drive.
The tours at the Sterk­fontein Caves, start above ground and then take vis­i­tors deep into the caves. Remem­ber to wear com­fort­able shoes and leave heavy bags at home (or at the hotel), if you're plan­ning on a Sterk­fontein Caves adven­ture. There are also tight spots, nar­row path­ways and long stair­ways to nav­i­gate, so if you're claus­tro­pho­bic or get out of breath eas­i­ly, we rec­om­mend you sit this one out.
The tours run sev­en days a week. They are very popular so best to book a time: 014 577 9000. If you arrive early for your tour can grab a bite at the restaurant and enjoy the views while you wait.
Day Tour to Cradle of Humankind and Sterkfontein Caves
MAROPENG
A ten minute drive away is the amazing Maropeng an inter­ac­tive exhi­bi­tion that is so com­pelling that you can take any­thing from one to sev­en hours to go through it all, depend­ing on your inter­est lev­el. You enter the exhibition through a structure made to look like a pre­his­toric mound, and after a boat ride that takes you through a jour­ney of cre­ation of life on the plan­et and mankind's evo­lu­tion, you exit into the 21st cen­tury!!!
The tour guides are bril­liant, but if you'd like to real­ly take your time and soak it all in, get a map at recep­tion and guide your­self through this world-famous exhibition. Take a jour­ney through time, start­ing with the for­ma­tion of the plan­et and mov­ing all the way through the evo­lu­tion­ary process­es that cul­mi­nat­ed in the world as we know it today.
See fos­sils, learn about how humankind was born, view stone tools that are up to one mil­lion years old, and much more. This self-guid­ed, inter­ac­tive tour allows you to take all the time you need to pon­der humanity's fas­ci­nat­ing ori­gin story.
Tip: Make the most of your trip to Maropeng by get­ting a com­bi­na­tion tick­et that includes a vis­it to the Sterkfontein Caves.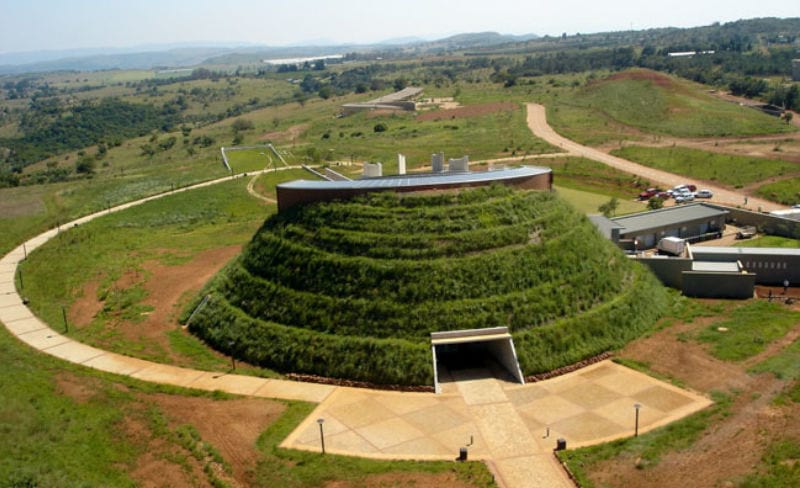 The Entrance to Maropeng: The Cradle of Humankind