Amazing Marine Big 5
On the southern-most part of the African continent, the Atlantic and Indian Oceans meet creating one of the most diverse and aquatic rich ecosystems in the world. These waters are breeding grounds, play grounds and feeding grounds for the magnificent Great White Shark, the massive Southern Right Whale, the darting African penguin, pods of leaping dolphins and spinning, playful Cape fur seals. This is where the term "Marine Big 5" originated! With rare Pelagic Birds, resident Brydes Whales, many different shark species, Humpback Whales, Humpback, common and Bottlenose Dolphins and a huge diversity of marine life in the ocean, and 10 species of breeding seabirds on Dyers Island itself, a cruise into this oceanic hotspot is an adventure of discovery.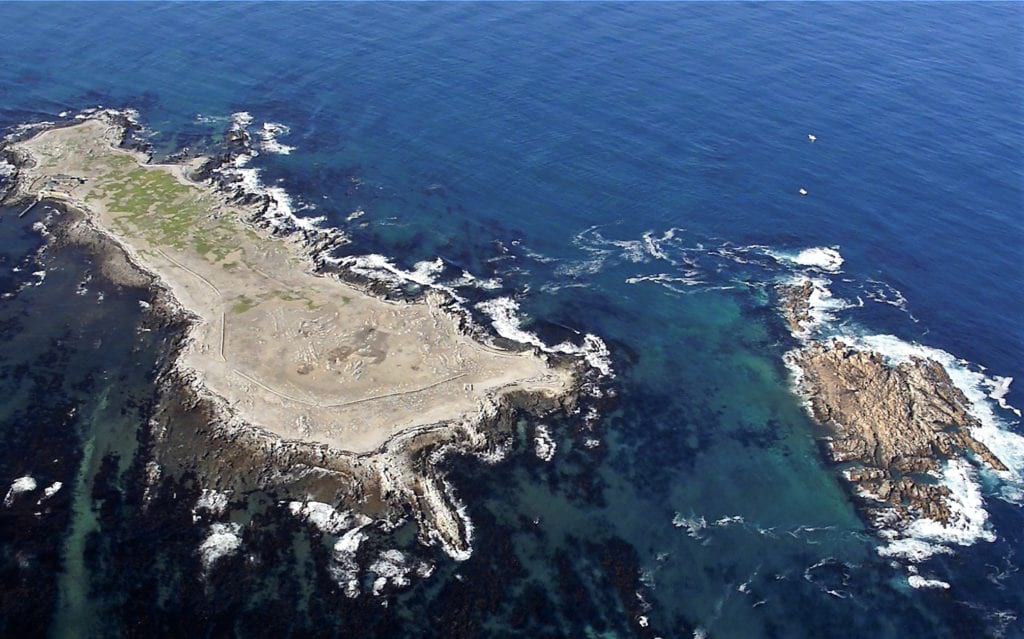 Dyers Island and Geyser Rock With Shark Alley Between
The Marine Big 5 Cruise has been on my bucket list for a while. With a great sense of excitement and anticipation I boarded the Dream Catcher, a luxury, custom built, blue flag certified whale watching boat - and now here I was on the top deck seated with two wonderful friends and heading into the heaving ocean. The Southern Right Whale escapes the ice grounds of Antarctica to mate and breed in the warmer waters of Africa from June through to December. This was October and the chances of seeing these mammoth marine animals up close was good. For me the other members of the big 5 were bonus.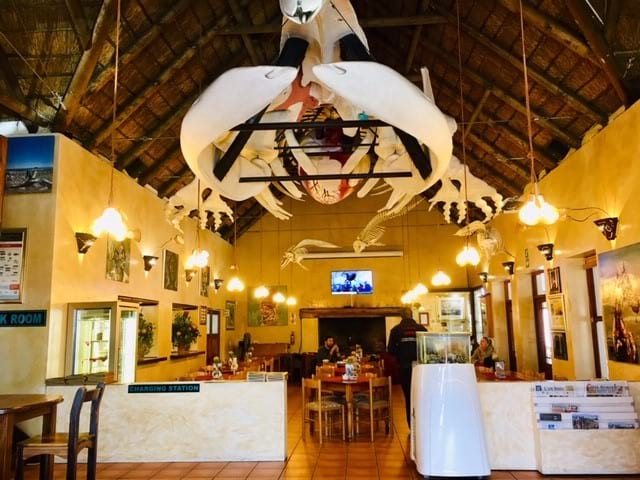 The Great White House With the Skeleton of Suzi the Great White Whale.
We arrived at The Great White House in Stillbaai, which is a suburb of Gansbaai, half an hour before we were due to leave. Cheerful, professional staff offered us muffins, coffee and welcoming smiles and showed us a short video of what to expect on the cruise. Dyer Island Cruise's run a very good show. We were not able to take off from Kleinbaai due to the tide, so were transported to the deeper harbour at Gansbaai, a few kilometres away. Guides decked us out with flotation life jackets and highly visible yellow, oversized slickers before we boarded. I was happy to note that safety is one of their top priorities.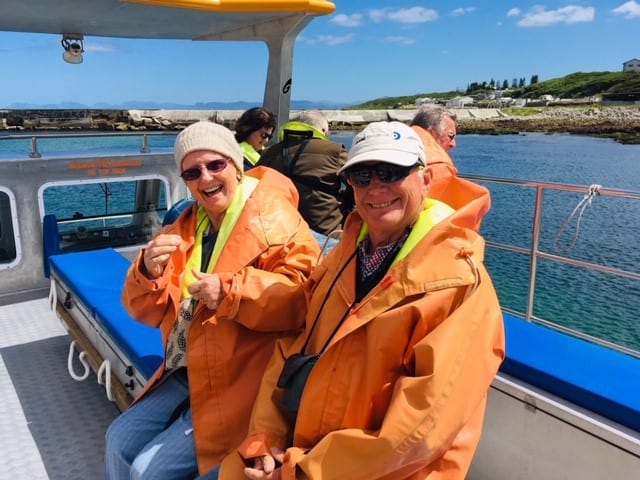 Settling in on the Upper Deck of the Dream Catcher
There was a brisk breeze with occasional gusts off a chirpy sea as we cruised out of the harbour at Gansbaai and rounded Danger Point where the swells where 3-4 metres high. Agile guides zipped up and down ladders to the lower deck and back, as the vessels thumped over heaving waves and planed down the valleys. They monitored the decks checking that we were holding the rope, safety rings beneath each seat. There were many times that I think I may have become airborne and sailed off into the choppy ocean if not for my faith in this secure rope. Sea spray and whipping winds – this was intoxicating!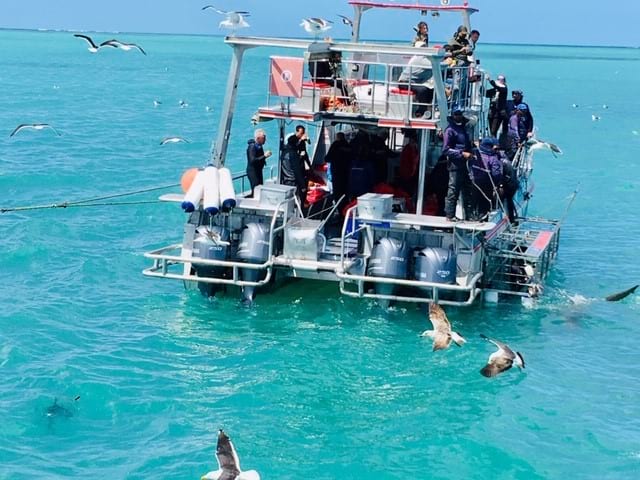 Sharks Circling the Cage Diving Off Pearly Beach
After half an hour the Marine Biologist on board alerted us to be on the look-out for sharks in the water, as we came into the bay off Pearly Beach. We stopped next to a sister boat, run by Marine Dynamics, also out of The Great White House, who run shark cage diving. These feared [and misunderstood hunters] are curious, and love to approach the cage. On a Shark Cage Dive, you get to share a close, personal encounter with one of nature's most streamlined and ferocious, carnivorous fish from inside the safety of the cage; this must be an incredible experience that would be part of your favourite memories for a lifetime. Not for me…the water was cold - and those sharks are scary! We were on an observer's trip! From the safety of the deck of the Dream Catcher we watched many different sharks circle and surface as they approached the cage to thrill and delight those in the cage. The big star of the show is the Great White Shark, one of the oceans deadliest predators. Those awesome toothy grins are something to behold!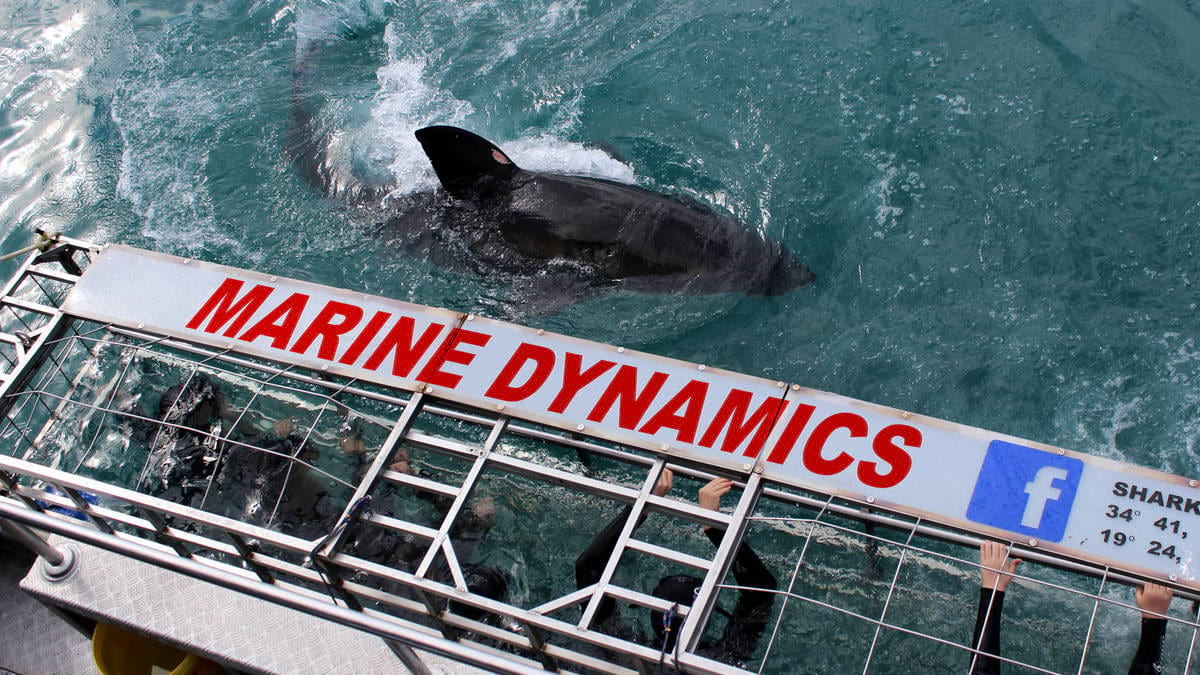 Shark Cage Diving with Eco-friendly Marine Dynamics
After a short bumpy ride our Marine Biologist alerted us to a Southern Right Whale cow and her calf. Oh... the excitement on board. Standing at the rail in the calmer waters of a sheltered bay we watched she and her calf cavort around in the waves. Then to the left we saw two more cows and their young offspring wallow and circle around. Camera's clicked and ooh's and aah's were shared. After 30 minutes we left this domestic scene and headed for the easternmost bird sanctuary in the Western Cape, Dyers Island. This desolate rocky island is primarily inhabited by waders and marine birds. Special protection is given to endangered African penguins, endangered Roseate tern and the Bank cormorant.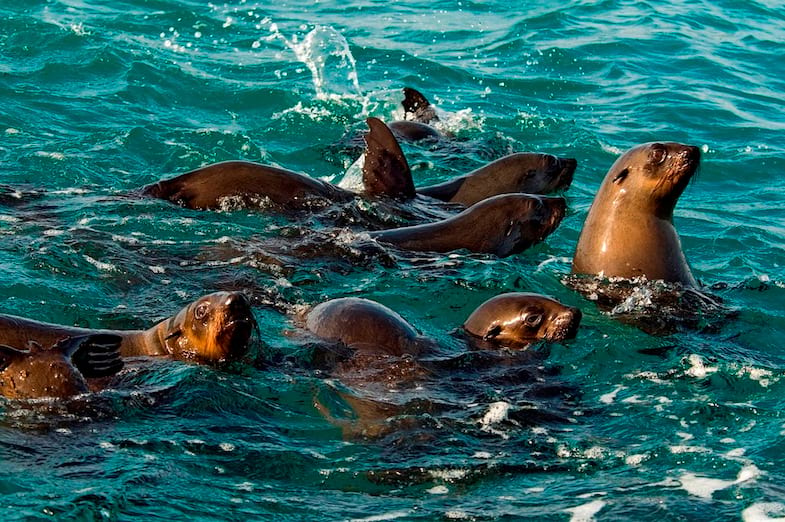 Baby Seals Learning to Swim
Adjacent to Dyer Island is Geyser Rock where a colony of 60 000 Cape Fur Seals breed. We could hear their social banter long before we could see them. It was fun to watch these amusing and playful aquatic mammals; and sad to realize that the strip of sea between Dyer island and Geyser Rock is dubbed 'Shark Alley', as the seals who feed here are a constant food source to the sharks and attract the greatest concentration of Great White Sharks in the world.
Cruising back to Kleinbaai seemed a little calmer than the trip out and I was thrilled to spot a pelagic shearwater skimming the waves. Stillbaai was now accessible by boat and after disembarking we walked the short 200 metres to the Great White House. A very welcome and delicious vegetable soup and home-made hot bread was on offer, which we wolfed down as we chatted to Cari Roets and learned more about their world class scientific research founded to protect this fragile eco-system.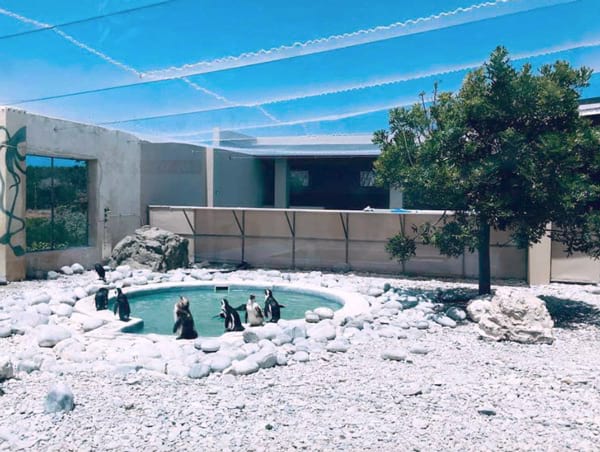 African Penguin and Seabird Sanctuary in Gansbaai: A Great Place to Buy the Cutest Penguin Keyrings!
Dyers Island Conservation Trust, in partnership with Marine Dynamics and Dyer Island Cruises, have marine biologists and a trainee program that monitor and rigorously study the environment in order to address the challenges that face the future of every species. The African Penguin has a high risk of extinction due to guano scraping and egg harvesting in the past. There are now only about 1500 breeding pairs of penguins on the island and special 'penguin homes' have been installed to replace the guano that they previously burrowed into for protection. Many Great White Sharks have been found in False Bay with their squalene-rich livers removed with near surgical precision. The culprits, scientists discovered, are Orca's. They target this rich source of food and leave the rest of the shark to wash up on the beach. Very sad.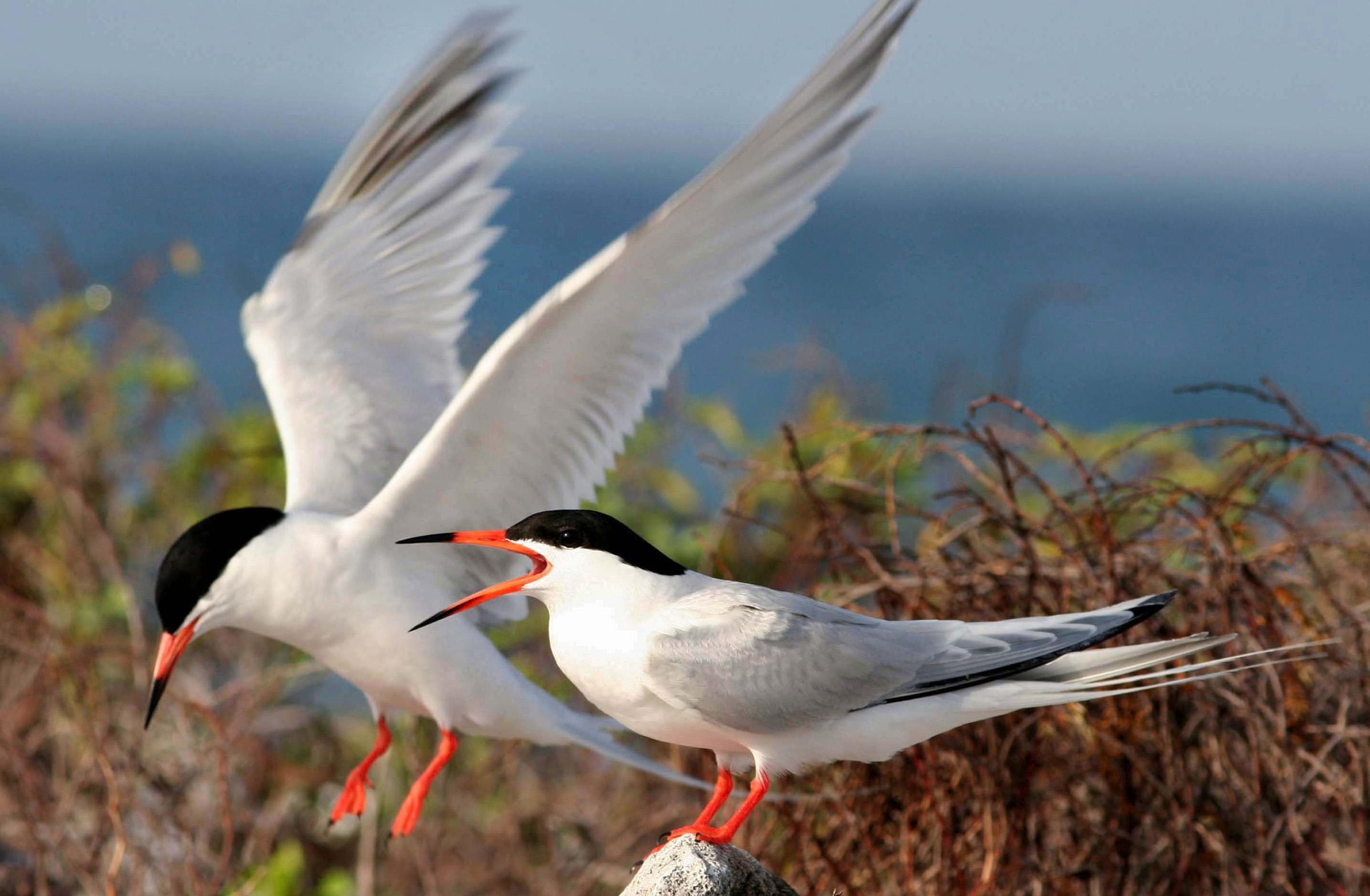 A Pair of Roseate Terns
A short distance away is the African Penguin and Seabird Sanctuary where we stopped off to meet some cute residents waddling around and two terns, who had lost their wings in some accident, now flightless but recovered, and being rather bossy with their big cousins.
The rich biodiversity of the area is in good hands – their motto is "discover, protect, educate" and their volunteer program attracts international marine scientists who play a key role in conservation and education programmes.