Best Day Drive – Mile by Mile's Cape Town to Cape Point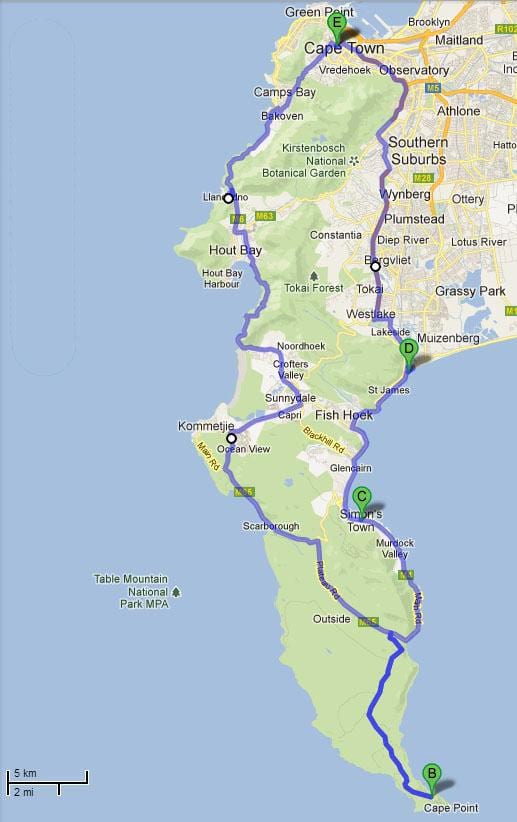 Map of the Cape Peninsula Showing the Route Taken to Cape Point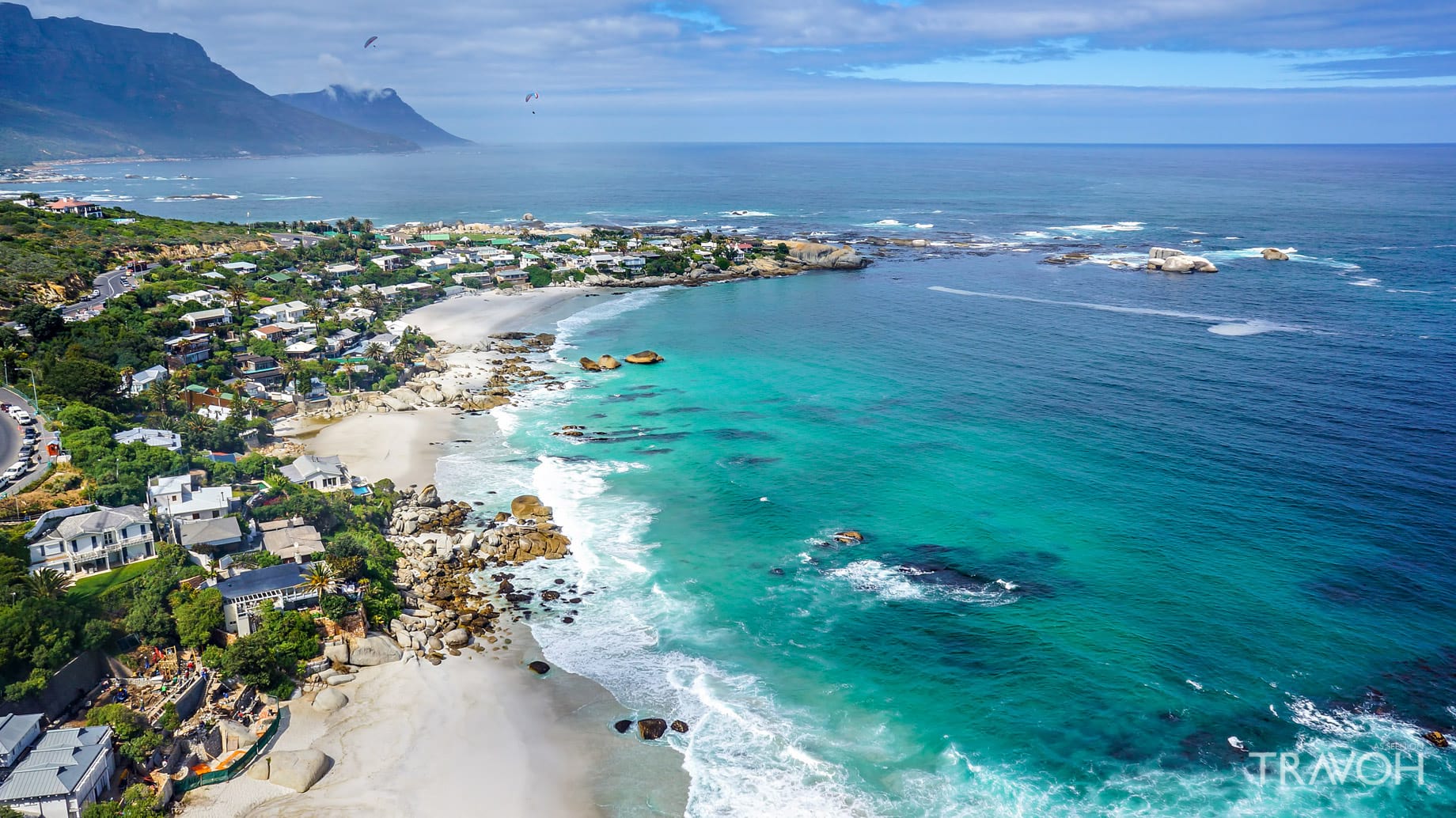 Magnificent Clifton Beaches
It was one of those perfect Cape days with no wind, bright blue sky and a comfortable temperature of 24oC. I was collected at 8.30am from Tamboerskloof, where I was staying with friends, by Igon the driver and tour guide. He was a friendly, informative and fun. He was of German origin and able to speak to the young German girl in our group in her home tongue which she really appreciated. We headed off over Kloof Neck between Table Mountain and Signal Hill and drove to a view point at Maiden Cove to enjoy the view. This is usually a spectacular place to see the series of stunningly beautiful, turquoise bays that make up the Atlantic Sea Board framed by Twelve Apostles – unfortunately there was a heavy mist over the sea and the view was compromised.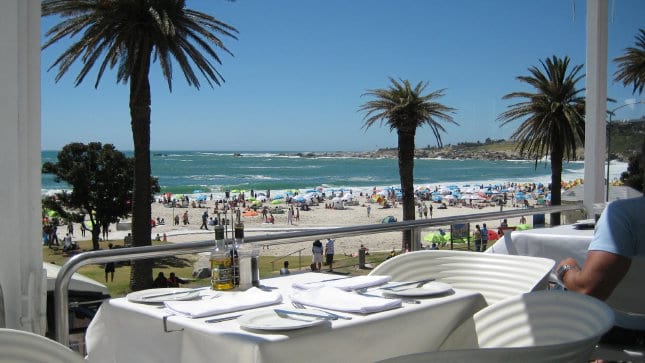 Cafe Overlooking Camps Bay
Undaunted, we continued past the prime real estate of Sea Point, Bantry Bay and down to Camps Bay, where we walked over to the beach and were given some time to take photographs. This is an area of consecutive bays dotted with giant granite boulders, white sands and crystal clear, if very chilly, sea. Homes on this Atlantic Sea Board compare to some of the most expensive in the world. The air is fresh, the views are dazzling. The sea stretches all the way to the horizon. Being driven by Igon I was able to thoroughly enjoy the sheer spectacle of this drive.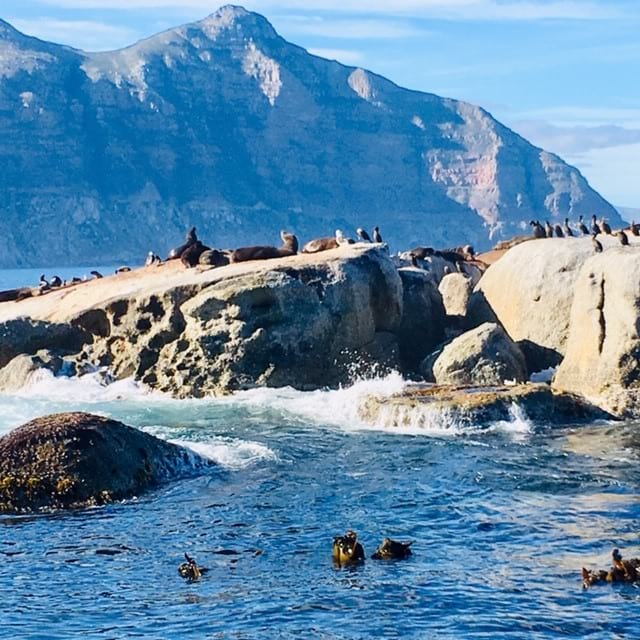 Cruise on Drumboat Tours to Duiker Island with Breeding Colony of Cape Fur Seals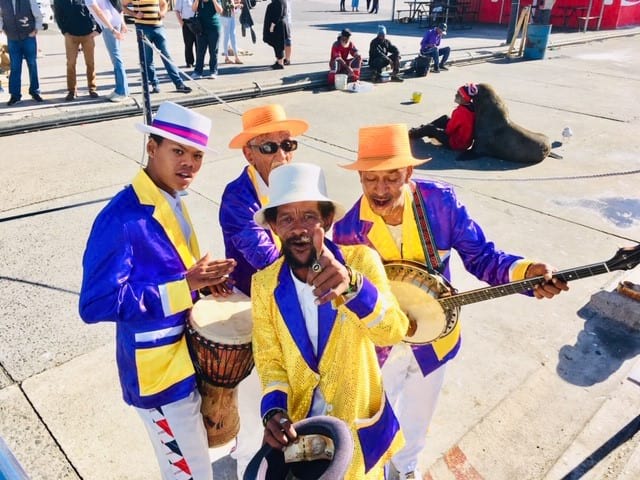 Minstrels on the Quay at Hout Bay with the Cape Fur Seal and His Friend Behind Them
The mist had now lifted as we wound our way along the mountain side past Bacoven, Olde Kraal and Llandudno finally coming to a stop in the working harbour of Hout Bay. I was excited at the prospect of a boat trip to Duiker Island which is a breeding island for hundreds of Cape Fur Seals. This is a 45minute cruise, with Drumboat Tours, and gets you within a few feet of these aquatic mammals. This side trip is for your own account but is inexpensive and very worthwhile. It was thrilling to disembark to the welcome sound of drums and mandolins played by locals all togged out, as if for the Cape Town Minstrel Carnival, with white boaters and festive purple and yellow satin suits. There was also in interesting fellow with a pet seal that was posing for photographs for a fee. OH Cape Town you are great!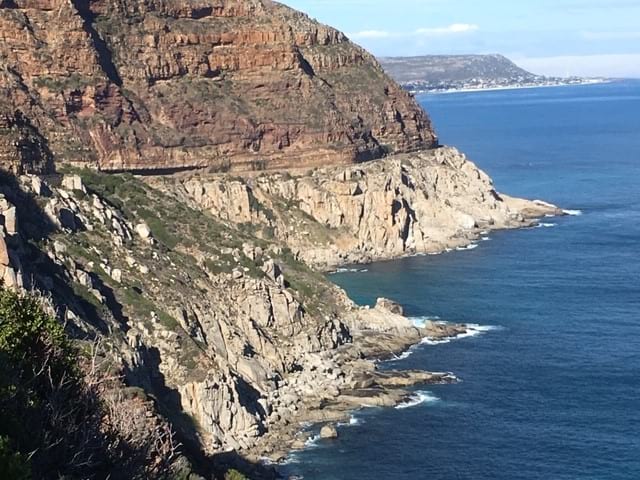 Chapmans Peak Drive with Sheer Rock Face to the Sea
Then on to the iconic Chapmans Peak Drive. Igon was regaling us with interesting facts. It was constructed during the 1st World War by 700 convicts, is 9 km long with 114 curves and is cut over half a km high into Chapmans Peak. It follows the rocky coastline with breathtaking views in both directions then drops down to Noordhoek. We descended down to the long stretch of white sandy beach that is Noordhoek and on to rugged, rocky beaches of Kommertjie. There were many opportunities to stop and capture the beauty on your camera. We saw surfers out on the waves of Misty Cliffs and Scarborough. What a treat on this most dazzling, sunny autumn day.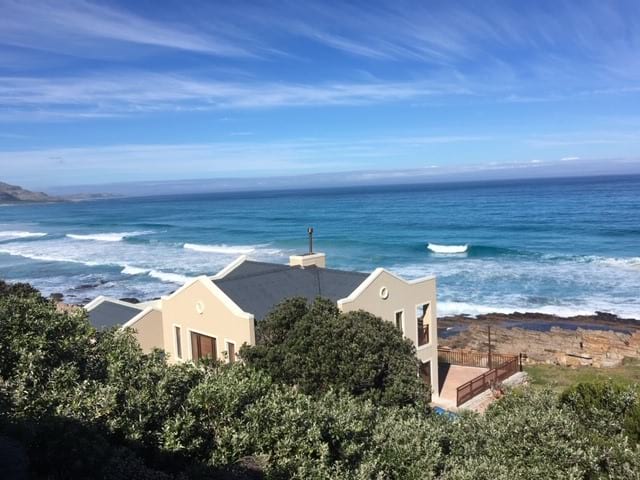 Misty Cliffs with Perfect Waves for Surfing.
We headed inland for a few kilometres and entered the Cape Point Nature Reserve. It occupies the southern tip of the peninsula, is part of the Cape Floral Region, is dotted with beautiful valleys, bays and beaches with diverse and unique fauna and flora. First stop was The Cape of Good Hope which is the most South Western Point of the African Continent. Bartolomeu Dias, the intrepid Portuguese sailor, was the first to round the Cape Peninsula in 1487 and he called it the Cape of Storms. In violent storms with dangerous rocks these shores are littered with shipwrecks. But today it was just glorious and stunningly magnificent. The wonderful Igon told us that there are maybe two day in the year when the weather is so perfect.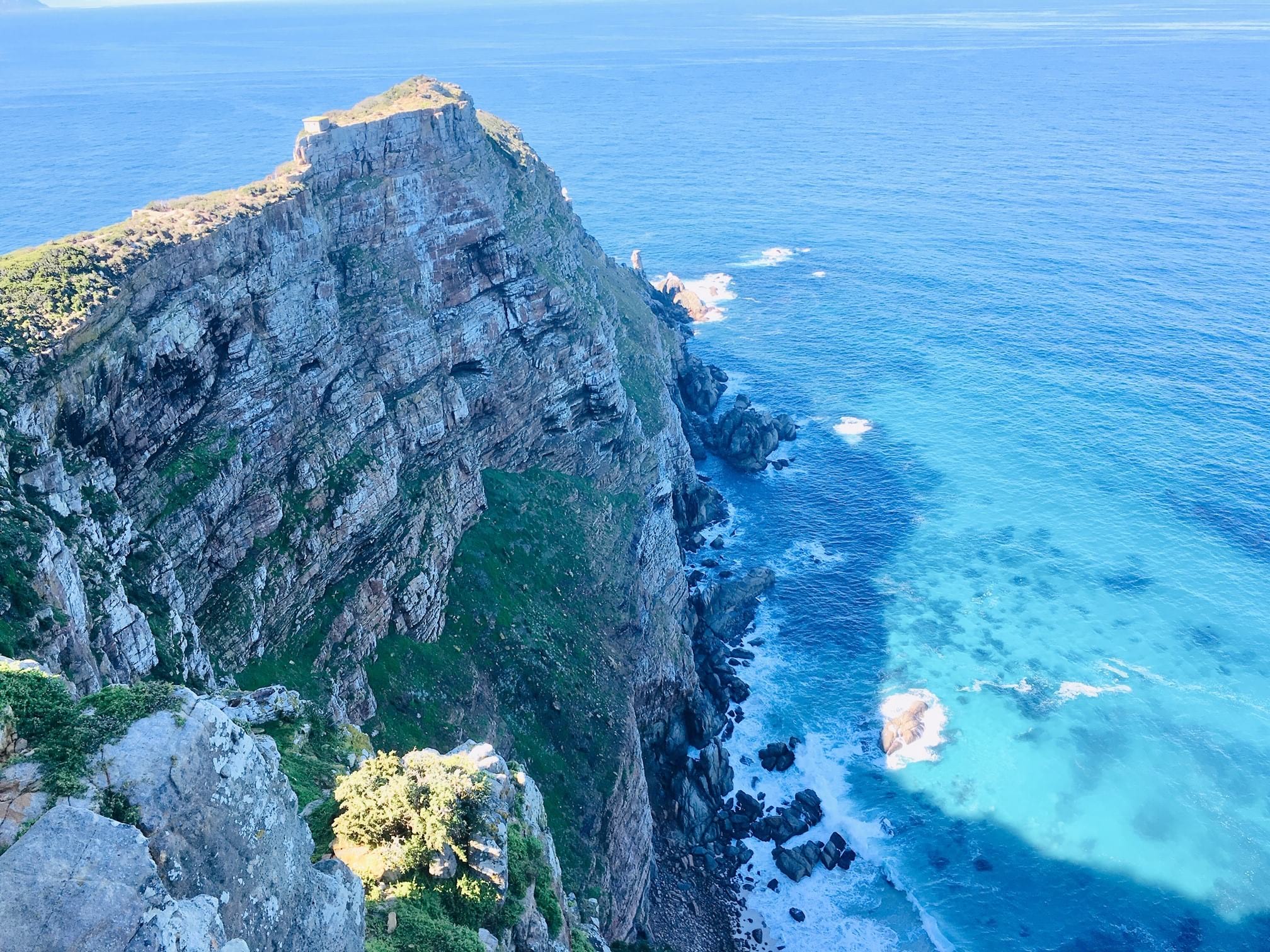 Cape Point on a Perfect, Sunny, Calm Day.
Then on to the short drive to Cape Point. I took the wonderfully scenic walk with viewing stations offering awe inspiring scenes of steep granite rocks and crashing waves below. An option is the Flying Dutchman funicular that will take you to the upper station 127 metres above sea-level. Either way the spectacle of sheer rock and blue seas is a memory that you will carry with you.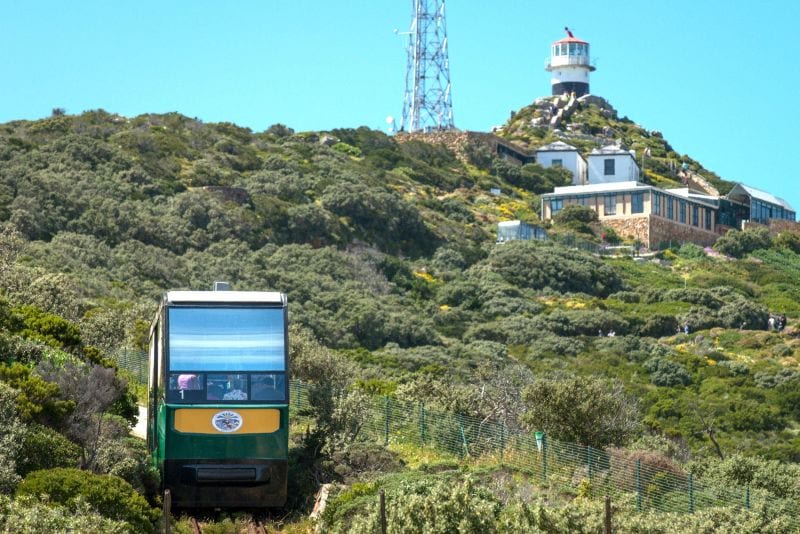 Flying Dutchman Furnicular to the top of Cape Point
By now we were hungry and ready for lunch. We clamoured back into our minibus and passed the hard to get to, but exquisite Dias Beach nestled down a steep cliff in a bay east of the point, then on to the ancient Naval Harbour of Simonstown. We parked near the bronze statue of the legendary great dane canine, who became the first and only canine Royal Navy member in history. He was made Able Seaman Just Nuisance in 1939. Lovely story. Myself and my fellow travellers headed to the Seaforth Restaurant right on Boulders Beach and enjoyed a mouth-watering seafood lunch.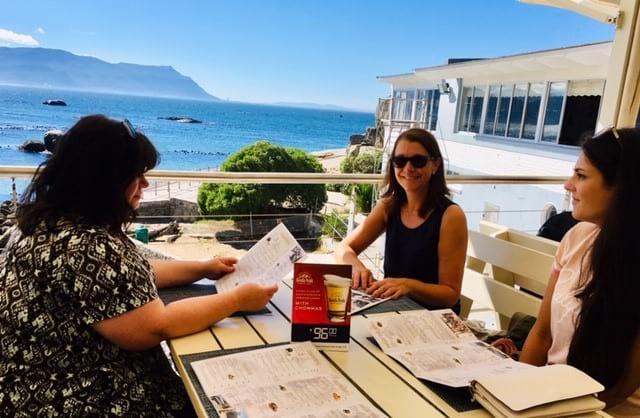 Lunch At Seaforth Restaurant at Boulders Beach with a View of the Sea and the Penguins
One of the many highlights of this journey was walking at Boulders Beach amongst African Penguins. They mate for life and this is one of their preferred breeding places. You can walk along a wooden board walk and look down at these cute guys or if you have the time you can swim with them in this protected area. This is one of my favourite places to visit.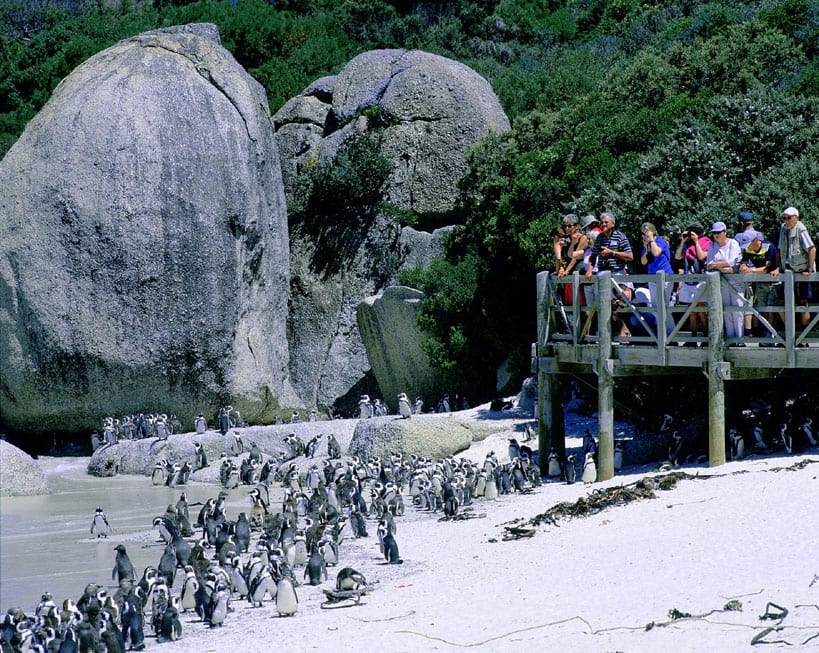 From the Platform At Boulders Beach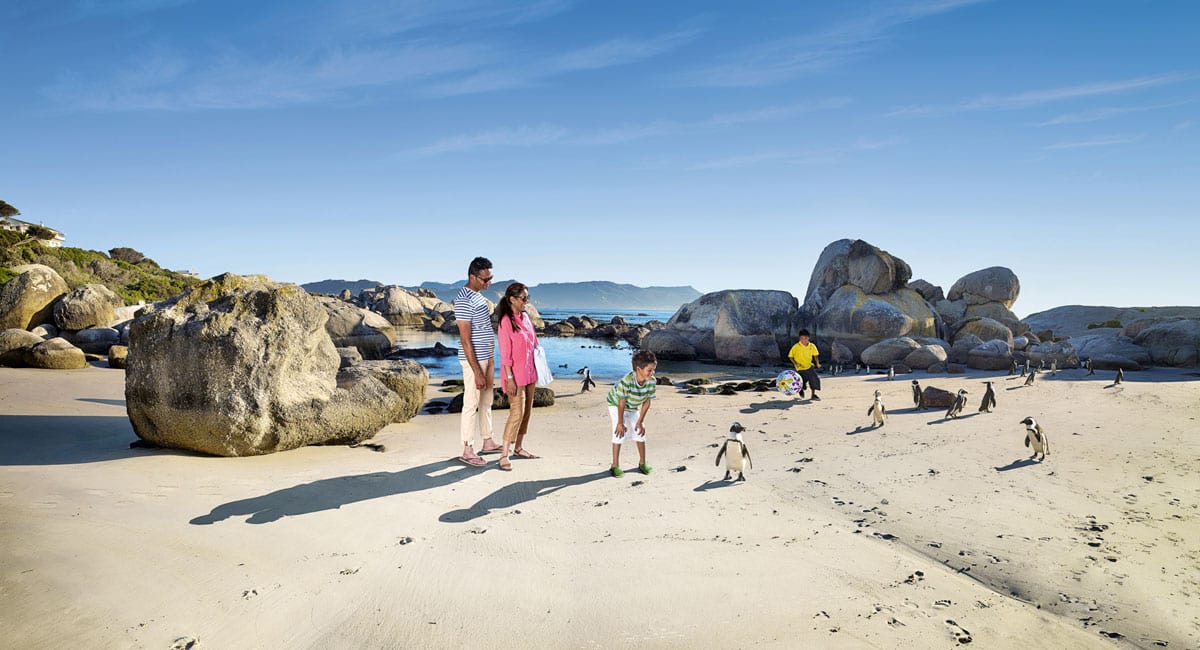 Walking or Swimming With Penguins at Boulders Beach
Leaving Simonstown, we made brief photo stops at quaint fishing villages of Fish Hoek, Kalk Bay and Muizenberg, past St James and the modest thatched holiday home of Sir Cecil John Rhodes which is now a museum.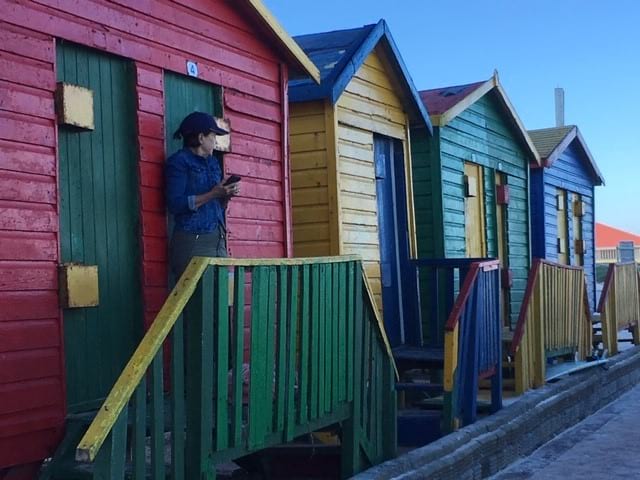 The Iconic Beach Houses at Kalk Bay
Our final stop was Kirstenbosch National Botanical Gardens. We arrived at 5pm and were able to explore this incredible area as the sun was setting. It is a place to revisit and savour and enjoy at leisure.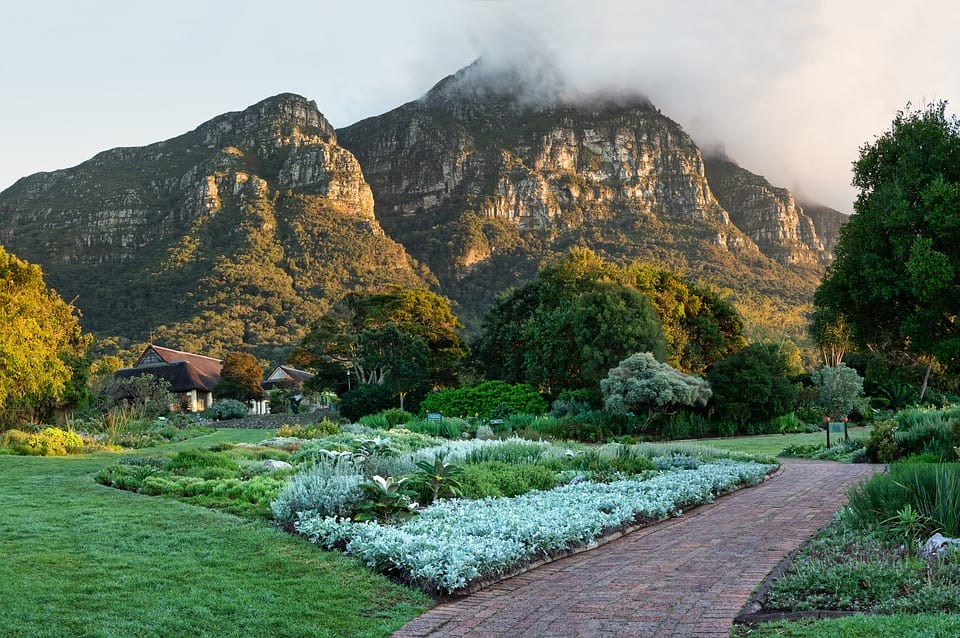 Kirstenbosch Gardens Nestled Against the Mountains
Saying farewell to my fellow travellers and our superb guide I arrived home at 6.30pm rather weary, but with a head full of beautiful images and experiences. I highly recommend this Full Day Cape Point Tour with Mile by Mile. https://Full Day Cape Point Tour