5 of South Africa's Best Beaches Plettenberg Bay: Sunshine Sea and Golden Sands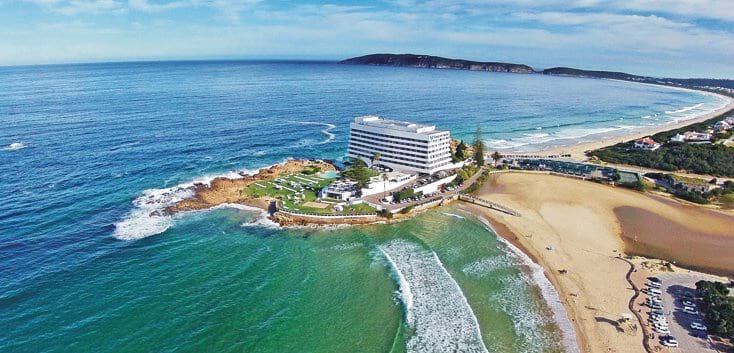 The Beacon Island Hotel Sitting Between Central or BI Beach and Robberg Beach
In a country where superlatives for beaches are a given, Plettenberg Bay boasts some of the most beautiful Blue Flag beaches in South Africa.
Plettenberg Bay called Plett by the locals, is home to dolphins, seals, orcas, and Bryde's whales which can be seen from the pristine beaches or better still from a boat safari around the bay. The town's 20 kilometres of picturesque Indian Ocean coastline features unspoilt sandy dunes and long golden beaches which include 6 premier, internationally recognised "Blue Flag" status beaches; including Robberg 5, Lookout Beach, Keurboomstrand, The Dunes, The Singing Kettle and Nature's Valley. With warm Indian Ocean washing these magnificent shores you'll find beachgoers of all ages soaking up the sun, year round, and enjoying the many outdoor activities you'll find in Plettenberg Bay.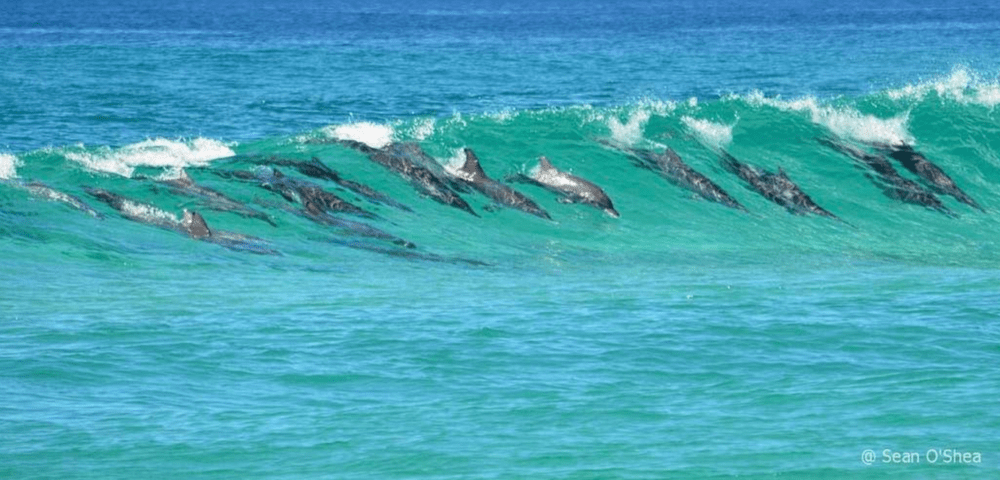 Dolphins Surfing Along Robberg Beach
Sitting on your patio soaking up the sun with your morning coffee, you can see dolphins jumping just beyond the breakers or surfing in the clear turquoise waves. From June to early December the Southern Right and Humpback Whales make the long swim from Antarctica to calve and mate in this spectacular sheltered bay and enthral with giant flipper slaps and graceful flicks of a tail. Time to grab your camera and catch a shot as the whale breaches, rolls and plays just a few metres from the beach. That's winter time in Plett!!

Whale Breaching in Plettenberg Bay Where They Come to Mate and Calf
And Ohhh the beaches!! In my opinion the two best beaches are either side of the Beacon Island Hotel which is situated on a huge rock surrounded by sea on three side and the Piesang Lagoon on the west. Central Beach with Hobie and Wedge Beaches just a short walk up the the same stretch of beach, and on the other side of the Beacon Island Hotel is Robberg Beach stretching to the Robberg Peninsula and Nature Reserve. Solar Beach and Robberg 5 Beach have access points from Beachyhead Drive that runs the length of Robberg Beach.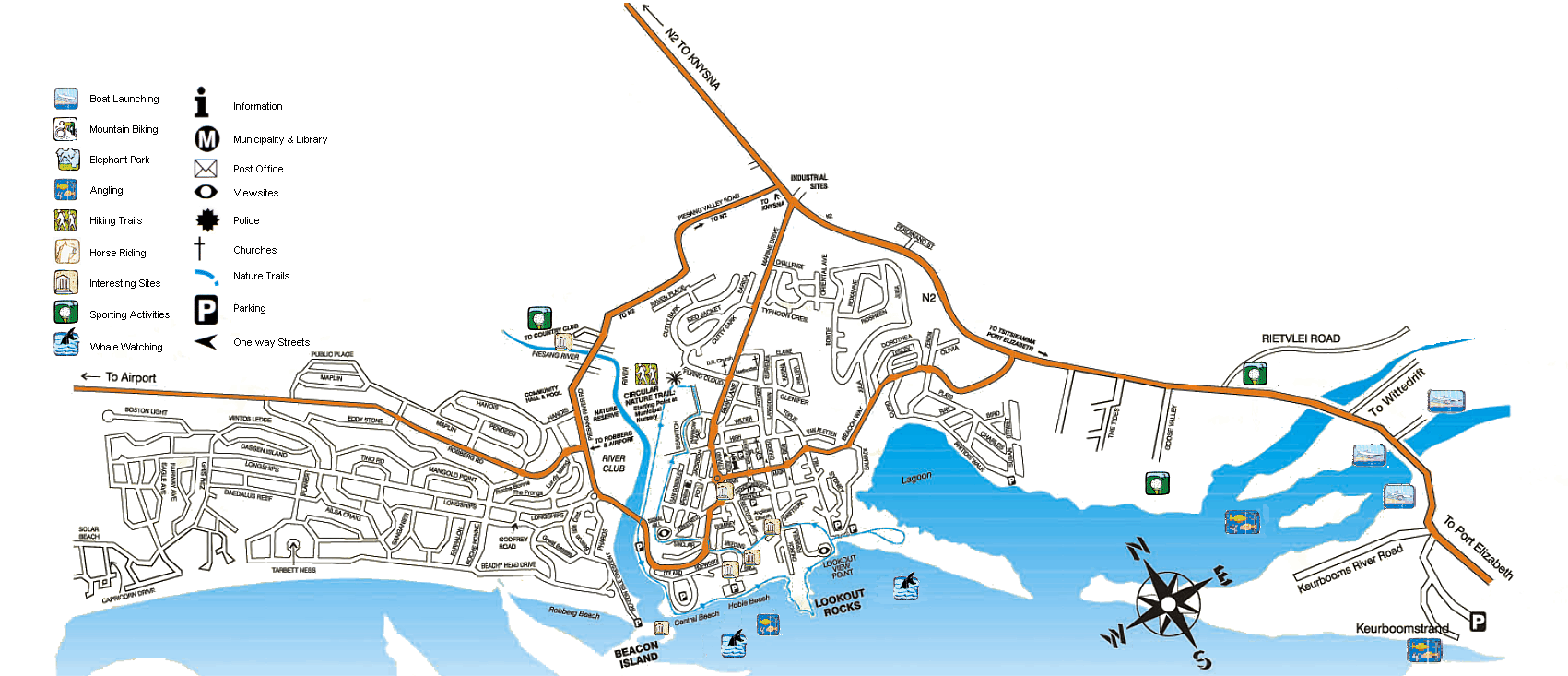 Map of Beaches at Plettenburg Bay
CENTRAL BEACH
Central Beach also known at BI Beach [Beacon Island], is perfect for swimming at low tide with no waves to knock you. That is just my personal preference. It is perfect at any time. The Piesang Lagoon which runs into the sea here, forms a safe warm water playground for children. This is Plett's iconic 'family beach' and in season is the busiest beach in Plett. It nestles against the iconic Beacon Isle Hotel and stretches to a rocky outcrop. Hobie Beach is just past the Ski Boat Club and is where you can hire a Hobie Cat, Jet Ski, a fishing boat or a take a Marine Safari to see the big Marine 5 [Whale, Shark, Seal, orcha, dolphin] from the comfort of a catamaran. At the end of this stretch of beach, where the rocks create a barrier is Wedge Beach, known as surfers and body surfers hangout. Central Beach has amenities that include public toilets, restaurants and bars, ice cream vendors, kayaking, dive charters and boat-based whale watching. Central Beach is well known to be the safest swimming beach in Plett and is monitored by lifeguards all year around. It gets decent mid-sized surf while remaining calm for safe swimming and bodyboarding.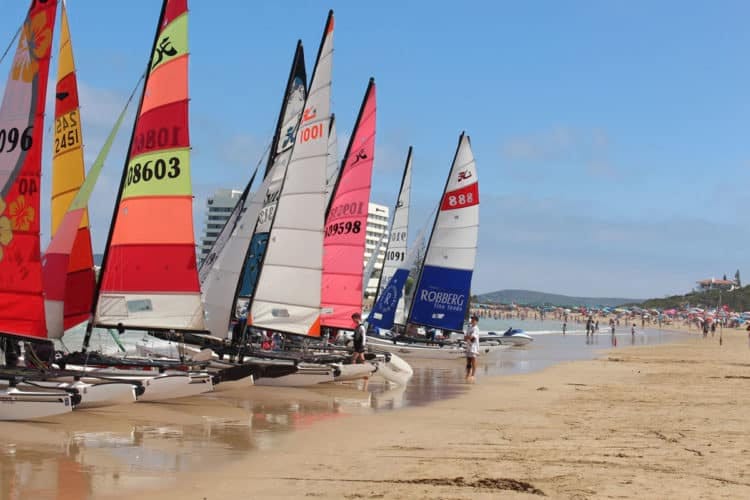 Hobie Beach along Central Beach
ROBBERG BEACH
Robberg beach is a four kilometre stretch of breaking waves and squeaky-clean sands between the Beacon Isle Hotel and the Robberg Peninsula. Walking this stretch of unspoilt beach at low tide, breathing clean, invigorating sea air and feeling the pounding of waves beneath your bare feet as they crash and run up the beach, is one of my greatest joys. I have often spotted dolphins, whales and seals in or just behind the waves that break onto the beach. The best swimming areas are two Blue Flag beachs, 'Robberg 5'or a little further down the beach to Solar Beach This is about half-way down the beach and accessed via Beachyhead Road or on foot via the main beach. The beach has lifesavers in season, ablution facilities, a deck and a boardwalk.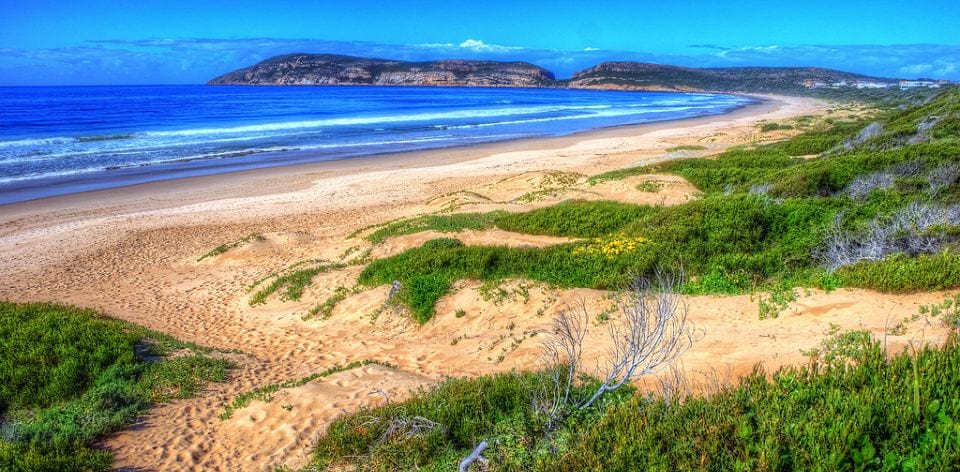 Robberg Beach - Four Kilometres of Rolling Waves all the Way to Robberg Peninsula
LOOKOUT BEACH
Lookout Beach was washed away during floods in 2007 but has returned to its former glory as one of Plett's most pristine beaches. This Blue Flag beach is popular with sunbathers, surfers and bodyboarders and adjoins the lagoon which buzzes with kite surfers and SUP paddlers. It is the perfect spot to end your day with a long walk by the ocean and a beautiful sunset. The iconic Deck Restaurant sits on a rocky outcrop right on the beach and is well worth a stop for a drink, breakfast on the upper deck or a mouth-watering sea food meal.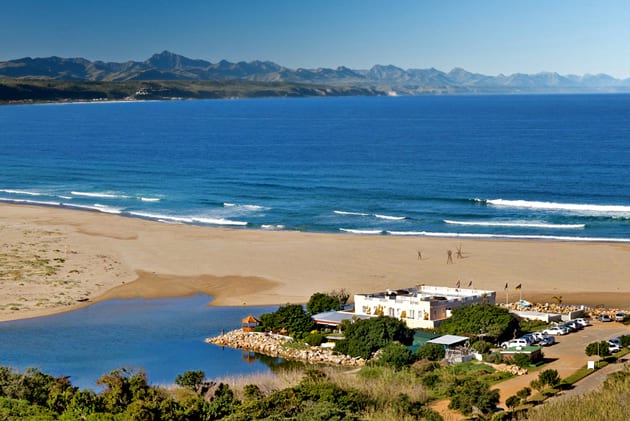 Lookout Beach with Sand Dunes and Surfing
KEURBOOMS BEACH
Keurbooms Beach is a slightly wilder and less populated beach, positioned on the eastern side of the river mouth. This Blue Flag beach is one the most beautiful beaches in South Africa, with indigenous greenery hugging the coastline. It is not as busy throughout the year as the main beaches, largely due to its length. It is ideal for long beach walks where you can watch dolphins frolic in the waves. Another unspoilt stretch of beach is Kettle Beach which is an extension of Keurbooms Beach. The 'Oh to amazingly wll-placed' Enrico's Restaurant sits overlooking the beach and offers first class pizza's, and sea food. I have very often sat here, glass of Merlot in hand, and watched dolphins gambling in the waves and few metres away.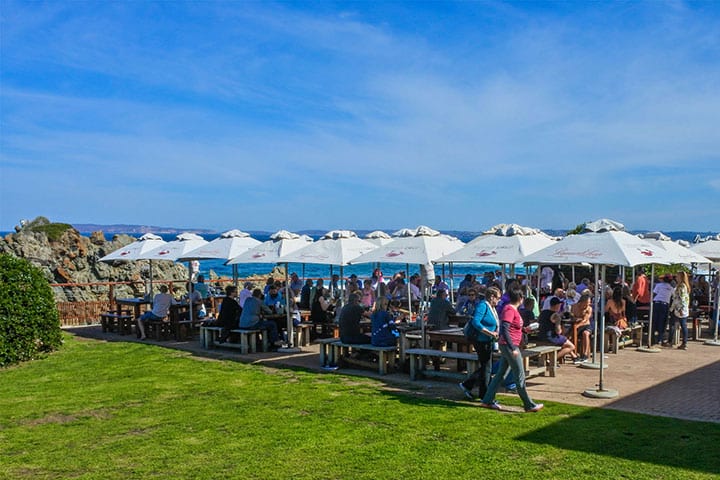 Enrico's Restaurant at Keurbooms Beach - Magnificent Setting for Dolphin Viewing.
KEURBOOMS LAGOON BEACH
Keurbooms Lagoon Beach is on the Keurbooms Lagoon formed by the river of the same name making its way to Lookout Beach. It varies in size depending on the tides, but it is ideal for kids with wide sandbanks covered with shallow water that heat up nicely during the day. It is one of the safest swimming spots in Plett with rowing boats, yachts and ski boats cruising up and down the channel.
DUNES BEACH
The Dunes Beach is situated in Keurbooms, just across the Keurbooms River and is a new addition to the Blue Flag beaches of Plett. The miles of pristine sandy shores are laced with the temperate waters of the Indian Ocean where dolphins and whales are often spotted. This is an undeniably beautiful beach and is often less populated during the busy season.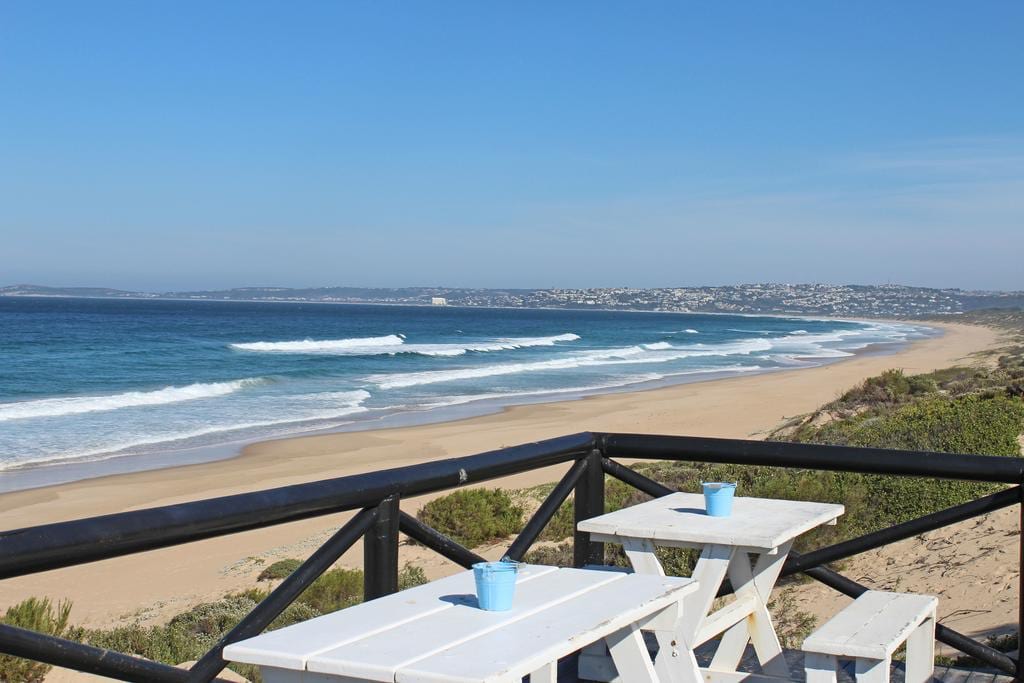 Dunes Beach at Keurboomstrand.
NATURES VALLEY
Encircled by the Tsitsikamma Forest and at the mouth of the Groot River this Blue Flag beach stretches for 6 kilometers of wild untamed beach. Make this a day trip with the kids. It is well worth the 32 kilometer drive. The large lagoon formed where the river flows into the sea is tranquil and great for kids.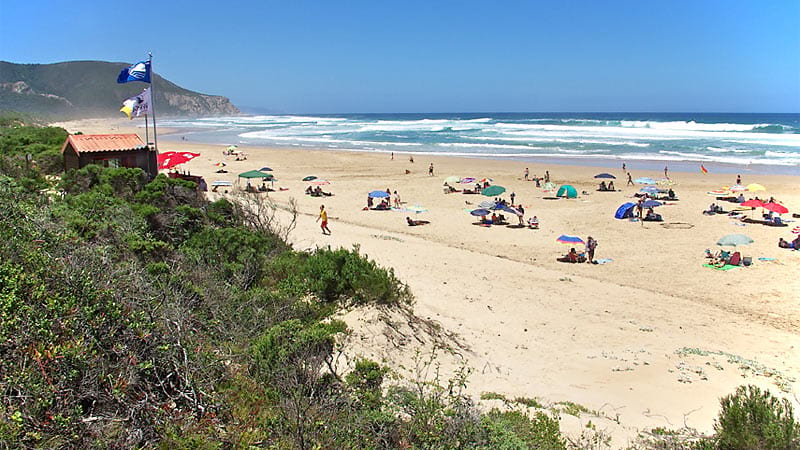 Natures Valley with 6 Kilometers of Wild Untamed Beach
WITSANDS/DUNES BEACH IN ROBBERG NATURE RESERVE
Among some of the best beaches in South Africa, and in fact the world, an experience to cherish is to swim in the Witsands and Dune Beaches in the Robberg Nature Reserve at low tide. These calm, clear waters separated by a sandy bank at low tide are just exceptional. You get to these two beaches on the walking trail along Robberg Peninsula. The walk is a treat with spectacular views and the crowning joy is your swim half way. You need to time it for low tide when the sea is calm and turquoise.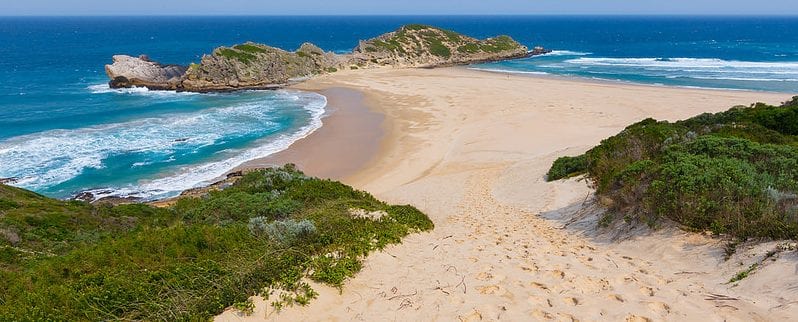 Witsand and Dunes Beaches in Robberg Nature Reserve.
Plettenberg Bay is great all year round. The temperature in Summer Averages 16-25oC and in Winter is 10-22oC and sea temperatures may vary between 16-20oC.